How Did Kaley Cuoco Get Her Wedding Cake to Hang From a Chandelier?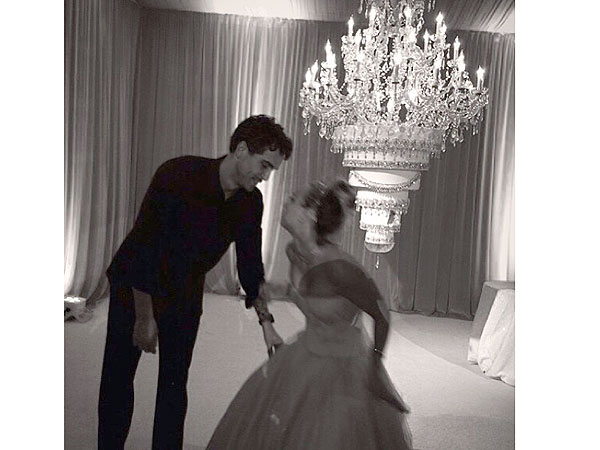 Courtesy Kaley Cuoco
We'd like you to stop whatever you're doing right now and take a moment to stare at Kaley Cuoco's wedding cake.

Done? Okay, let's discuss. How did the star—who got married to Ryan Sweeting in a fire-and-ice-themed ceremony on New Year's Eve—get a six-tiered cake to dangle from a crystal chandelier?
"TY to #thebutterend for creating our magical chandelier cake. Literally hanging above us. EPIC," Cuoco posted on Instagram with the above photo, referring to The Butter End Cakery in L.A.
The original plan for Cuoco's wedding was to lower the chandelier almost to the ground and put the cake upright on top of it, says Butter End owner Kimberly Bailey, who has also done cakes for Drew Barrymore and the casts of How I Met Your Mother and Parks and Recreation. "But I had this vision: What if the chandelier was high and the cake was underneath it? So I told Kaley and she kind of lost it. She got very excited and said, 'How do we even do that?'"
The answer: a few trips to Home Depot, a custom rigging built with event rental company Rrivere Works and enough sandbags to match the weight of the cake, which boasted a 27-inch bottom layer (nearly double the size of a standard tiered cake) and was covered in heavy rhinestones.
"We hung sandbags off of the chandelier to see how much weight it would bear," Bailey says. When they finally attached the cake, it wasn't just for show: It was stable enough to be cut and eaten. "If you look at the second to bottom tier, there's a big hole in it," Bailey says. "That's where she cut it. They cut it, they ate it."
The two-flavor cake—almond with toasted almond cream cheese buttercream frosting and chocolate almond cherry with cherry cream cheese buttercream frosting—sounds as good as it looks, but it almost didn't happen: Bailey typically shuts down the bakery between Christmas and New Year's Day to go on vacation. When Cuoco's team called her a few months ago, she was looking at flights to Australia.
"It was a secret it was going to be a wedding," Bailey says. "But they said the magic words: 'She wants it to be over the top.' I said, 'Damn you, you just said the magic words.' So that was it. I canceled my vacation."
UPDATE: So many people have been asking about the cake, Cuoco tweeted this:
Lots of people are asking about our cake and I'm happy to share another pic. It was truly upside down!@thebutterend pic.twitter.com/lu5AVJhLUS

— Kaley Cuoco Sweeting (@KaleyCuoco) January 2, 2014
—Marissa Conrad