'It Was Like a Month at Summer Camp:' The Taste Judges on the Show's New Season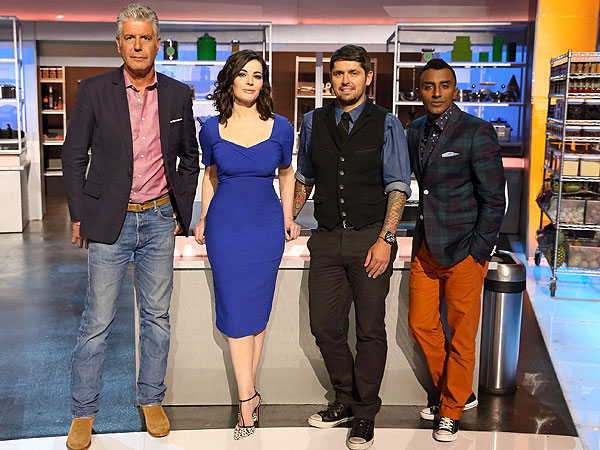 Craig Sjodin/ABC
If you don't like your job, perhaps you shouldn't read any further.

"It was like a month at summer camp," says Anthony Bourdain about his stint as a judge on season two of ABC's The Taste, which debuts Thursday at 8 pm E.T.
Bourdain and his fellow judges Nigella Lawson, Ludo Lefebvre and Marcus Samuelsson got together for a free-wheeling talk about after-hours bonding,  their favorite moments from the set and the secret to winning the show. Here are some excerpts.
How did you all feel about adding Marcus Samuelsson to the judges' table this year?
Nigella: He's great. He knows about food incredibly well. And like Tony, he's eaten widely. And we all respect one another. Because of that we could tease one another. It's just fun. Ludo is the only one to actually lose his temper, although he is not the only one who gets cross.
Anthony: When we were bored, we actually helped that process along.
Marcus: I got teased more because I was the new one. But it's all fair in the kitchen. It was a blast. I ate well—and if I didn't eat well, Tony and Ludo made sure we went to a restaurant that night.
Nigella: We were always eating. Oh, I keep thinking very fondly of that meal at Park's barbecue [in L.A.]!
Ludo: It's a fantastic Korean barbecue.
Nigella: That short rib was just extraordinary. I was ready to move there.
What other restaurants did you discover?
Anthony: This French guy Ludo's place is great.
Nigella: And I always like an excuse to get a Mozza pizza. I also organized a bit of food when we shot the British version of the show in the U.K.
Anthony: She arranged for us to have great cheese.
Nigella: Yes, I have singlehandedly made their cholesterol levels go up very high.
Do you have a favorite moment from this season of the U.S. show?
Anthony: When Nigella got very stern with her team. I call it the Scarlett O'Hara speech at the end of Gone With the Wind. It was eloquent, riveting and inspiring.
Nigella: And totally ineffective.
Marcus: My favorite moment was when Anthony and Ludo did jujitsu.
Nigella: It was this strange homoerotic moment. I walked in and saw Ludo with his legs wrapped around Tony.
Ludo: He sent me flying. I wasn't hurt but I was surprised.
Nigella, have these guys been supportive to you during the rough few months you've had recently?
Nigella: They're lovely and they've got my back. But like brothers, they tease me a lot. If they all started being terribly nice, I would worry.
Anthony: We bonded a lot but we all got into the game.
Ludo: Yes, there were two competitions—the one between the contestants and the one between the mentors.
Who would win if the tables were turned and you had to compete on The Taste?
Ludo, Marcus and Anthony: Nigella!
Nigella: Oh, you can't ever tell. It's unbelievable but cooking something in an hour, which sounds easy, can be so full of pressure. You don't know who will crack.
Anthony: The key to success on this show is not always technical. It's figuring out components of human desire. What do the judges want and need spiritually at this particular moment? Navigating that is very tricky.
Any New Year's resolutions?
Ludo: To travel more.
Marcus: To eat better.
Anthony: To be an ever more entertaining dad.
Nigella: To start exercising again. I've been incredibly lazy. So it's back to the treadmill. But with loud disco music and thinking about what I'll eat for supper, it's fine.
—Liza Hamm