Host a British Tea to Celebrate Downton Abbey's 4th Season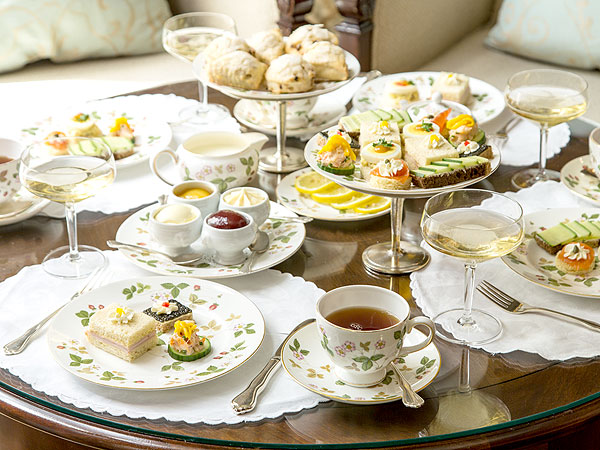 Sara Essex Bradley
You've tasted the Downton Abbey wines. And visited the show's food truck. Now you're as excited for the fourth season—premiering on PBS Sunday at 9 pm E.T.—as a housemaid who's just learned a juicy bit of gossip.

Obviously, an event as significant as this calls for a tea party.
Now, you don't have Mrs. Patmore to prep all the food or own a tea service fancy enough to please his Lord and her Ladyship. But who cares? With a few tips from the Windsor Court Hotel in New Orleans, your viewing party (par-tea?) will be even better than last season's cliffhanger. (Well, it'll at least be close.)
At the grand hotel, afternoon tea service features 26 types of tea, live harp music and trays piled with sweets and sandwiches—including currant scones so flaky, you'll want to gobble the whole platter.
Pastry chef Shun Li's secrets? When mixing the currant-studded dough, "make sure the butter is cold," he says—that way it will melt into the scone while baking, creating a flaky pastry. To keep scones warm until serving, leave them in the oven on low heat with the door cracked open.
Pair Li's scones (recipe below) with miniature crustless sandwiches—cucumber slices with cream cheese is always a good bet—and a spread of tea leaves or tea bags, so guests can choose their favorite.
Missing some of the show to play hostess: not okay. With that in mind, it's perfectly kosher to have guests brew their own tea, too. Just remind them that they shouldn't leave the bag or infuser in for longer than three minutes for most varieties, or else they'll end up with an aftertaste that's as bitter as one of Cousin Violet's signature one-liners.
Traditional Scones
Makes 6
½ cup sugar
3 cups all-purpose flour, sifted
1 tbsp. plus 1½ tsp. baking powder
1½ tsp. salt
½ cup currants (optional)
1 cup cold butter, cut into cubes
2 cups buttermilk
1 beaten egg (for brushing scones)
1. Preheat oven to 450 degrees.
2. In a standing mixer fitted with the paddle attachment, or with an electric handheld mixer, combine the first five ingredients. Cut in butter until evenly combined and the pieces of butter are small (about the size of peas).
3. Add buttermilk to bind dough together, then gather dough and turn out onto a lightly floured work surface.
4. Roll dough into a large rectangle. Fold dough rectangle into thirds (like a business letter) and roll out until it's 1¾-inch thick.
5. Punch out scones with a circular or triangular cookie cutter and let them rest for 20-60 minutes in the refrigerator. Once chilled, brush scones with egg wash.
6. Place scones on baking sheet and place in oven. Turn temperature down to 350 and bake approximately 25 minutes. Check at regular intervals to ensure even browning and rotate tray if necessary.

—Lexi Dwyer