That's a Wrap: The Burrito Vending Machine Is Now a Reality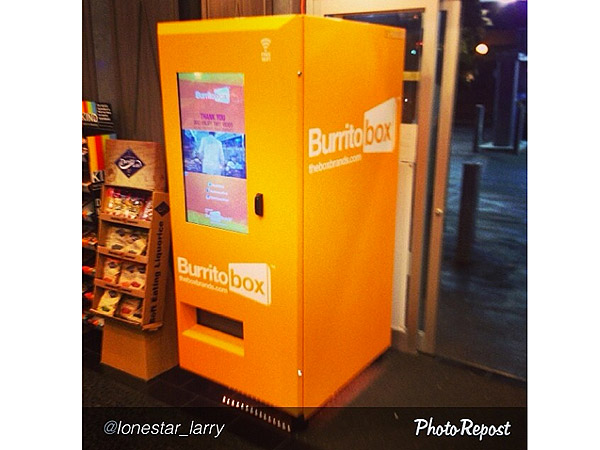 Courtesy Burrito Box
Taco! Burrito! What's coming out of your…

…vending machine? Okay, so Will Ferrell's SNL cheer rhymed better. The point is: There is now a touch-screen vending machine that dispenses warm burritos (and even plays music videos while you wait).
The Burritobox lives in a gas station in West Hollywood, but don't let that fool you. In L.A., even vending machines in 24-hour Mobil stations dole out food that's antibiotic- and hormone-free. The breakfast burritos use cage-free eggs.
After picking your $3 base burrito—according to the Burritobox Instagram feed, there are five options, including chorizo with egg and cheese and free-range chicken with beans and rice—choose from a list of bonus toppings. Yes, guacamole is extra. So is Tabasco or sour cream. But no matter what you pick, in 60 seconds, out comes dinner or, more likely, a 3 a.m. snack.
According to LAist, the machine is akin to a giant microwave spitting out soggy tortillas, but hey! If you're feeling grumpy, this is a great way to get food without ever having to interact with a human. Maybe a stop at the cupcake ATM for dessert?
A second Burritobox is coming to L.A.'s Century City neighborhood on January 18—inside a 76 gas station this time.
UPDATE: Even Ashton Kutcher is intrigued by this vending machine:
Speaking of food…has anyone tried one of these yet? pic.twitter.com/Z9sR7qaZTl

— ashton kutcher (@aplusk) January 9, 2014
VIDEO: Watch the Orange Monster in Action
—Marissa Conrad