Harley Pasternak: Can You Lose Weight Eating Fast Food?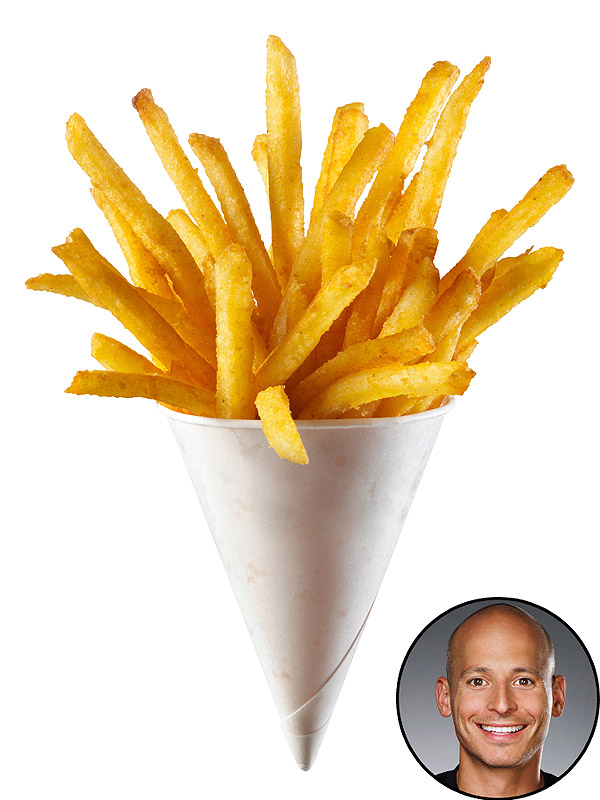 Getty; Inset: Courtesy Harley Pasternak
Harley Pasternak is a celebrity trainer and nutrition expert who has worked with stars from Halle Berry and Lady Gaga to Robert Pattinson and Robert Downey Jr. He's also a New York Times best-selling author, with titles including The Body Reset Diet and The 5-Factor Diet. Tweet him @harleypasternak.

In the 2004 documentary Super Size Me, filmmaker Morgan Spurlock ate only McDonald's for a whole month. As you can imagine, he got sick and fat. So when I saw a headline this week reading, "Science teacher gets surprising results from McDonald's diet," I was intrigued.
Reportedly, Iowa high school science teacher John Cisna lost almost 40 pounds after consuming only McDonald's food for 90 days! That's better results than most people get on popular diets including Atkins, Wheat Belly, or any other cleanse/fast/form of torture people choose to follow this time of year. Also, he reports that his cholesterol dropped from 249 to 170.
Cisna was quick to mention that he didn't do it eating only salads, either. "I had the Big Macs, the quarter pounders with cheese. I had sundaes, I had ice cream cones," he told the local news station. He wanted to show that you don't have to eat a perfect diet—losing weight is about balancing out poor choices with good ones. His good choices: No matter what he ate, he didn't exceed 2,000 calories a day, and he walked 45 minutes daily.
While I don't think it's a great idea to eat too much fast food (and I want to point out that Cisna was not restricting his calories or exercising before this experiment), I do think he is right. Fast food, while far from healthy, doesn't make people gain weight. Eating too much fast food too often is what can make you gain weight—the same way eating too much of anything can pack on the pounds.
Below is an example of what 2,000 calories from McDonald's, Subway and Wendy's looks like. I'm not suggesting you start following a fast food diet, but it's an interesting illustration that how much we eat is as important as what we eat!
McDONALD'S
Breakfast
Egg White Delight, 250 calories
Apple Slices, 15 calories
1% Low Fat Milk Jug, 100 calories
Subtotal: 365 calories
Lunch
Ranch Snack Wrap (Grilled), 270 calories
Premium 
Southwest Salad (without Chicken), 140 calories
Newman's Own 
Creamy
 Southwest Dressing, 100 calories
Water, 0 calories
Subtotal: 510 calories
Dinner
Quarter Pounder with Cheese, 520 calories
Medium French Fries, 380 calories
Diet Soda, 0 calories
Vanilla Ice Cream Cone, 170 calories
Subtotal: 1070 calories
Total Calories: 1945
SUBWAY
Breakfast
6″ Egg White Omelet Sandwich with Cheese and Ham, 350 calories
Apple Slices, 35 calories
12 oz. Low Fat Milk, 160 calories
Subtotal: 545 calories
Lunch
Chicken Noodle Soup, 100 calories
6″ Subway Club, 310 calories
Doritos, 250 calories
Water, 0 calories
Subtotal: 660 calories
Dinner
6″ Tuna Sandwich with Cheese, 520 calories
Chocolate Chip Cookie, 220 calories
Diet Soda, 0 calories
Subtotal: 740 calories
Total Calories: 1945
WENDY'S
Breakfast
Artisan Egg Sandwich, 360 calories
Small Orange Juice, 130 calories
Subtotal: 490 calories
Lunch
Grilled Chicken Go Wrap, 260 calories
Garden Side Salad with Light Ranch, 250 calories
Water, 0 calories
Subtotal: 510 calories
Dinner
Jr. Cheeseburger, 290 calories
Medium French Fries, 410 calories
Diet Soda, 0 calories
Small Chocolate Frosty, 290 calories
Subtotal: 990 calories
Total Calories: 1990