The Golden Globes Call For Golden Brownie Desserts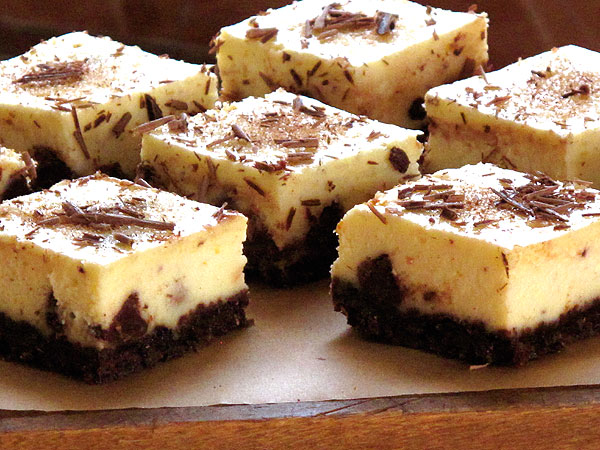 Courtesy Sheila G. Mains
What do you make Bradley Cooper and Sandra Bullock for dessert?

If you're Brownie Brittle founder Sheila G. Mains, the baker who will provide the sweet treats for the Weinstein Company and NBC's respective Golden Globes parties on Sunday night, you go with your surefire hits and create a few new ones.
While dessert at the actual Golden Globes ceremony is mangoes on almond sponge cake with crème anglaise, the parties are far more chocolate-y affairs. At the network's gold-themed bash—in honor of the upcoming Olympics—Cooper, Bullock and their A-list pals will be served dense golden brownie truffles; at the Weinstein gala, decadence will rule with a menu that includes brownie praline cheesecake bites, double nut brownie bars and brownie peanut butter sandwiches.
Sounds like they'd go great with a Walter White chocolate martini, no?
"We wanted desserts that were special and innovative," says Mains, who started planning the menu several months ago and hopes Hollywood's body-conscious stars will be tempted by the luscious desserts.
"It's like the pressure's off and they can splurge a little," she says.
For the Sunday spread, Mains' recipes will include her Brownie Brittle, which tastes like the crispy pieces that edge your brownie pan and give desserts an extra crunch, but you can also use chocolate wafer cookies or Oreos instead.
To live like a Hollywood star—or at least eat like one—whip up the easy truffle and cheesecake recipes.
Brownie Praline Cheesecake Bites
Makes 1 9-inch cake
1 cup chocolate cookie wafer crumbs
3 tbsp. melted butter
1½ lbs. cream cheese, softened to room temperature
1¼ cup firmly-packed dark brown sugar
2 tbsp. flour
3 eggs
1½ tsp. vanilla
½ cup pecans, finely chopped
Maple syrup, dark chocolate and pecan halves, for optional garnish
1. Preheat oven to 350F.
2. In a medium bowl, combine the cookie crumbs and melted butter. Press the mixture into bottom of 9″ springform pan, and bake for 10 minutes. Remove, set aside and raise the oven to 450F.
3. Meanwhile,with an electric beater or food processor, beat the cream cheese very well. Add sugar and flour, and mix until well blended. Add the eggs and vanilla, and continue beating until batter is be smooth and creamy.
4. Stir in nuts, and pour the entire mixture over the baked crust.
5. Bake at 450F for 10 min. Reduce temp to 250F and continue baking for 25 to 30 minutes. Turn off the oven, but leave the cake in oven for 5 more minutes.
6. Remove the cake from oven and loosen from sides of pan. Cool on rack. Remove rim, and chill. Before serving, brush with maple syrup and garnish with grated dark chocolate and pecan halves. Cut and serve.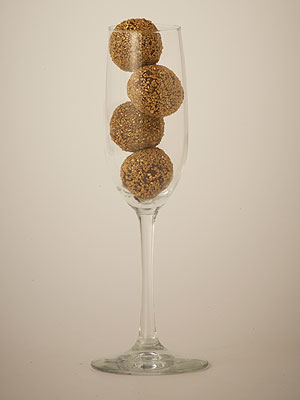 ourtesy Sheila G. Mains
Golden Brownie Truffles
Boxed fudge brownie mix (and ingredients based on that recipe)
Chocolate cookie wafers, crushed
Gold sprinkles
1. Make your favorite fudge brownie recipe according to package directions, but reduce the baking time by 5 minutes (to keep the brownies gooey). Let cool completely. Once cooled, place them in the refrigerator and chill for 20 to 30 minutes.
2. Remove brownies from pan and place in food processor for 3 minutes, or until the brownie "dough" has become soft and pliable.
3. Using a medium ice cream scoop, form single servings and roll them into balls with your hands.
4. Pour crushed chocolate cookies and gold sprinkles into two flat dishes or plates. Roll each truffle in the toppings, and place on a tray to set. Keep refrigerated until serving.
The Hollywood Foreign Press Association's 71st Golden Globes ceremony will air live from the Beverly Hilton Hotel on NBC Sunday, Jan. 12, at 8 p.m. ET/5 p.m. PT.
—Nancy Mattia
WATCH: Golden Globes Inside Scoop