Coffee Without the Calories: A Survival Guide by Hungry Girl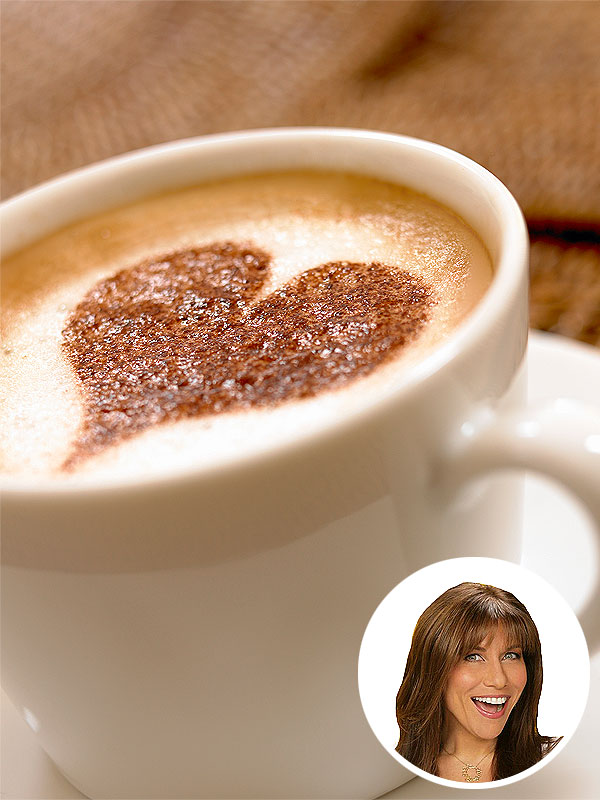 Adam Gault/Getty; Inset: Courtesy Hungry Girl
Lisa Lillien is the author of the popular Hungry Girl website and email newsletter, featuring smart, funny advice on guilt-free eating.

She is also the author of eight Hungry Girl cookbooks, five of which debuted at number one on the New York Times Best Sellers list. Read her PEOPLE.com blog every Monday for slimmed-down celebrity recipes and more.
Giant coffee cups are as common in Hollywood as oversized purses and face-hiding sunglasses. From Ashton Kutcher and Mila Kunis (seen here sipping their iced versions) to Amanda Seyfried (looks like she prefers her drinks tall), the stars certainly love a good cup of joe. But you might be shocked to learn that a big coffee drink can cost you more fat and calories than a couple of Cronuts. Here's how to order smartly: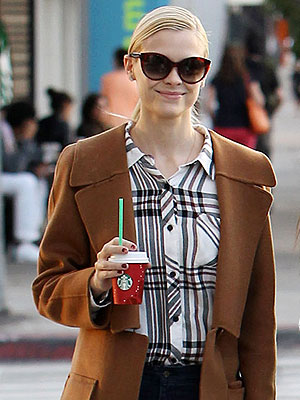 Broadimage
Size Matters. Take a cue from Jaime King's petite coffee drink. Unless you're drinking your coffee plain black, your extra-large cup can easily contain 400 calories, not to mention double-digit fat grams. And here's a secret: Even though it isn't always displayed on Starbucks' menus, you can get a Short 8 oz. cup. It's the perfect size, especially if you're going for something on the decadent side.
Mix Wisely. If you take your coffee with milk, choose fat-free and stick to just a splash. For flavor, request sugar-free syrup. Each pump of regular syrup has around 20 calories and 5 grams of sugar (which adds up fast!), while the sugarless stuff is calorie-free. As for sweeteners, sugar-free kinds are your best bet. I'm shocked that stevia packets aren't more common at coffee stores, considering how popular they are. Until coffee chains get with the program, tuck a few in your purse or use whatever alternative (probably Splenda) the shop has on hand.
Scope the "Skinny" Options. Low-calorie coffee drinks are popping up more and more often, so keep an eye out for new options. They make ordering even easier. The key to making a schmancy coffee drink "skinny?" Skip the heavy toppings, like whipped cream and chocolate squiggles.
When in Doubt, Keep it Simple. Stressing out over how many calories might be hiding in that double-shot mocha-choca-latta-yaya? You're better off getting a regular coffee that you can doctor up yourself. Bonus: You get your coffee right away and don't have to wait behind that intern picking up pumpkin spice lattes for the whole office.
Just Say No To Pastries and Muffins. Bad news: Even the reduced-fat versions contain hundreds and hundreds of carby calories. If you're hungry, look for options like fruit, yogurt or oatmeal.
Rather make DIY coffee drinks at home? Check out my best coffee shop swaps! You'll save cash and calories…
'Til next time… Chew the right thing!