Ryan Seacrest: 'The Greatest' Guacamole Recipe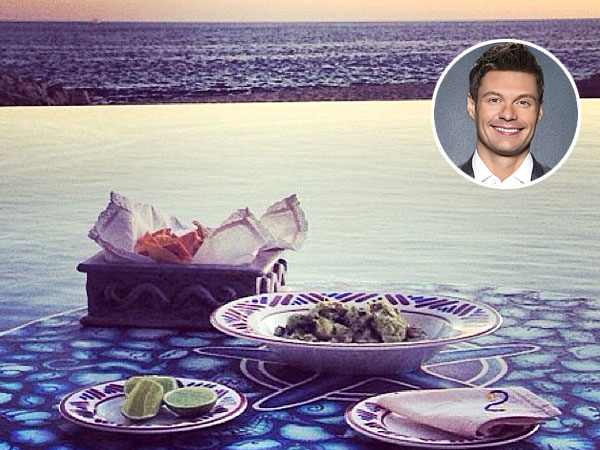 Courtesy Ryan Seacrest
Guacamole feels like a getaway in a bowl.

Each dip into the creamy avocado conjures memories of poolside margaritas, beachy sunsets, romantic guitar music wafting with the breeze off the Sea of Cortez … okay, we're turning off the computer and heading to the airport now.
Blame the itch to jet off to sunnier climes on Ryan Seacrest, who recently posted a dreamy photo on Instagram of an oceanfront infinity pool at Las Ventanas Al Paraiso, A Rosewood Resort in Cabo San Lucas, Mexico, where he celebrated his December birthday in a private beach villa — but it's Seacrest's seaside snack of tortilla chips and dip that really got our attention.
"If ur home this weekend watching the globes or football, here's the greatest guacamole recipe — stole it from my fav hotel @lasventanasalparaiso," the American Idol host shared.
It appears fairly traditional — cilantro, jalapeño, lime, you get the gist — but we'll be testing out the recipe from the hotel's executive chef Fabrice Guisset in time to watch Saturday's SAG Awards.
We're sensing a trend here: Not only was guacamole one of the most searched-for recipes of 2013 but it seems that nearly every star from Eva Longoria to Kyle MacLachlan has their own proprietary blend. Guacamole bar, anyone?
Las Ventanas al Paraiso Guacamole 
Serves 4
1 avocado
¼ white onion
1 ripe tomato
½ cilantro bunch
1 jalapeño
2 tbsp. lime juice
Salt
1. Cut avocado in half, take out the seed. Get big cubes out of it and mix in bowl
2. Finely chop onion, tomato, cilantro, jalapeño and mix with avocado.
3. Add fresh lime juice. Season with salt and serve with tortilla chips.
—Brooke Showell