A Twist On Take-Out: Grant Achatz's Rice-Crust Pizza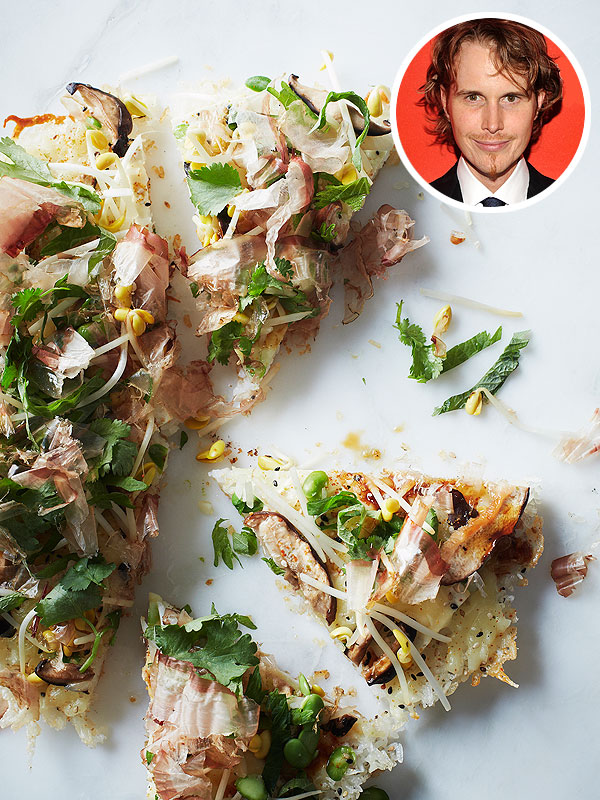 Christina Holmes/FOOD & WINE
They say you can't reinvent the wheel.
That is, unless you're Grant Achatz, the visionary chef behind Chicago's Alinea and The Aviary restaurants. In the February issue of Food & Wine, Achatz — a member of the magazine's new Chefs-in-Residence program — takes traditional doughy pizza and turns it on its head in an avant-garde Japanese version with a crust of cooked sushi rice.

Yup, rice.
This pie is definitely less Naples, more Tokyo, as shiitake mushrooms, edamame and shiso leaves lend a savory Eastern bent to the Western staple. For any mozarella-and-tomato sauce purists, just trust that this take is pretty heavenly. Another twist: Instead of an oven, Achatz cooks his pizza crust in a skillet right on the stovetop.
We're thinking this offbeat-but-brilliant pizza would be a rather impressive addition to a Superbowl party (and still pairs perfectly with a cold beer!). Achatz says home cooking should be "serene and relaxing," so take his zen approach — breathe deeply and give it a shot.
Japanese Pizza
Serves 4 
2½ ounces shiitake mushrooms, stemmed, caps thinly sliced
2 tbsp. soy sauce
2 tbsp. canola oil
½ tsp. toasted sesame oil
3 cups cooked sushi rice
5 oz. firm tofu, sliced
2 tsp. unagi sauce (optional)
⅓ cup shelled edamame
5 oz. Manchego cheese, shredded (about 1½ cups)
½ cup soy bean sprouts
Kosher salt
Togarashi and toasted white and black sesame seeds, for sprinkling
1 cup large bonito flakes
6 shiso leaves, thinly sliced
¼ cup cilantro leaves
1. Preheat the oven to 375 degrees. In a bowl, toss the mushrooms and soy sauce. Let stand for 5 minutes; drain.
2. In a 9-inch ovenproof nonstick skillet, heat the oils. Press the rice into the skillet, about ¼-inch thick. Cook over moderately high heat until the bottom is golden, 10 minutes. Top with the tofu in a single layer and drizzle with unagi sauce. Top with the shiitake, edamame, cheese and bean sprouts and season with salt. Sprinkle with togarashi and sesame seeds.
3. Transfer the skillet to the oven and bake on the top shelf for 15 minutes, until the top is golden. Slide the pizza onto a platter; top with the bonito, shiso and cilantro and serve.
—Brooke Showell