Alie & Georgia: 5 Drinks to Serve at Your Super Bowl Party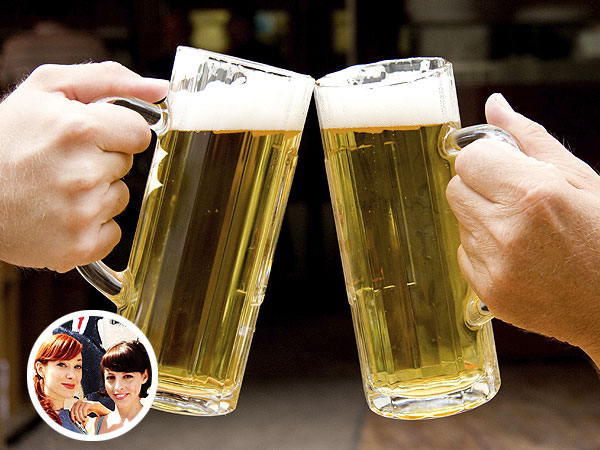 K.J. Schraa/Getty; Inset Courtesy Alie & Georgia
Alie Ward and Georgia Hardstark, a.k.a. Alie & Georgia, host Cooking Channel food-travel series Tripping Out with Alie & Georgia. Visit PEOPLE.com every Thursday for their playful spins on celebrity recipes, cocktails, entertaining ideas—and, of course, lots of laughs!

We wait for this day all year: the Super Bowl. Everyone is in comfortable pants, bellied up to a trough of nachos to watch grown millionaires smash into each other like angry animals. Our only Sunday responsibility is to eat corn chips and scream intermittently. It is an unofficial holiday that brings the world together.
But what if you're hosting a Super Bowl gathering? The day isn't quite as relaxing, given that you have to refill chili bowls and gently suggest that the heathens in your living room use coasters.
The biggest challenge of a Super Bowl party, however, is making sure that your home doesn't turn into a frat house full of adrenaline and beer-fueled drunks. Here are 5 drinks to serve that will temper the madness. Just trust us and there'll be less of a chance that your brother-in-law will vomit into your potted ficus.
Water. Make sure there are non-alcoholic drinks readily on hand, including water. This cannot be stressed enough. If you think your crowd won't be excited about a pitcher of ice water with lemon, pick up some cans of seltzer (we love La Croix or Perrier Slim Cans, both of which chill super fast). If you really think your guests won't gulp water, throw some sports drinks in the fridge and cooler.
A Signature Punch. Instead of having a buffet of hard alcohol, make one punch. By doing this, you can opt to make something with lower alcohol content than most people's heavy self-pours. We love an easy Greyhound punch: 4 parts grapefruit juice to one part vodka and one part sparkling water. Refreshing, hydrating and not too strong. Another tip: smaller glasses. Rather than the 20-oz. plastic red cups of college infamy, have some 10-oz. glasses handy. It's better to make people get up for a refill than it is to have folks slurping from veritable buckets of booze.
Light Beer. The Super Bowl is a marathon; by the time you watch all the pre-show panels, the game, the commercials, the half-time show and the overtime, your guests will have been sitting in front of a TV drinking things for approximately 42 hours. So choose a light beer (3.5-4.5% alcohol) over a keg of, say stout porter (7-8% alcohol.)
Wine Spritzers. We've said it before and we'll say it again: Wine spritzers are about to have a moment. Grab a nice but not crazy expensive white wine—we like pinot grigio or chardonnay. Fill a low tumbler with ice, then mix equal portions of the wine and fizzy water. Stir. You now have a refreshing, hydrating, crisp, cool, fizzy beverage that will not get anyone too tipsy, unless they are guzzling it through a funnel.
Coffee. After your team wins (or loses) there will be some celebrating (or mourning), so plan for that post-game part of the party with a fresh pot of coffee and some cream options. Your guests can sit with some caffeine and let all their beer buzzes and stress hormones simmer down before heading out the door.
When you host a party, think of yourself as a kindly zookeeper and try to do what's in the animals' best interest. They'll thank you for it in the morning. And you won't have to peel anyone off your couch.
Let the games begin,
Alie & Georgia