What's On the Menu at the SAG Awards and After-Party Gala?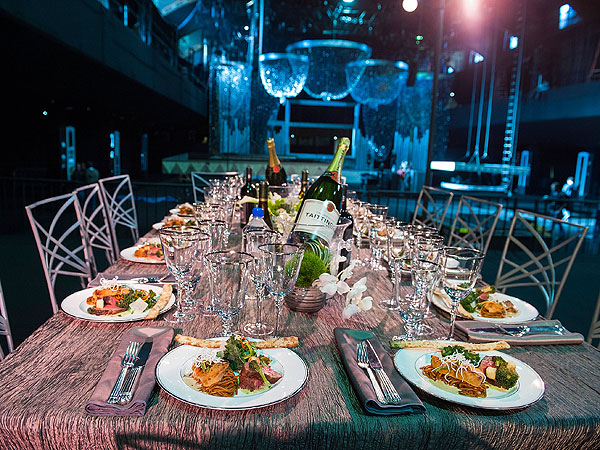 Valerie Macon/Getty
Anyone who's hosted a dinner for Very Important People (your future mother-in-law, your boss, your fanciest friends), knows that it takes tons of advance planning. Now throw Jennifer Lawrence, Bradley Cooper and Sandra Bullock into the mix.

For Saturday's upcoming SAG Awards, Wolfgang Puck is slicing and dicing his way to a menu befitting Hollywood's most A-list crowd — who also happen to be rather discerning diners. It's no small feat: 800 lbs. of filet mignon, 400 lbs. of farro and 7,000 kale chips — plus copious amounts of champagne — are only part of the equation for the celeb-studded feast at L.A.'s Shrine Auditorium.
As the nominees watch the show, they'll be enticed by one of Puck's signatures: miso glazed wild salmon with spicy orange noodles, a standout among stars. "The dish has Asian flavors so that you get all the different layers of taste," Matt Bencivenga, chef and managing partner of Wolfgang Puck Catering, tells PEOPLE.
The high-powered menu continues at the post-awards Gala hosted by PEOPLE and the Entertainment Industry Foundation, where Puck, Bencivenga and company are whipping up late-night noshes including spicy tuna tartare, mini prime cheese burgers, winter squab tortellini and pumpkin cheesecake pops to accompany the afterparty antics.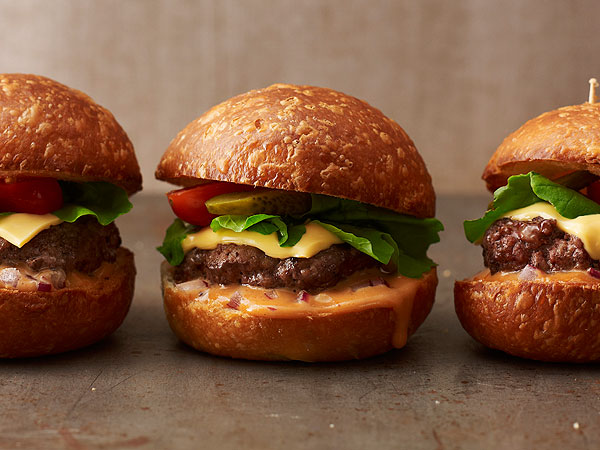 Andrew Purcell
Borrow some of the culinary sparkle and try one of these Tinsletown-approved dishes at your own viewing party. Get the recipe for Wolfgang Puck's super sliders, and find the instructions for miso salmon below (tip: Bencivenga recommends blanching and marinating the noodles and salmon the day before to make prep easier).
However you play host, Bencivenga offers this advice for pleasing VIPs: "Know the crowd that's coming. Know what you want and want to be. And plan ahead."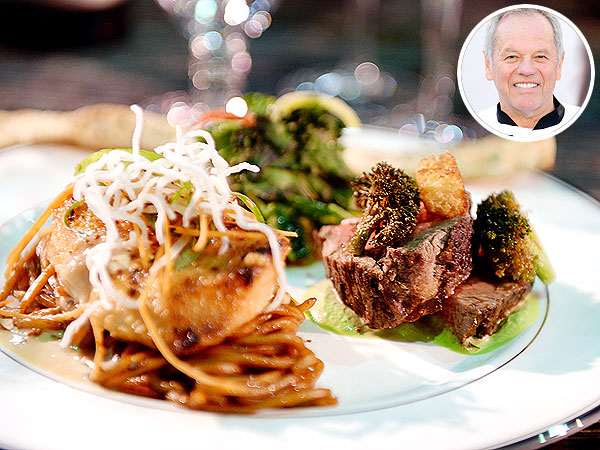 Michael Buckner/Wireimage. Inset:Jason Merritt/Getty
Miso Glazed Wild Salmon with Spicy Orange Noodles
Serves 4
Miso Marinade
1 cup sugar
½ cup mirin (a sweet golden-yellow Japanese wine)
½ cup sake
2 cups white miso
In a sauce pan, bring the sake nearly to a boil before removing from heat. Ignite with a long-handled match to burn off the alcohol. Shake the pan gently until the flame dies down. Add mirin, bring to a boil. Mix the sugar and miso together with the rest of the ingredients in the pan.
Noodle Vinaigrette
4 oranges, squeezed for juice and peeled for zest
1 cup chili goop (can be found in most Thai food stores)
1 cup brown sugar
¼ cup rice vinegar
1 cup mushroom soy
½ cup peanut oil
Combine all ingredients in a large mixing bowl and whisk together.
Sesame Miso Vinaigrette
2 egg yolks
2 tbsp. Dijon mustard
2 garlic cloves
¼ cup pickled ginger
½ cup water
¼ cup red miso
¼ cup toasted white sesame seeds
¾ cup rice vinegar
1 tbsp. sugar
2 cups peanut oil
2 tbsp. sesame oil
1 tsp. togarashi (Japanese mixed pepper)
Blend egg yolks, mustard, garlic, ginger, water, red miso, sesame seeds, rice vinegar and sugar until smooth. Add in the rest of the ingredients slowly while beating vigorously.
Miso Broiled Black Salmon
5 oz. salmon (or black cod) marinated in miso marinade for 24 hours
3 oz. egg noodles, cooked and cooled (Lo Mein)
3 oz. haricot vert
½ bunch cilantro, chopped
1 carrot, cut into thin matchsticks
1 cucumber, cut into thin matchsticks
Bean sprouts
Pickled ginger, chopped
Pea tendrils, as garnish
1. Blanch haricot vert in salted boiling water for about 5 minutes or until tender. Shock in ice water to cool down. Cut the marinated cod/salmon in four pieces before placing on a foil wrapped tin on top of carrots. Place in broiler, brushing with excess marinade and turning while it cooks for about 3 minutes.
2. Add cilantro, cucumber, carrot, bean sprouts and sushi ginger to the cooked noodles. Toss with the noodle vinaigrette and season with salt and pepper. Spin noodles on a pasta form and cut in four pieces before placing on a plate. Put a small pool of sesame miso vinaigrette on plate next to the noodles. Place 4 pieces of cooked fish on top of the vinaigrette and garnish noodles with pea tendrils.
—Brooke Showell, additional reporting by Michael Fleeman