Bacon Lattice Apple Pie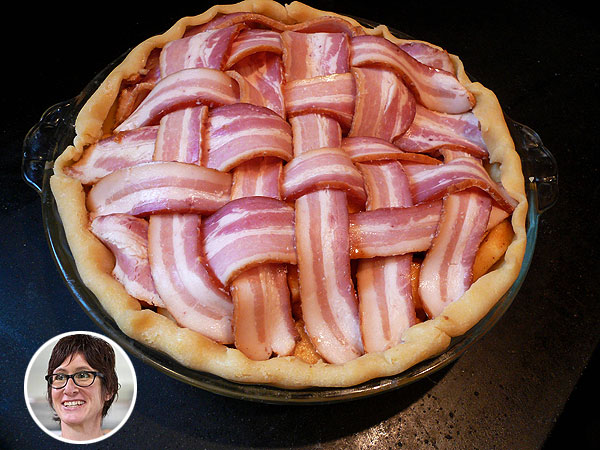 Bacon Apple Pie
Recipe courtesy of Jenn Louis
Makes one 9-inch pie
1 Pâte Sucrée (recipe below)
3 tbsp. all-purpose flour, plus more for work surface
3 lbs. crisp red apples such as Rome, Braeburn, and Gala
2 tbsp. freshly squeezed lemon juice
¼ cup granulated sugar
1 tsp. ground cinnamon
¼ tsp. ground nutmeg
⅛ tsp. salt
1 tsp. unsalted butter, cut into small pieces
1 lb. sliced bacon
1. On a lightly floured work surface, roll out one pâte sucrée disc into a 13-inch round about ⅛ of an inch thick. Fit dough into a nine-inch pie plate. With a sharp paring knife, trim dough about ¾ inch over the rim. Turn rim of pie dough under to form a rustic crust. Freeze again until firm, at least 30 minutes.
2. Preheat oven to 400 degrees.
3. In a large bowl, toss the apples with the lemon juice, granulated sugar, flour, cinnamon, nutmeg, and salt. Remove pie shell from freezer and fill with apple mixture. Dot with butter.
Arrange the strips of bacon over the top of the piecrust in a lattice, then fold the edges of the pie crust over the bacon and crimp.
4. Bake for about an hour, until the bacon on top is nicely crisp, the crust is browned and a knife pushes easily into an apple slice.
Cook's note: Every apple has a different water content and will react to cooking differently. Pierce with a knife to make sure the apples are soft and the bacon is crisp.
Pâte Sucrée
Makes one 9-inch pie crust
1 large egg yolk
2 tbsp. ice water
1¼ cups all-purpose flour
1½ tbsp. sugar
pinch of salt
1 stick cold unsalted butter, cut into small pieces
1. Lightly beat yolks and water in a small bowl until combined.
2. Pulse flour, sugar, and a pinch of salt in a food processor until combined. Add butter and process until mixture resembles coarse meal, about 20 seconds. With the machine running, add yolk mixture in a slow, steady stream. Process until mixture just begins to hold together (no longer than 30 seconds).
3. Shape dough into a disk and wrap in plastic. Refrigerate until firm, at least 30 minutes or preferably overnight.