Recipe Redo (Guilt-Free!): Andrew Zimmern's Ramen Soup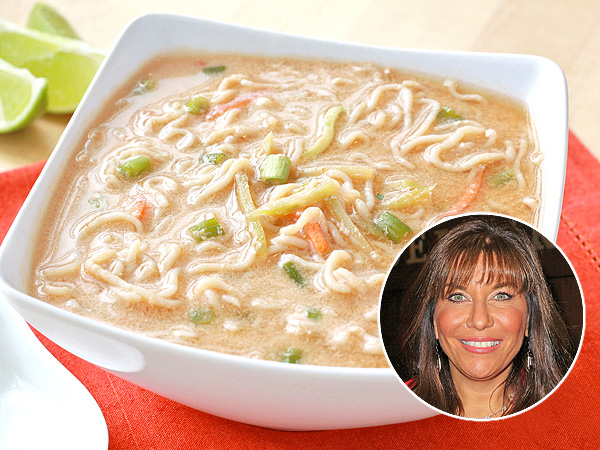 Courtesy Hungry Girl
Lisa Lillien is the author of the popular Hungry Girl website and email newsletter, featuring smart, funny advice on guilt-free eating.

She is also the author of eight Hungry Girl cookbooks, five of which debuted at number one on the New York Times Best Sellers list. Read her PEOPLE.com blog every Monday for slimmed-down celebrity recipes and more.
The cold weather that most of the U.S. has been experiencing calls for one thing: warm-you-up soup! A bowl of piping-hot soup is one of the most comforting foods you can find, and ramen is a nostalgic classic.
Chef and TV personality Andrew Zimmern is best known for his show Bizarre Foods, so I was a little scared to take on one of his recipes! The man has eaten tarantula, snail caviar, llama brains…eek. Luckily, there's nothing creepy in his .
While his doctored-up take on instant ramen isn't conventional, it's really delicious. It calls for Sriracha, which Zimmern himself rightly predicted would be one of the biggest food trends of 2013. But as you may have guessed, I'm not big on the carby, fat-packed noodles that come in ramen packets. So here's my spin, using the super-low-calorie magical pasta swap known as tofu shirataki noodles!
'Til next time… Chew the right thing!
HG's Nicely Spiced Ramen-Style Soup
Serves 2
1 package tofu noodles (recommended: House Foods Tofu Shirataki Spaghetti Shaped Noodle Substitute)
2 cups low-sodium chicken broth
½ cup bagged broccoli cole slaw
1½ tbsp. reduced-sodium soy sauce
1 tbsp. ketchup
1 tsp. sugar
1 tsp. sesame oil
1 tsp. Sriracha sauce
¼ cup fat-free liquid egg substitute or liquid egg whites
¼ cup chopped scallions
1½ tsp. fresh lime juice
Salt and black pepper, optional
1. Use a strainer to rinse and drain noodles. Pat dry.
2. In a large microwave-safe bowl, microwave noodles for 2 minutes. Drain excess liquid, thoroughly pat noodles dry and cut them roughly into whatever size strands you prefer.
3. In a medium pot, combine broth with broccoli cole slaw. Bring to a boil, and then reduce heat to low.
4. Whisk in soy sauce, ketchup, sugar, sesame oil and Sriracha. Slowly whisk in egg substitute/whites. Add noodles, and cook and stir until hot, about 1 minute.
5. Remove from heat. Stir in scallions and lime juice, and add salt and pepper if desired. Enjoy!
In 1 serving (about 1¼ cups): 110 calories, 3g fat, 750mg sodium, 12.5g carbs, 3g fiber, 6g sugars, 7.5g protein