Why Sofia Vergara Is Smiling at This Giant Meatball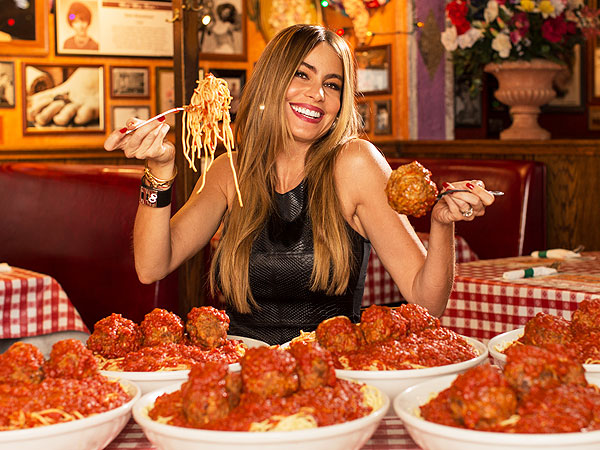 Chris Polk, Getty Images
What do Sofia Vergara and a half-pound meatball have in common? (Hint: It's not just their abilities to make dudes across the country smile.)

Starting January 22, both will be part of an effort to help kids by raising funds and awareness for St. Jude Children's Research Hospital in Memphis, one of the country's top hospitals for pediatric cancer.
As part of the "Meatballs 4 Niños" campaign, the national Italian chain restaurant Buca di Beppo will donate a dollar to the hospital for every meatball dish that's ordered either in the restaurant or online. The restaurant is known for its oversize, marinara-soaked spheres that are served as a side dish and also in classic entrees like spaghetti and meatballs. (If you'd rather not supersize, mini meatballs are also on the menu.)
Vergara, who is a spokesperson for the hospital and a thyroid cancer survivor herself, feels a personal connection to St. Jude's, which relies on private donations for 75 percent of its operating revenue. "I am a mother so it's something very special to me, working with kids, and I always get involved with kids' charities. I had cancer 10 years ago, so it's close to my heart, and they're doing such amazing work," the Modern Family actress told Access Hollywood last year.
The campaign is also a natural fit for Vergara, who's well-known for her love of food and doesn't even let slinky awards-show dresses keep her away from it. At this year's Golden Globes she famously polished off a last-minute slice of chocolate cake while getting ready, and last year she was spotted eating a burger after the Emmys. Will the eight-ounce meatball become her next on-the-go snack?
—Lexi Dwyer