Recipe Redo: Gordon Ramsay's Cookies Become…a Cocktail?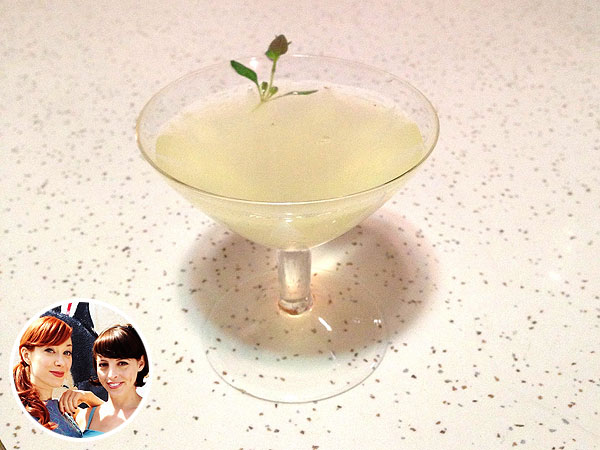 Courtesy Alie & Georgia
Alie Ward and Georgia Hardstark, a.k.a. Alie & Georgia, host Cooking Channel food-travel series Tripping Out with Alie & Georgia. Visit PEOPLE.com every Thursday for their playful spins on celebrity recipes, cocktails, entertaining ideas—and, of course, lots of laughs!

We all love Gordon Ramsay despite, or possibly because of, his bombastic British anger. The way his nostrils flare when he's screaming into the face of a cowering, aspiring MasterChef. The brief but tantalizing glance we "accidentally" get of his rippling abs when he changes into his chef coat to take charge in the kitchen. Hell, it's enough to make us need a strong drink.
And if we're gonna have a strong drink, why not use it to pay homage to Sir Ramsay? (No, he hasn't actually been knighted. But doesn't it sound right to call him Sir?)
His Lemon Thyme Shortbread sounded great, so we turned the same flavors into boozy bliss using a nice London gin. Sip this cocktail, and toast to all ruggedly handsome men who are great in the kitchen.
Lemon Thyme Cookie Cocktail
Makes 1
2 oz. gin
¾ oz. lemon juice
½ oz. thyme sugar simple syrup (recipe below)
In a shaker filled with ice, combine all ingredients and shake thoroughly. Pour into a coupe glass and garnish with a small thyme sprig, if desired.
Lemon Thyme Simple Syrup
1 cup sugar
1 cup water
6-8 stems fresh thyme
In a small saucepan over low heat, combine all ingredients. Simmer until sugar is dissolved and remove from heat. Let cool for at least an hour, then strain and discard stems. Excess simple syrup can be stored in an airtight container.