Oreo Launches Two New Flavors: Love 'Em or Leave 'Em?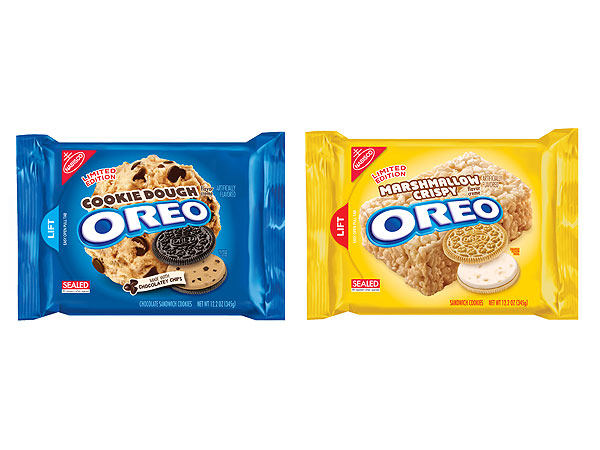 Courtesy Nabisco
What's black and white and crunchy all over?

Cookie Dough Oreos and Marshmallow Crispy Oreos, the latest flavors that Nabisco will introduce for a limited run on February 3.
As hard-core classic Oreo lovers, we were a bit dubious that these new kids in town would pack the flavor and crunch punch that the vanilla cream, which celebrated its 100th birthday in 2012, does so well. We remember other limited-edition flavors that didn't quite measure up. (Candy Corn Oreos, we're talking to you.)
So we did a pre-launch taste test at PEOPLE.com. Staffers used both time-honored Oreo-eating techniques: breaking apart the cookies from the cream and eating them separately as well as gobbling them intact.
The Cookie Dough variety—chocolate wafers with bits of chocolate chips in chocolate cream—tasted like many things to the staffers. Unfortunately none of those things was cookie dough.
Tasters noted "hints of caramel" and "a chocolate mousse flavor." One sophisticate even detected a "smoky flavor like coffee" and thinks the cookie would appeal to "mature palettes" more than kids.
After taking their first bite of the Marshmallow Crispy Oreo—vanilla wafers with crispy bits in vanilla cream—tasters were shocked at how sugary the cookie was. "It gave me a jolt!" said one. "It burned my throat!" joked another. "The first bite was good but the next was cloyingly sweet," said a third. And then they all reached for more.
Which did the crowd prefer overall? Marshmallow Crispy for its close resemblance, flavor-wise, to a Rice Krispies Treat.
Snap, crackle, winner!
—Nancy Mattia