Bread with a Bang: Mayim Bialik's Vegan Pretzel Challah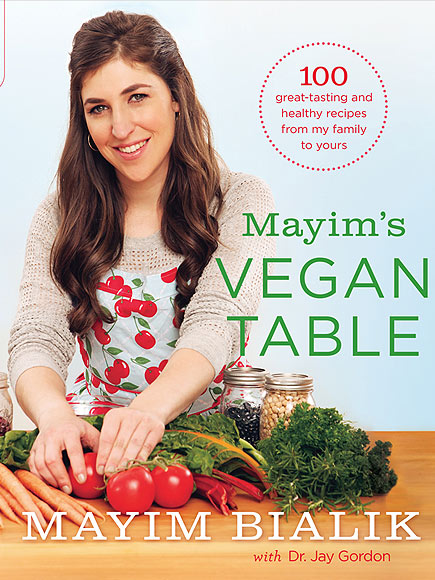 Courtesy Da Capo Press
Jewish or not, who doesn't love a fluffy piece of challah?

Mayim Bialik has taken the Shabbat staple and put her own twist on it, turning the braided loaf into vegan bread with a pretzel-like crust.
Traditional challah, crusty on the outside and soft in the middle, "does not need eggs or dairy to be delicious," The Big Bang Theory actress tells PEOPLE. "This recipe takes a bit of effort, but it's so, so worth it."
"Making the outside 'pretzel-y'" — achieved partially by a coating of pretzel salt — "was inspired by the Got Kosher? bakery here in L.A., which makes vegan pretzel challahs that are divine," Bialik adds.
The actress shares the recipe with PEOPLE before the release of her first cookbook, Mayim's Vegan Table, out February 11.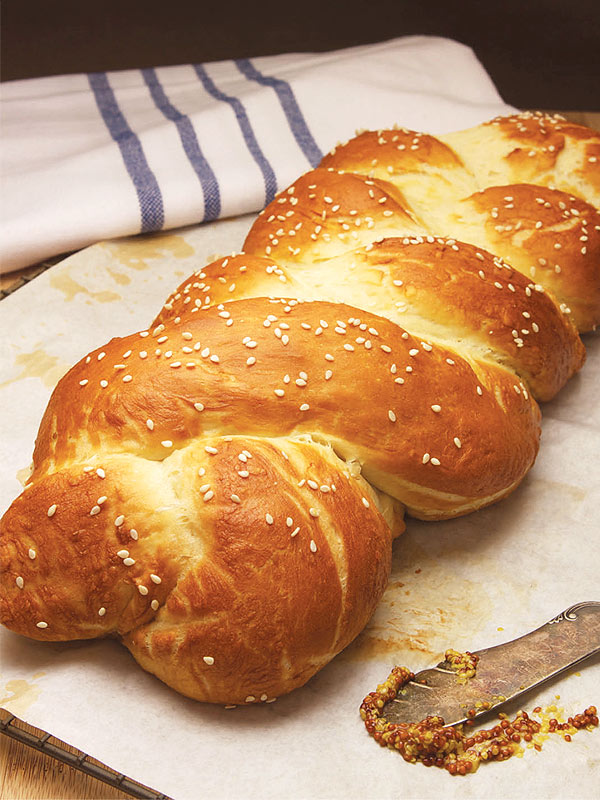 Courtesy Da Capo Press
Hot Pretzel Challah Bread
Makes 2 loaves; serves 8
1 tbsp. active dry yeast
6 tsp. sugar, divided
¾ tsp. kosher salt
⅛ cup canola oil, plus more for bowl
3 cups bread flour
⅔ cup baking soda
Salt or sesame seeds, for sprinkling
1. Preheat oven to 350 degrees. In a medium glass bowl or measuring cup, combine yeast, 1½ tsp. sugar and ¼ cup lukewarm water. Leave until foamy, about 10 minutes.
2. Meanwhile, in the bowl of a stand mixer fitted with a dough hook, mix the remaining 4½ tsp. sugar, 1 cup water, kosher salt and oil on medium-low speed. (This also can be done by hand with a whisk.)
3. Add the yeast mixture to the mixing bowl, beating well. With the mixer on low speed, add the flour. Raise the speed to medium and knead until a smooth, satiny dough forms, 4-5 minutes. It will have almost a matte finish. If you are kneading in the flour by hand, it may take a few minutes longer to get a good, smooth texture.
4. Place dough in a lightly oiled bowl, cover with a clean dishtowel and allow dough to rise in a warm place until doubled in size, about 1½ hours.
5. Transfer dough to a lightly floured surface. If dough is sticky, knead in more flour, a little bit at a time, until easy to roll. Divide dough into 6 equal balls and roll each into a long strand. Braid 3 strands of dough into a challah loaf, for a total of two challahs. Place on a baking sheet lined with parchment paper.
6. In a pot with a wide opening, bring 8 cups of water and the baking soda to a boil. Gently and carefully, lower one challah into the baking soda solution. Using two wooden spoons or spatulas, carefully turn the challah so both sides get equally covered in the water, or bathe the top with spoonfuls of the solution. Remove after 30 seconds and place back on the parchment-lined pan. Repeat with the other challah.
7. Brush the top of each challah with some water from the pot and then top with salt or sesame seeds. Bake until challah start to brown, about 30 minutes.
Note: The finished challah is best eaten warm on the day it's made, as the outer crust can get hard the next day. Dip in additional pretzel salt or kosher salt and add sesame seeds if you like. Serve with mustard.
—Dahvi Shira