If You Can't Make It, Fake It: Sneaky Party Food Shortcuts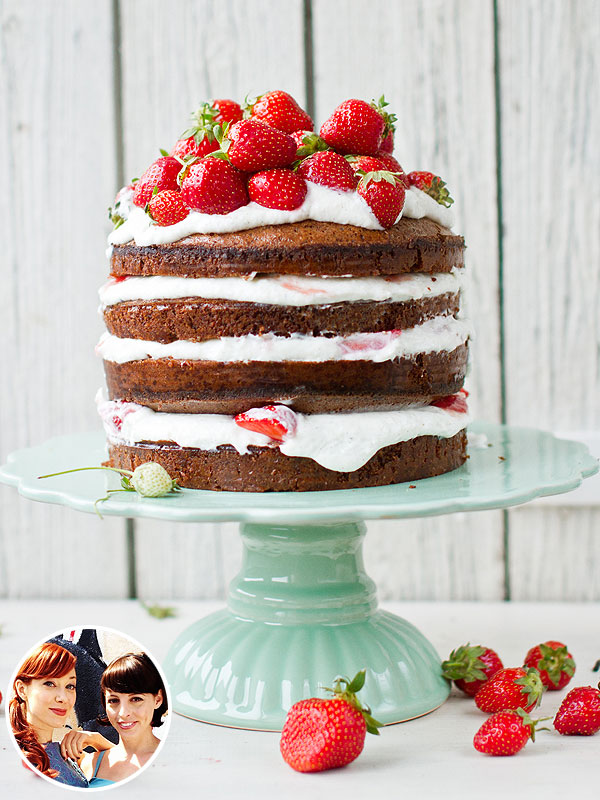 Getty; Inset: Courtesy Alie & Georgia
Alie Ward and Georgia Hardstark, a.k.a. Alie & Georgia, host Cooking Channel food-travel series Tripping Out with Alie & Georgia. Visit PEOPLE.com every Thursday for their playful spins on celebrity recipes, cocktails, entertaining ideas—and, of course, lots of laughs!

It's the day of your big party and you're staring down the barrel of a hideously long to-do list. You've got veggies to cut for the crudite platter, dates to wrap in bacon for the appetizer, and that seventeen-layer cake that you tried to recreate off Pinterest looks less like a baked "good" and more liked a baked "bad." What's a hostess with the mostess to do?!
While we would never advise this in other parts of your life—say your taxes or pregnancy—may we suggest the tried-and-true by yours-truly trick of faking it?
Slave over the main dish, create your own signature cocktail, but when it comes to everything else, store-bought and quick fixes are the way to go. Below are a few of the menu items that can be handily made not by hand, but by other people.
Salad
Our famous kale salad is a staple at our dinner parties. The kale is perfectly shredded, the pine nuts fresh and crunchy, and the vinaigrette tangy and bright. Also, it cost $7.99 a pound from a local fancy grocery store and none of our friends are the wiser.
No one wants to spend important party-prepping time washing lettuce, hand-whisking dressing or cubing veggies, so we suggest that you follow suit and buy a pre-prepared salad at a deli counter. If your hosting conscience won't allow that, purchase the lettuce and other ingredients ready to go, and then pour on your homemade dressing.
Appetizers
We've hand-wrapped three dozen figs in proscuitto. Have you tried that lately? It sucks. While we're all for having one or two handmade appetizers as the centerpiece of your pre-dinner nibbles, everything else can be store-bought and thrown on a cookie sheet to bake right before guests arrive.
The freezer aisle of your local grocery chain is chock full of pretty little pastry puffs filled with fancy cheeses, and tiny phyllo dough purses stuffed with deliciously seasoned meats. They even come with their own sauces! Bake 'em, arrange 'em on a fancy serving dish with the sauce in a little bowl, and boom, you've just saved your wrists from fig-wrapping-induced carpal tunnel.
Dessert
Cake and cookie batters begin with simple things: flour, sugar, baking powder, baking soda, a pinch of salt and, if you're making something chocolatey, cocoa powder. You could get all those ingredients out of your cupboard (that is, if you don't realize halfway through that you're out of one of them), make a powdery mess all over your counter as you measure them out (that is, if you can find all your measuring spoons), and then have even more dishes to do and things to put away.
Or, you can buy a boxed mix and save yourself half the time and trouble. We know most civilized people have a conniption fit when it comes to boxed mixes, but you guys, it's just all the starting ingredients mixed together. Someone has to do it, so why not let the machines on the assembly line at the cake mix plant do it for you?
Look at that beautiful cake above. Those could be boxed mix layers with store-bought whipped cream in the middle, but stack it up and pile a bunch of bright red strawberries on top and c'mon—who would ever condemn that cake? Only crazy people, mother-in-laws and crazy mother-in-laws. It's perfect. Just like your party will be.