Taste the Trend: A Custard-Soaked, Deep-Fried Burger Bun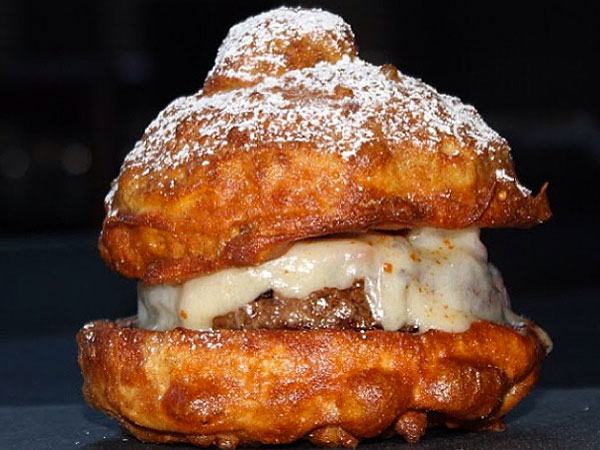 Courtesy Umami Burger
Move over, mac 'n' cheese burger, ramen burger and deep-fried Twinkie burger. There's a new stunt sandwich in town, and it's a whopper! (No, not the Burger King kind.)

Former Top Chef champ Michael Voltaggio is behind the Monte Cristo Burger: a beef patty topped with melted Gruyere and prosciutto, then stuffed in a bun that's been soaked in vanilla custard and deep-fried. It sounds like a hybrid of a doughnut and French toast, which explains the powdered sugar topping and, yes, side of maple syrup.
Voltaggio wanted to "make a burger that would hit the spot no matter if you're craving something sweet or savory," he told the Los Angeles Times. Think of it like dipping your sausage links in syrup — the flavor combo always works.
The chef's $15, limited-run special is available at Umami Burger, a California chain with outposts in New York and Florida. And if you need an extra push to try it, some of your bill will be for a good cause: $1 from each sale goes to the Los Angeles Mission, a homeless shelter and recovery program.
If you do order this burger, please report back. And ask for extra napkins.
Tell Us: Do you want to try the deep-fried Monte Cristo Burger? 
—Nancy Mattia