Recipe Redo (Guilt-Free!): Jacques Torres' Flavored Hot Chocolate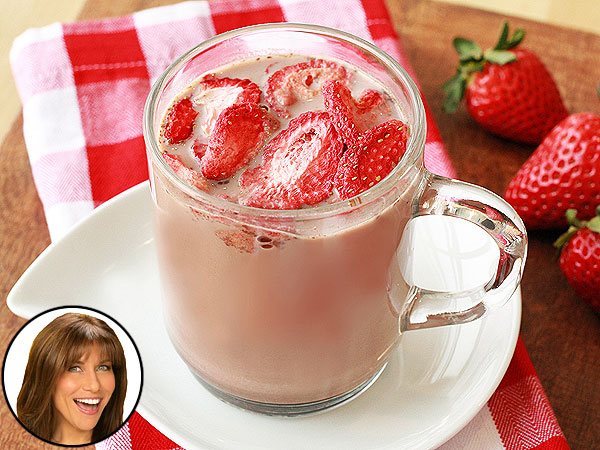 Courtesy Hungry Girl
Lisa Lillien is the author of the popular Hungry Girl website and email newsletter, featuring smart, funny advice on guilt-free eating.

She is also the author of eight Hungry Girl cookbooks, five of which debuted at number one on the New York Times Best Sellers list. Read her PEOPLE.com blog every Monday for slimmed-down celebrity recipes and more.
Who doesn't love chocolate? Celebrities aren't immune to its powers of deliciousness. TV food personality and domestic goddess Nigella Lawson says she turns to it when stressed, and Blake Lively can't face a day without a chocolatey treat.
When it comes to hot chocolate, Jacques Torres is the man. Hello… they call him Mr. Chocolate! I would never have thought to put freeze-dried strawberries into a hot drink (and I love freeze-dried strawberries), so I have to thank him for that idea in his Flavored Hot Chocolate.
That said, I like to keep my hot cocoa guilt-free with a low-calorie mix. The secret to making sure it still has a mega-chocolatey taste? Add a few semi-sweet chocolate chips—a teaspoon is all you need. With some fat-free creamer blended in, you've got one incredible slimmed-down swap.
'Til next time… Chew the right thing!
HG's Berry-Nice Hot Cocoa
Serves 1
1 packet hot cocoa mix with 20-25 calories
2 tbsp. plain fat-free non-dairy powdered creamer
1 tsp. mini semi-sweet chocolate chips
½ cup fat-free milk
3 tbsp. freeze-dried strawberries
1. In a tall microwave-safe mug, combine hot cocoa mix, creamer, and chocolate chips.
2. Add ½ cup hot water and stir until ingredients have mostly dissolved.
3. Add milk and microwave for 1 minute, or until hot. Stir in strawberries, and enjoy!
Entire recipe (about 8 oz.): 168 calories, 1.5g fat, 210mg sodium, 29g carbs, 1.5g fiber, 15g sugars, 6g protein