'I Am Pasta Fierce': Restaurant Offers Beyoncé-Themed Valentine's Dinner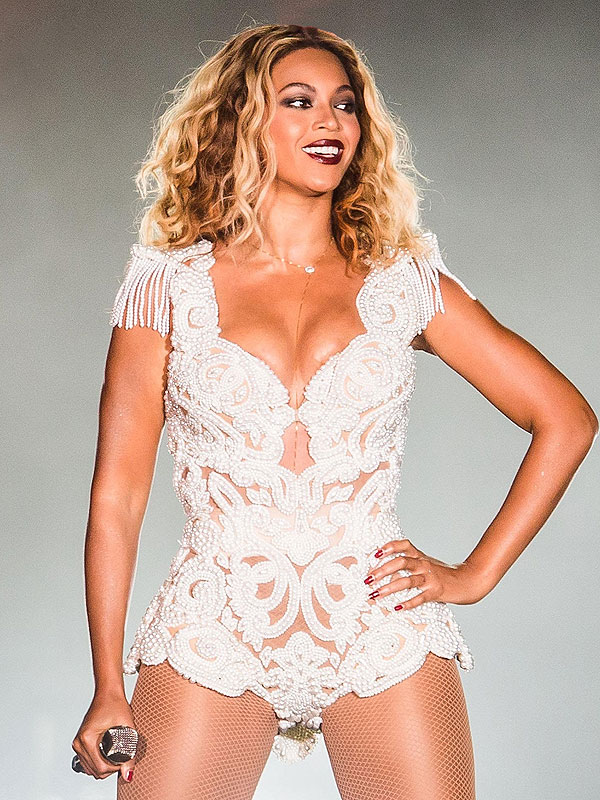 Buda Mendes/Getty
The eternal dilemma of Valentine's Day as a couple: go out and face overpriced menus and gimmicky tricks like roving musicians, or stay in and risk totally messing up a homecooked fancy meal?

But now presenting option three: Beyoncé.
For this Valentine's Day, Zahra Tangorra, chef and owner of Brooklyn restaurant Brucie, has created an entire a la carte menu devoted to the pop star.
She and her general manager were brainstorming in a taxi one night when inspiration struck. "I'm not even a person who cares about celebrities, but Beyoncé is just wonderfully radiant and someone that gets people excited—it's so interesting when you find a public figure who is so much more than their last movie or CD," she tells PEOPLE.
Sure, it's also a gimmick—but a heck of a lot funnier than a roving guitar player. And the theme isn't going to affect the quality of the food, Tangorra says. She worked with her chef de cuisine and sous chef to hash out dishes that would not only match their long list of puns and songs, but also be worthy of the restaurant's standards.
"The menu is funny, but we take our food very seriously and realize that people are coming and spending money, and we want them to have a beautiful, interesting meal," she says. "We're constantly pushing ourselves and we change the menu daily, so this is pretty much how we roll anyway."
While ordering from dishes like the 22 Days Vegan appetizer (a mix of vegetables raisins, and cocoa nibs) and the Breastiny's Child (veal breast braciole with figs, sopressata, and goat's milk yogurt), Valentine's Day guests can expect to hear both Bey and Jay-Z playing in the background all night. Here's the full menu: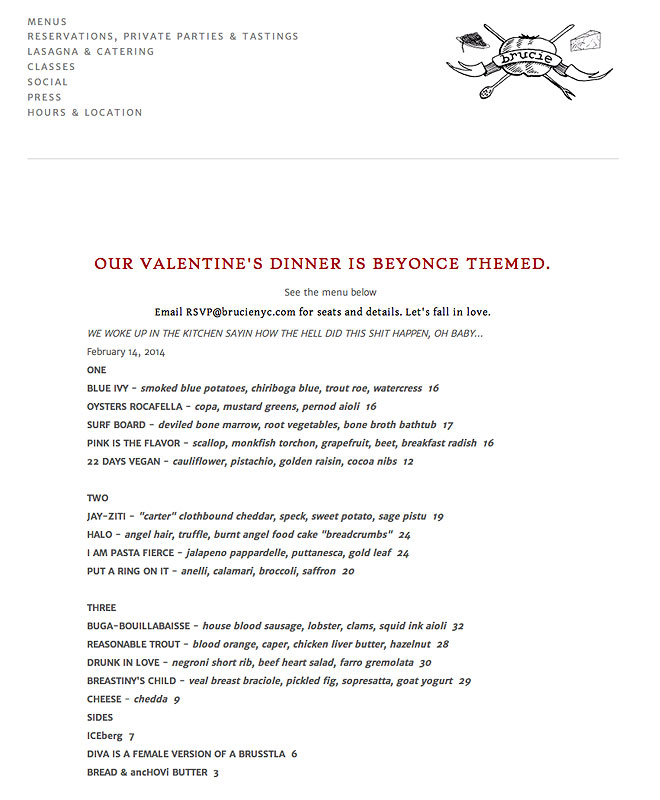 Courtesy Brucie
Though the desserts aren't listed on this menu, Tangorra spilled about her favorite: the I Don't Think You're Ready for This Jelly…Doughnut. "It's going to be filled with apple and earl-gray jelly and almond-butter cream, with bacon brittle crumbled on top," she says. Good thing Beyoncé's vegan diet was only temporary.
If you can't make it to Brooklyn, consider the above an inspiration to dream up your own pop diva menu. Queen Bey-con Cheeseburger? We're on it.
—Lexi Dwyer