Chef Dominique Ansel: 'Even My Family Has Never Tried a Cronut'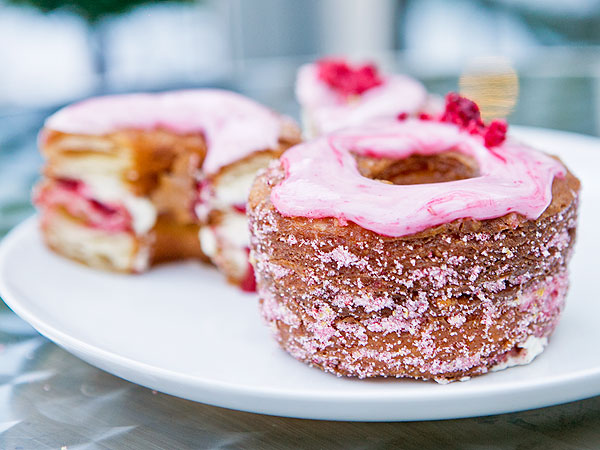 Katie Kauss
Neither rain nor cold nor (yet another) snowstorm can keep people from lining up for a Cronut — especially when a new flavor is involved.

On February 1, baker Dominique Ansel introduced the latest flavor of the croissant-doughnut hybrid to a line of people way too long for the inclement weather outside his Dominique Ansel bakery in N.Y.C, including us. In the video below, we got him to talk about the new Valentine's-perfect pastry, as well as two other chocolate desserts just right for the lovey-dovey holiday.
"I wanted to keep something pink and fun to celebrate Valentine's Day and this is a very special and unique flavor," he says of his raspberry-lychee Cronut, available only in February.
Sweeter yet: the chance to watch this pastry genius work in his kitchen. The bakery does more than Cronuts, he explains, showing us how he makes two of his other signature desserts.
The chocolate snail, Ansel says, is a riff on the American candy classic called the turtle. (But snail sounds more French, get it?) His version is chocolate cake that's been rolled in chocolate mousse, with a thin layer of caramel and pecans.
This year, the snail has metamorphosized into an adorable, delectable ladybug. It's the same flavor concept but with a red cocoa-butter shell and eyes made from truffles. It's one of the cutest desserts you could give your Valentine — and it doesn't require the warm layers needed to brave the 4 a.m. Cronut line.
"If you come to the bakery you will see that we have plenty of beautiful things," he says, adding that he makes no exceptions when it comes to doling out Cronuts.
"As far as cutting the line, there is nothing like this … I try to be fair and most of my friends and even my family have never tried a Cronut," he says. "Why? Because they just didn't want to wait."
WATCH THE VIDEO:
—Lexi Dwyer