The 7 Best Exercises for Trimmer Thighs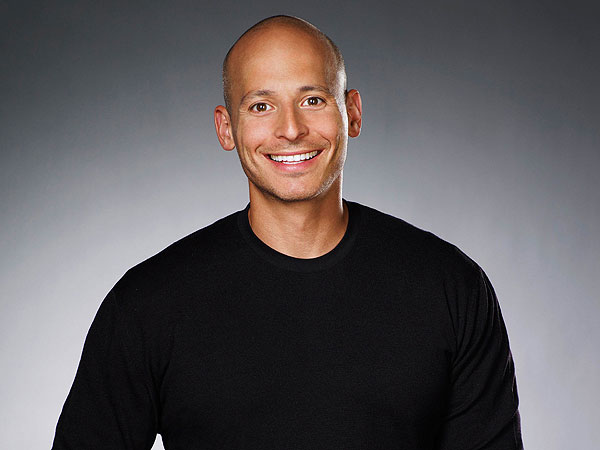 Courtesy Harley Pasternak
Harley Pasternak is a celebrity trainer and nutrition expert who has worked with stars from Halle Berry and Lady Gaga to Robert Pattinson and Robert Downey Jr. He's also a New York Times best-selling author, with titles including The Body Reset Diet and The 5-Factor Diet. Tweet him @harleypasternak.
Just what are the absolute best sculpting and toning exercises ever?
Well I'm actually turning to you, the PEOPLE.com readers, to help me decide what the most effective, efficient, safe and enjoyable exercises are.
Each week, I'll present to you some of my favorite toning and strengthening movements. You try each one, then Tweet me @harleypasternak with what you think is the best exercise for that specific muscle (group).
Today we'll focus on the front of the thigh/butt. Try at least 2 sets of 20 reps of each before you decide. Ready? Without further adieu, my top moves are …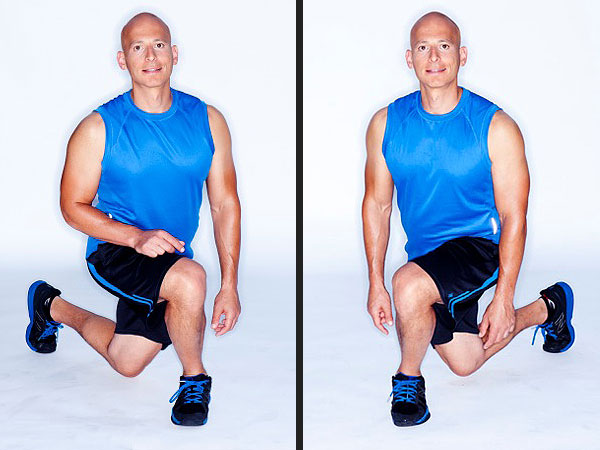 Courtesy Harley Pasternak
1. Skater Lunge
Stand with your feet shoulder-width apart. Step your right foot behind your left leg and bend both knees to lower into a lunge, with your right knee behind your left heel. Press through your left heel and bring your right foot back to starting position. That's one rep; repeat on the other side and continue alternating.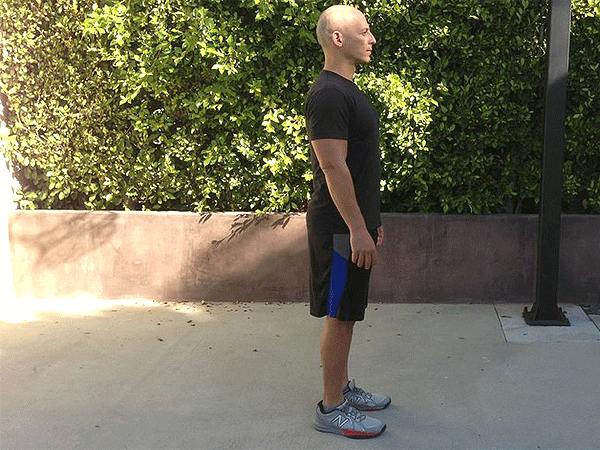 Courtesy Harley Pasternak
2. Reverse Lunge
Start by standing upright, feet together, and take a controlled large step backward with your left foot. Lower your hips so that your front leg is parallel to the floor and your right knee is directly over your ankle. Keep your left knee bent at a 90-degree angle and pointing toward the floor. Keep your back straight, looking straight ahead. When your left knee is almost (but not actually) touching the floor, push with your left foot to return your left leg back to starting standing position. Complete 10 reps on one side before switching to your other side.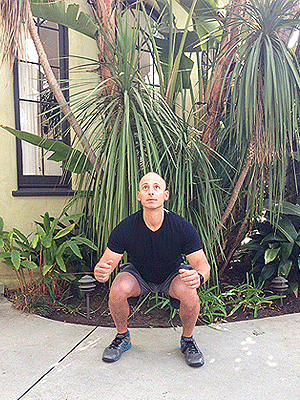 Courtesy Harley Pasternak
3. Jump Squat
Stand with your feet shoulder-width apart. Start the motion by doing a regular squat, then at the bottom, jump up explosively, hands over head. When you land, lower your body back into the starting squat position to complete one rep.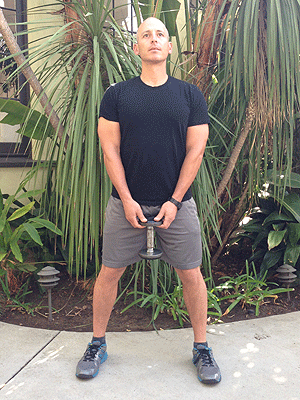 Courtesy Harley Pasternak
4. Sumo Squat
Stand holding the end of one dumbbell with both hands, arms in front of belly and extended toward the floor; place feet more than hip-width apart, toes turned out slightly and knees soft. Slowly bend knees, lowering butt until knees are bent about 90 degrees (keep chest up to reduce back strain); pause, press through your heels, return to the starting position and repeat.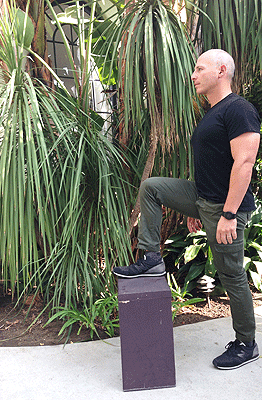 Courtesy Harley Pasternak
5. Step Up
Stand up straight facing a sturdy chair, step or bench. Place your left foot flat on the bench and step up, with your weight through your heel, to a standing position. Keeping your left foot on the bench, step your right leg back down and repeat. Finish one side before moving to the other leg.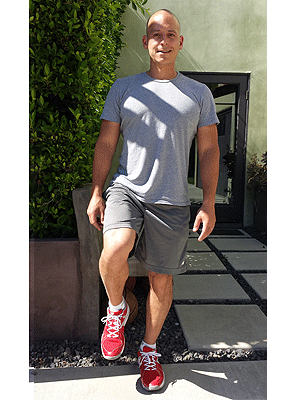 Courtesy Harley Pasternak
6. Single-Leg Tap Squat
Sit on the end of a bench or chair, holding dumbbells in each hand. Lower your body until your glutes hit the bench or chair. Immediately, come back up to starting position. Treat the bench as a chair behind you so that you sit down by moving your hips backward and down, rather than just down.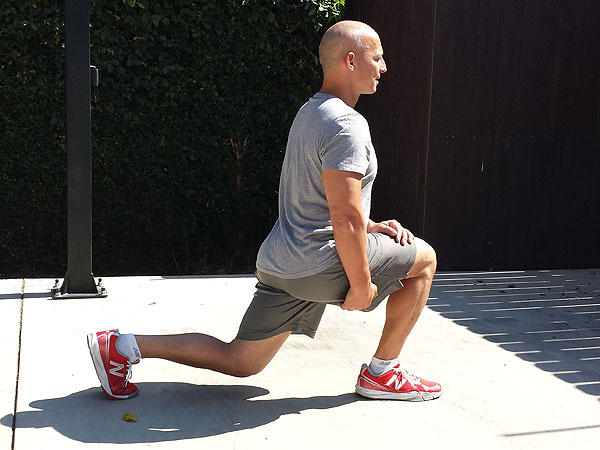 Courtesy Harley Pasternak
7. Walking Lunge
Start by standing upright, feet together, holding two dumbbells at your sides (optional). Take a large controlled step forward with your right leg and lower your hips toward the floor as you bend both knees (almost at 90-degree angles). The back knee should come close to (but never actually touch) the ground. Your front knee should be directly over the ankle and the back knee should be pointing straight down. Push off with your left foot and bring it forward to the starting position. Next: Step forward and repeat with the left leg and alternate.
So… what did you think? What's the best thigh/butt exercise ever?