Another Cheese Shortage? String Cheese Shelves are Hanging on by a Thread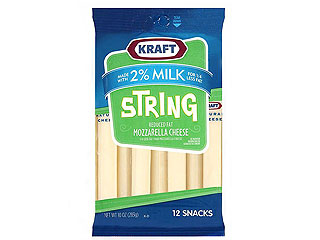 Just when you thought it was safe … the #cheesepocalypse is back.

Only weeks after "prepared cheese product" devotees climbed out from the depths that was the  Velveeta shortage, Kraft confirmed to Fox News that we won't be seeing its Polly-O string cheese for a while, either.
In October, the FDA announced Kraft's recall of 735,000 cases of string cheese, a result of the product spoiling before its "best when used by" date. Three months later, consumers are still searching the shelves amid new reports that Polly-O may not reappear until March, or perhaps even midsummer.
Until then, supermarkets are encouraging shoppers to try something new, lest your lunchbox go empty — say, string cheese from Organic Valley, Horizon or Sargento, suggests one dairy manager in the Fox News report.
Will snack time ever be the same? For those really in need of a fake cheese fix, head north of the border: "The affected product was not distributed in Canada," the FDA states.
—Brooke Showell