Recipe Redo: Elizabeth Karmel's PB & J S'mores, Now in Convenient Cocktail Form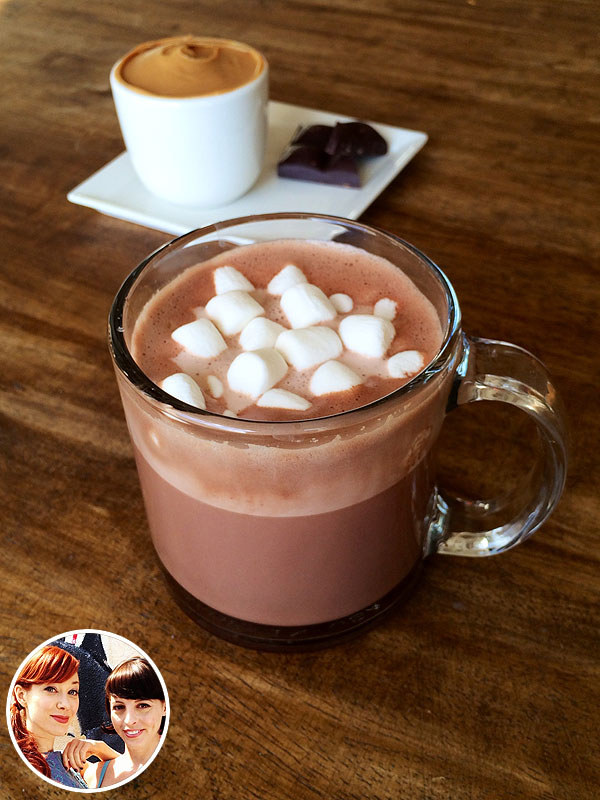 Courtesy Alie & Georgia
Alie Ward and Georgia Hardstark, a.k.a. Alie & Georgia, host Cooking Channel food-travel series Tripping Out with Alie & Georgia. Visit PEOPLE.com every Thursday for their playful spins on celebrity recipes, cocktails, entertaining ideas—and, of course, lots of laughs!

When Elizabeth Karmel, executive chef at New York's Hill Country Barbecue, shares a campfire dessert, it's nearly impossible to top it. Known as a barbecue expert and grill guru, this woman can make the most rustic cowboy food taste and look elegant.
Her Peanut Butter & Jelly S'mores call for tart, sweet fruit preserves, some nutty PB and a little chocolate ganache. And it's the perfect twist on a dessert we've all had since we were kids.
But one thing we haven't had since we were kids? Cocktails. (At least we hope that's the case with everyone.)
So as a nod to Ms. Karmel, we took her PB & J s'mores recipe and turned it into a PB & MCRV: a peanut butter marshmallow chocolate raspberry vodka. Yep. We just made all your dreams come true.
We started with a basic hot chocolate recipe—you can use Jacque Torres's flawless technique or go with a just-add-water-packet. We're not judging.
Add some peanut butter simple syrup to a little raspberry vodka, top with marshmallows and you won't care that that ol' Punxsutawney Phil the groundhog just predicted six more weeks of winter. Bikini season can wait.
Alie & Georgia's Peanut Butter Marshmallow Chocolate Raspberry Vodka Cocktail
Makes 1
1½ oz. raspberry vodka
2 tbsp. peanut butter simple syrup (recipe below)
8 oz. hot chocolate
Handful of mini-marshmallows
In a mug, whisk the raspberry vodka and 2 tbsp. peanut butter simple syrup. Pour hot chocolate over, stir and top with marshmallows. Rejoice.
Peanut Butter Simple Syrup
½ cup water
½ cup sugar
½ cup smooth peanut butter
In a saucepan over medium heat, combine all ingredients and whisk until the sugar and peanut butter dissolves and the syrup is smooth. Pour into a jar and let cool. Extra syrup can be stored in an airtight container.