A 'Bacon Minister' Is a Real Job — And He's Already Performed Two Weddings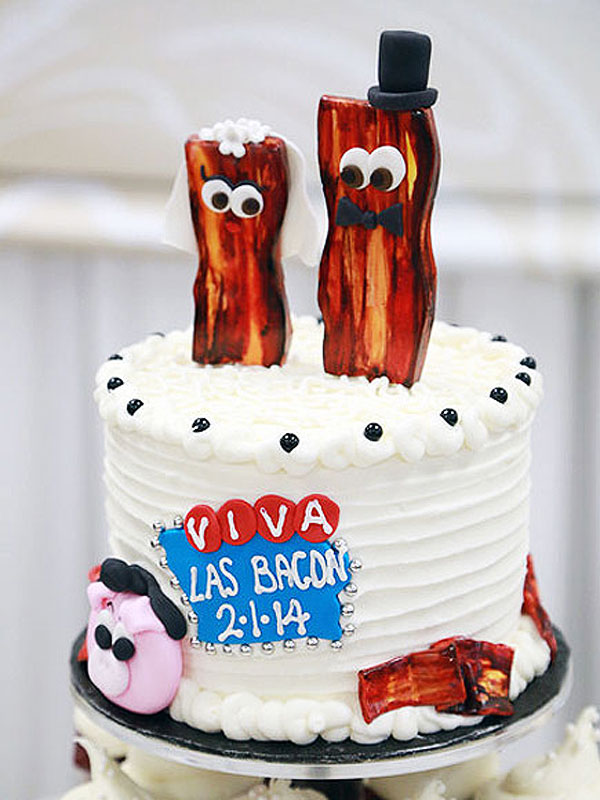 Maharry Photography
And they lived bacon-ly ever after.

A Vegas-themed bacon festival wouldn't be complete without a couple of kitschy weddings, right? But instead of hiring an Elvis impersonator to oversee the ceremonies at Viva Las Bacon — the theme of this year's Blue Ribbon Bacon Festival in Iowa — fest head Brooks Reynolds invited the bacon minister.
Yes, a bacon minister: An ordained bacon lover who had his own bacon-themed wedding and now marries people in the name of bacon.
Bacon-aficionado Adam Poch (who Big Brother fans know as the contestant who wore bacon-themed T-shirts for the majority of his stint on Season 13) united two couples in crispy matrimony at the Des Moines festival on February 1.
"This couple, Tom and Tricia Watson, decided they wanted a bacon-themed wedding. So what better person than someone who had a bacon wedding to officiate a bacon wedding?" says Poch, who happened to be getting ordained for a friend's wedding when he received the request to officiate at the festival.
"Brooks emailed me … and asked if I was ordained by chance. I said, 'I will be in a few minutes.' Next thing you know, I'm wearing a bacon robe and marrying people," Poch tells PEOPLE.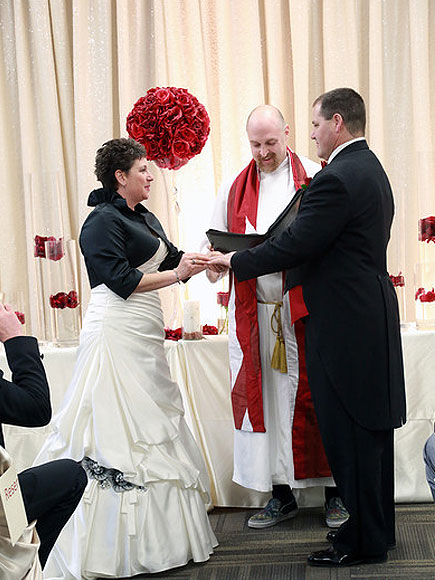 Maharry Photography
While the ceremony itself was quite traditional (no pork-themed vows or anything), the couple took advantage of the surroundings to fill their reception with as much bacon as possible.  The 50 guests walked around the fest and sampled everything from chocolate-covered bacon croissant-doughnuts (modeled after the Cronut) to The Six Degrees of Kevin Bacon pizza, a pie featuring six types of bacon. And, of course, there was the tiered wedding cake, which included a bacon cake and bacon cupcakes.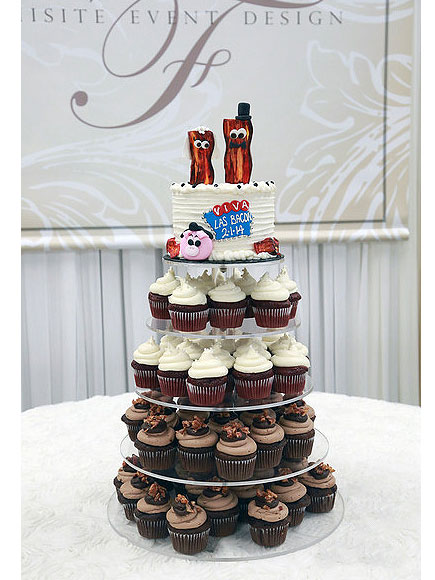 Maharry Photography
The second wedding Poch performed was more of "a goof," he says. "After all day of eating bacon and drinking beer [another couple] decided what better time than now to get married? So we rounded up all the people and I ad-libbed the wedding."
So what's next for these couples joined by the power of pork? If they take Poch's advice, they'll be off on — what else? — a "baconmoon."