Mix Fashion Week's Most Stylish Sips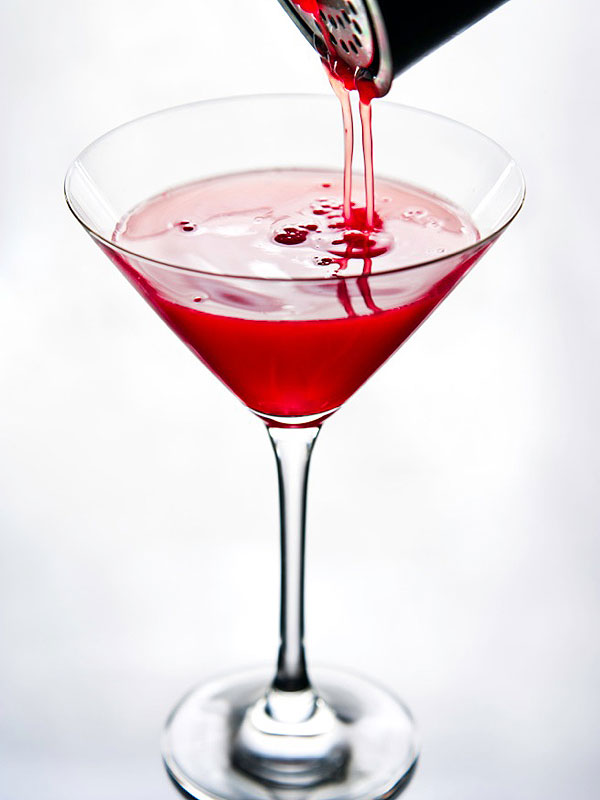 Courtesy The London Bar
As Mercedes-Benz Fashion Week kicks off Thursday in N.Y.C., celebs and designers will pour into the tents at Lincoln Center to fete the latest fashions — but beyond the clothes, it's all about the cocktails.

Whether the beau monde are hitting the afterparties to toast a successful show or heading back to their hotels to order martinis from room service, stylish sips are a fashion "do."
To celebrate the week of couture, stir up a glamorous cocktail worthy of a standing ovation. Just for Fashion Week, mixologist Jean Carlos Parra of the classically chic The London Bar at The London NYC has created a runway-inspired menu, including the Red Carpet (pictured above), a simple but sophisticated mix of raspberries and vodka perfect for post-catwalk celebrations.
NYLO New York City's trendy new LOCL Bar is also paying homage to the style set with fashion icon-inspired cocktails named after the likes of designer Diane von Furstenberg and actress/shoenista Sarah Jessica Parker.
All three drinks are easy to make at home — even if you're sipping them in your decidedly not-runway-ready PJs. We won't tell!
Red Carpet Cocktail
Makes 1
10 raspberries
2 oz. blood orange puree
1 oz. lime juice
1 oz. agave nectar
3 oz. vodka
5-10 drops Thai chili pepper-infused oil, optional
In a cocktail shaker, muddle approximately ten raspberries. Add blood orange puree, lime juice, agave nectar and vodka and shake vigorously. Strain into a chilled martini glass. For those who want a spicy drink, top with Thai chili pepper-infused oil.
SJP Martini
Makes 1
1½ oz. strawberry vodka
½ oz. lemon juice
½ oz. lime juice
1 oz. strawberry simple syrup (recipe below)
½ oz. elderflower liqueur (recommended: St. Germain)
Fresh strawberry, for garnish
In a cocktail shaker with ice, add all ingredients. Shake well and strain into a martini glass. Garnish with a fresh strawberry, if desired.
Strawberry Simple Syrup
1 lb. strawberries, sliced
1 cup sugar
2 cups water
In a small saucepan, mix all ingredients. Heat until sugar has dissolved, strain into a small pitcher and let cool. Extra syrup can be stored in an airtight container.
DVF Old Fashioned
Makes 1
1 tbsp. muddled black cherries
1½ oz. bourbon
1 oz. sweet vermouth (recommended: Carpano Antica)
3 dashes bitters
Black cherry, for garnish
To a mixing glass, add first three ingredients and stir, don't shake. In a rocks glass, add bitters and ice, then pour in the stirred cocktail. Garnish with a black cherry, if desired.
—Brooke Showell