You Can Do This: Make an Ombre Floral Centerpiece for Valentine's Day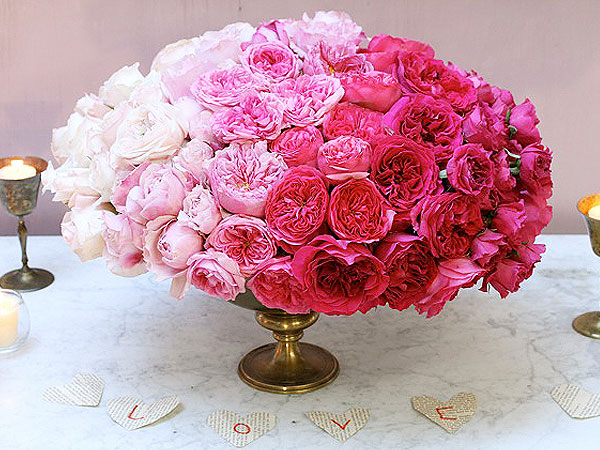 Beth Yorn
A few snips here, a little finessing there and you can turn a few bunches of flowers into this gorgeous Valentine's Day arrangement.

Created by Stephanie Schur of Botany, a floral boutique in Brentwood, Calif. that caters to Hollywood A-listers like Gwyneth Paltrow and Reese Witherspoon, the centerpiece features different colored roses grouped in light and dark shades of pink.
"Ombre" — using graduated tones of the same color — "has been a huge trend in the fashion and design world," says Schur, "so I took inspiration from that and translated it into a floral arrangement perfect for Valentine's Day."
She used a variety of roses that have a bigger, more open head so the look is fuller, with the flowers almost spilling out of the vessel. Instead of a traditional vase, the pro used a footed gold container. Be creative: Consider anything from a silver teapot to a depression glass bowl; hunt for unusual finds on eBay or at local flea markets or yard sales.
Once you're finished, store your centerpiece in a cool room where it's not in contact with direct heat or sunlight and it should last up to a week.
Ombre Rose Arrangement
Supplies: Floral foam, scissors or garden shears, a vase or other vessel, and roses in different shades of a single color   (from light to dark)
1. Soak the florist foam in water overnight.
2. Select a vessel that's deep enough to hold the foam. Also make sure it's opaque, so that the foam and stems don't show, and that the style complements the type and colors of the flowers.
3. Choose a palette. Schur used roses in five different pink hues, from a light blush to a deep pink.
4. Group the flowers by color and begin working with the lightest color first. Start by cutting off 3 inches from the stem at an angle
5. Continue filling in from left to right, keeping each shade together in a color block. Check all sides, making sure your arrangement is nicely full and overflowing; if not, add more flowers.
—Nancy Mattia