Hungry Girl: How to Eat Like an Olympian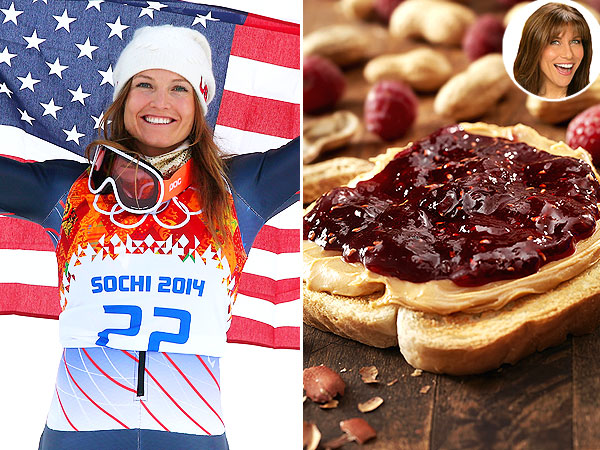 Getty; Inset: Courtesy Hungry Girl
Lisa Lillien is the author of the popular Hungry Girl website and email newsletter, featuring smart, funny advice on guilt-free eating.

She is also the author of eight Hungry Girl cookbooks, five of which debuted at number one on the New York Times Best Sellers list. Read her PEOPLE.com blog every Monday for slimmed-down celebrity recipes and more.
Sure, our collective jaws hit the floor when we heard how many calories Michael Phelps supposedly ate every day while training a few years back. (12,000!) But as gymnast Nastia Liukin reminds us, not all athletes eat like that.
If you want to fuel your body with healthy foods like an Olympian, here are a few tips that are great for anyone:
Snack Smartly. Eating regularly is important to many athletes' routine and diet. Skiers and snowboarders often have to bring snacks they can eat on the mountain. Julia Mancuso (a.k.a. the most decorated American female alpine skier ever; see her smiling face in the photo above) packs a PB&J for the road… er, snow, reports Business Insider. Other frequently cited snacks: nuts, veggies, smoothies and energy bars!
Keeping a stash of smart "emergency snacks" is a great way to avoid turning to whatever fattening foods you encounter throughout the day. One of my favorites? A 100-calorie pack of almonds, which you can find in most regular grocery stores.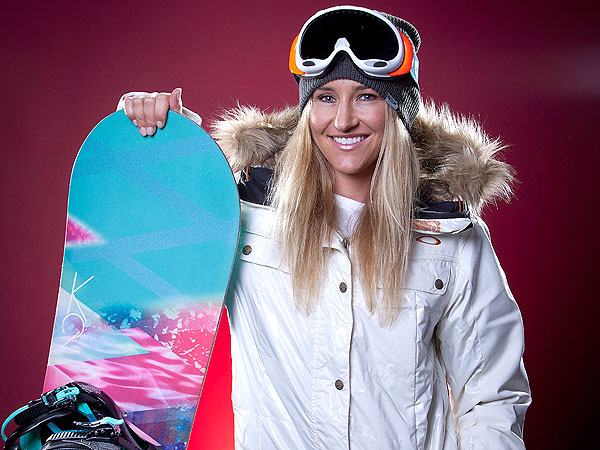 Carlo Allegri/AP
Breakfast Is King. Athletes talk again and again about the need for a substantial breakfast. Snowboarder Gretchen Bleiler reportedly enjoys omelettes with broccoli, zucchini, avocado and goat cheese. Yum! Other smart choices: yogurt and oatmeal paired with fruit.
Try these recipes for my Big Green Omelette and Fruit Salad Oatmeal Parfait. Both are filling, delicious, and won't weigh you down!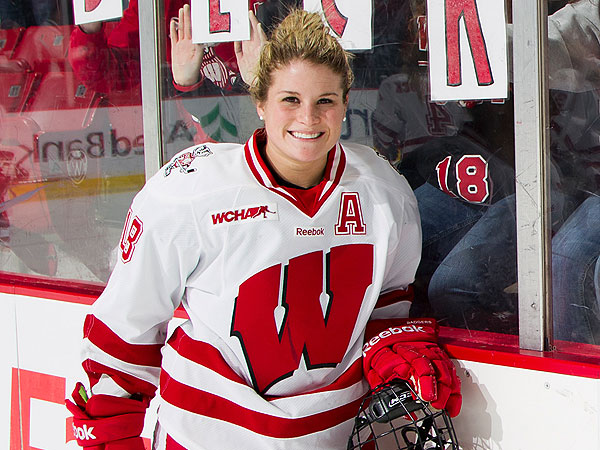 David Stluka/AP
Protein = Power. While carbo-loading is commonly noted among athletes, packing on the protein is another fuel-up tactic. Hockey player Brianna Decker told Cosmopolitan she mixes meat from the previous night's dinner into her morning scramble—smart! And though people in the midst of intense training sessions often throw back protein shakes throughout the day, most of us can just focus on getting enough protein at each meal.
If you need a protein-packed breakfast on the go, hit up the "hidden" Power Menu at Panera Bread. The 170-calorie Power Breakfast Egg White Bowl with Roasted Turkey has a whopping 28g protein, and the 360-calorie Power Mediterranean Chicken has 33g protein!
Don't Wait… Hydrate! Staying hydrated while exercising is incredibly important, both for performance and for health. And it's common for ordinary Joes and Janes like us to mistake thirst for hunger and eat things when we really just need a glass of water. So keep that H2O coming. Coconut water has the added benefit of potassium and electrolytes. It's no wonder there's an official coconut water—Zico—of the 2014 Winter Olympics.
Tote around a refillable water bottle. It's less expensive and less wasteful than the disposable bottles. And if you're looking to sip coconut water, try out the Zico Chocolate for a treat: An 8-oz. container has just 70 calories and 1g fat.
'Til next time… Chew the right thing!