Shake Up Valentine's Day With Sexy Cocktails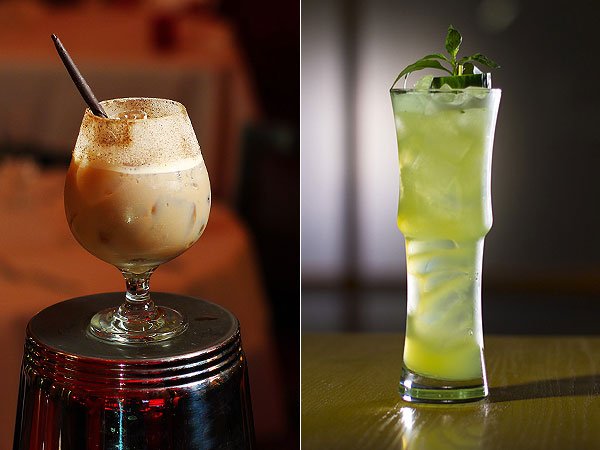 Courtesy Lily Bar & Lounge
Sexy cocktails: a surefire way to spice up date night.

For couples looking to clink glasses on Valentine's Day, Vegas-based mixologist Michael Monrreal shakes up what he calls "mood" cocktails. Both drinks — which can be found at Lily Bar & Lounge inside the Bellagio Resort & Casino — have ingredients he says will awaken and excite the senses.
"Who doesn't like chocolate, hazelnut, and vanilla?" Monrreal tells PEOPLE of the White Ruskie (pictured above, left), a spin on a White Russian. "Chocolate is said to attract and excite, and also improve blood circulation."
In the herbaceous Ricky Ricardo (above, right), "the aromas from the Thai basil wake up the senses," Monrreal explains. After a long workday, he says, "it's sure to boost your mood for a special Valentine's Day dinner."
And since Valentine's Day is on a Friday this year, it's the perfect time to shake up a little liquid love. Monrreal shares his recipes with PEOPLE:
White Ruskie
Makes 1
2 oz. vanilla vodka
1½ oz. hazelnut cream-based liqueur
1½ oz. chocolate syrup-based liqueur
In a cocktail shaker, combine all ingredients with ice and shake vigorously. Strain into a snifter glass filled with ice. Garnish with an espresso-sugar rim and a chocolate cigaretto, if desired.
Ricky Ricardo
Makes 1
4 Thai basil leaves
1½ oz. gin
¾ oz. fresh lime juice
¾ oz. cardamom honey syrup (recipe below)
2 oz. sparkling water (Add to mixing tin after shake.)
In a cocktail shaker, combine first four ingredients with ice and shake vigorously. Top with sparkling water, then strain into a Collins glass filled with ice. Garnish with a lime wheel and Thai basil sprig, if desired.
Cardamom Honey Syrup
1 cup honey
1 cup water
1½ tsp. ground cardamom
1 tbsp. green cardamom pods
In a pot over medium heat, combine first three ingredients. Lightly crack pods and add them, bringing the mixture to a boil. Steep for 30 minutes, then cool and strain. Leftover syrup can be stored in an airtight container.
–Dahvi Shira