A Toast To Shirley Temple with Her Signature Drink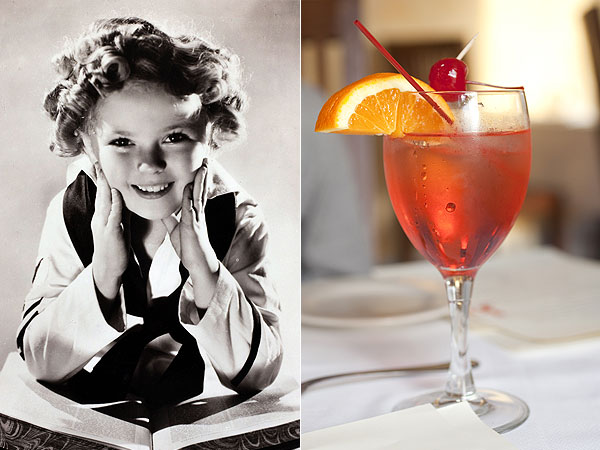 Getty (2)
Whether they've known it or not, countless amounts of children have raised a glass to Shirley Temple, the legendary actress who has passed away at the age of 85.

We challenge you to find a tot who hasn't ordered her signature drink, the Shirley Temple, while on a night out with their parents. The red non-alcoholic concoction — a mixture of grenadine, lemon-lime soda and maraschino cherries — takes us back to our childhood, when we were small but trying to look big by ordering a mocktail that mimicked a grown up cocktail. (Extra cherries? Of course!)
As it turns out, "America's darling" as she's been called, revealed she wasn't involved in the invention of the fruity beverage. "Those were created in the 1930s by the Brown Derby Restaurant in Hollywood, and I had nothing to do with it," she once told NPR's Scott Simon, adding that people served them to her wherever she went.
Others remember the drink's birth differently. USA Today reports that a bartender at Chasen's restaurant in Beverly Hills created the cocktail in the late 30's during the pinnacle of her fame.
Whatever the origin, like the venerable screen actress, the Shirley Temple is a part of our Americana and it's here to stay. It has evolved over the years, with lemon-lime soda (or 7Up) often replaced with ginger ale and a thin orange slice added to the rim of the glass. Try your favorite with the whole family, and raise your drink to those divine dimples. Cheers, Curly Top!
The Original Shirley Temple
Makes 1
Ice
1 tbsp. grenadine
½ cup lemon-lime soda
¼ cup orange juice
1 maraschino cherry
In a tall glass, add ice, grenadine, lemon-lime soda and orange juice. Stir and top with a cherry.
The Modern Shirley Temple
Makes 1
Ice
1 tbsp. grenadine
1 cup lemon-lime soda or ginger ale
1 maraschino cherry
1 slice of orange, garnish
In a tall glass, add ice, grenadine and lemon-lime soda. Top with a cherry and garnish with an orange slice.
—Amy Jamieson