The White House State Dinner Menu Looks Incredible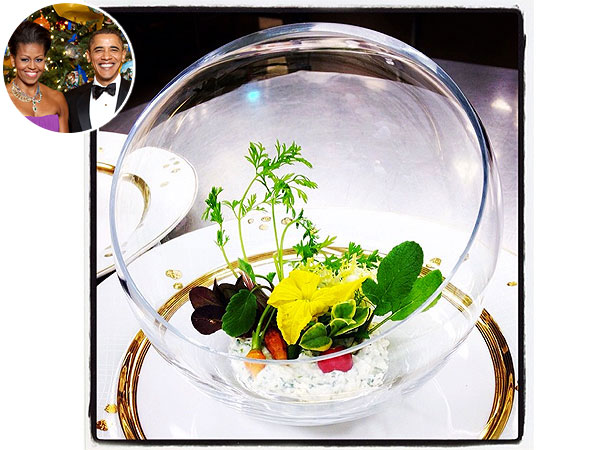 Courtesy The White House; Inset: Ramey
The White House is throwing a dinner party — and you're invited!

Well, sort of. You may not have a seat at the table, but you are e-invited: White House chef Cristeta Comerford and pastry chef Bill Yosses have commandeered the White House's Instagram feed to share an inside look at the preparations for Tuesday's State Dinner for France given by President Barack Obama for French President François Hollande.
"Hi everyone! It's Chef Cris Comerford and Pastry Chef Bill Yosses — we're taking over the White House Instagram to give you a look inside the kitchen as we get ready for tomorrow's State Dinner for France," reads the caption on this Instagram shot. "Thanks for following along. #InsideTheWH -Cris and Bill"
Since posting that introduction Monday night, Comerford and Yosses shared several more photos of dishes and ingredients to be served at the dinner, a showcase of American cuisine for the French leader and invited guests.
"As local as you can get! We're using honey from the White House beehive in a vinaigrette to dress a Winter Garden Salad with mixed radishes and baby carrots," Comerford captioned this shot. "Each season the color of the honey changes. Here you can see the difference between 2012 and 2013. 🐝 #InsideTheWH -Cris" (Nice bee emoji, Chef!)
The chef then gives us a peek at the salad, with more buzz about the honey: "Here's a first look at the Winter Garden Salad that we're serving at tomorrow's State Dinner. The salad features herbs from the White House Kitchen Garden, and the dressing uses honey from the beehive on the South Lawn."
Are these Twinkies? No: "We're using a paint sprayer (previously unused of course) to give a micro-thin layer of chocolate over soft and creamy ganache cake," Yosses wrote under this sweet shot. The bittersweet chocolate comes from Hawaii, and it will be served à la mode with vanilla ice-cream from Pennsylvania."
But these sugary sweets take the cake: edible flowers with a nod to France. "Sugar roses and fleur-de-lis, the official flowers of the United States and France. We made 38 of each — that's more than 1,800 petals!" reads the caption.
Yosses will serve these post-dinner with fudge made from Vermont maple syrup, lavender shortbread cookies and cotton candy sprinkled with orange zest.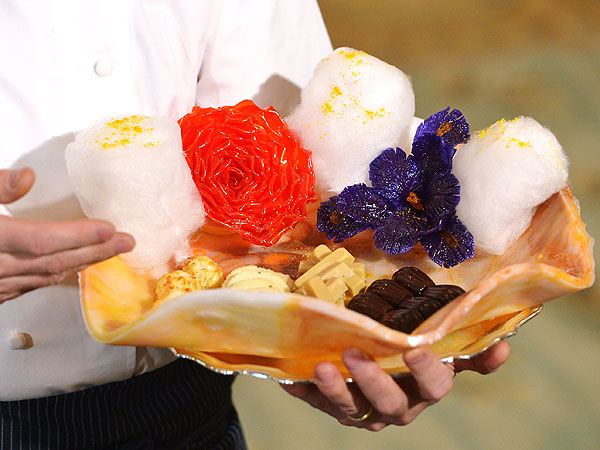 Mandel Ngan/AFP/Getty
First Lady Michelle Obama also took to Instagram to share some details of the dinner:
"Pickled veggies from the @WhiteHouse Kitchen Garden ready to be added to tomorrow night's #StateDinner! #LetsMove #InsideTheWH," wrote the advocate for healthy, home-grown cooking.
The First Lady couldn't resist posting this aww-inducing shot of dogs Bo and Sunny in the State Dining Room, with the best caption ever: "Bone appetit!" Here's what the place settings will look like sans canines: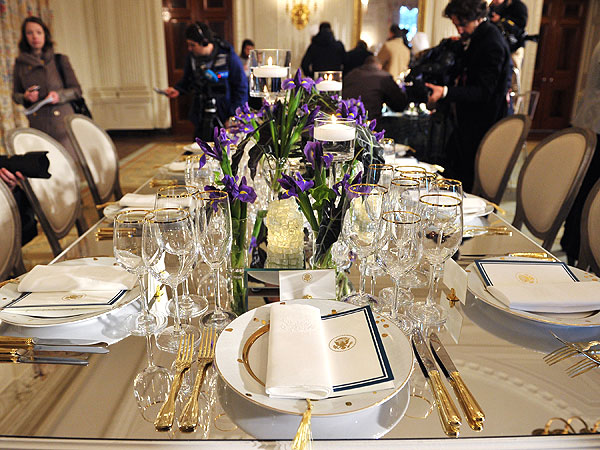 Mandel Ngan/AFP/Getty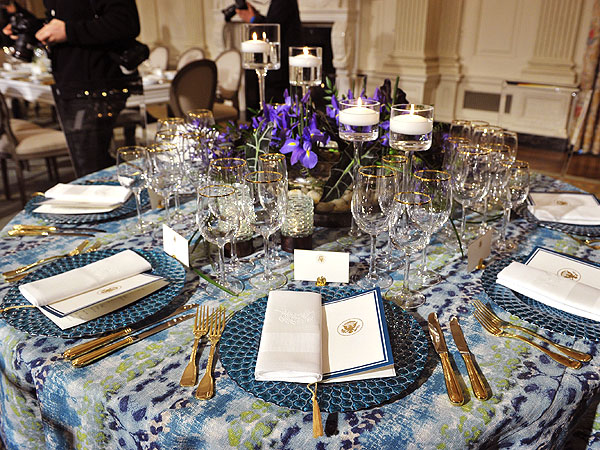 Mandel Ngan/AFP/Getty
And D.C. journalists invited to preview the dinner posted photos of the menu — which also includes domestic caviar, dry-aged rib eye beef and an all-American wine list — and, from the Washington Post, a video of the four-course meal. (Not at the preview: Mary J. Blige, who will be at the dinner to sing for President Obama and his guests.)
The White House chefs will no doubt be posting more as the day continues. Follow the White House on Instagram or search the hashtag #InsidetheWH to follow along. Now, if only we could buy some of that honey…