Eat, Listen, Love: Top 10 Children's Songs About Food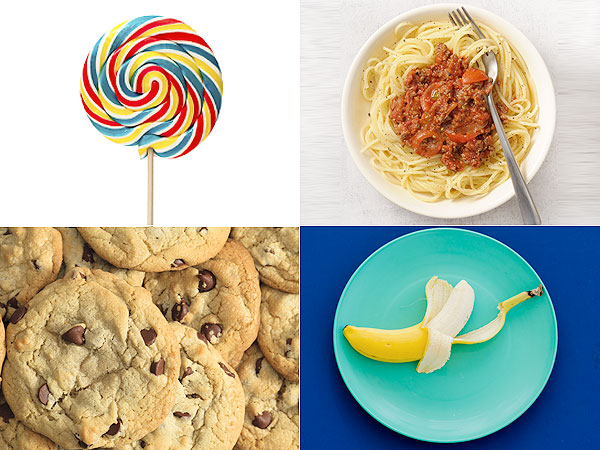 Getty
As any mom or dad who has ever attempted to cook while their hungry kids were yammering in the background knows: Music is the answer.

And with the recent passing of the iconic Shirley Temple, we're betting that parents across the country will be showing their children some of her most famous film clips, like her charismatic performance of "On the Good Ship Lollipop" during Bright Eyes, or her spunky rendition of "Animal Crackers in My Soup" in Curly Top.
With Temple and her candyland tune as our inspiration, we've compiled a list of our ten favorite food songs for kids. Add them to your playlist for anytime you need to soothe, distract or simply buy yourself some time to prep the tacos.
1. "On the Good Ship Lollipop," Shirley Temple
The best thing about this song will be watching your child's face as she listens to the lyrics and starts to imagine. Flying her own plane? Landing on a chocolate bar? Lemonade stands everywhere? The utterly expressive Temple makes everything seem possible.


2. "Apples and Bananas," Raffi
In this popular sing-along anthem from One Light One Sun, Raffi isn't just belting out a silly tune — he's also teaching kids about vowels. And if they watch this concert video, they can also learn a thing or two about why fashion has come a long way since the eighties.


3. "Banana Song," City Stomp
Whether you're making banana bread or just want your kids to dance off their cabin fever as they peel, chop, mash, and stir, no music library should be without this classic. The version by the Brooklyn-based rock band City Stomp is a fun anthem that's silly enough for kids but edgy enough that parents will be singing along as well.
4. "On Top of Spaghetti," Tom Glazer
A delightful ditty played in preschools everywhere, this ballad teaches important lessons about meatballs, sneezing, physics and how the three relate. There's no action in this video, but Tom Glazer's folksy rendition from his Greatest Hits album is still the version to beat, for the sweet, sing-songy children's chorus and funky 1970s cover art.


5. "There Was An Old Lady Who Swallowed a Fly," The Muppet Show (feat. Judy Collins)
Vintage Muppet Show! Judy Collins! Snarky comments by Statler and Waldorf! There's so much right with this video, even if the ending is a little dark by today's sanitized kiddie standards. But hey, we all knew it was coming.


6. "C is for Cookie," Sesame Street
Thank you, Cookie Monster, for being a guy who knows what he likes and isn't afraid to say it. We dare you to find a more fun way to introduce your kids to the letter "C."


7. "Bagel," Music for Aardvarks
"I'm good in the morning, good at night, a little bit of butter and I taste just right, come on and gobble me up," sings Aardvarks founder (and former punk rocker) David Weinstone as he pays homage to the humble bagel on the album Taxi. Whether or not they're hooked on these circular breakfast staples, kids will love the funny lyrics and creative musical stylings.
8. "All Around the Kitchen," Dan Zanes
If you can get past the bizarro video, you will come to adore Zanes' infectious tune from his Family Dance album, which has undertones of folk and bluegrass and gorgeous vocal harmonies.


9. "Victor Vito," Laurie Berkner
Warning: You will find this catchy call-and-response song from Berkner's same-named album stuck in your head at the oddest moments, like during yoga class or in the middle of a conference call. We gve props to Berkner making vegetables like rutabaga and collard greens sound cool.


10. "Soon As We Cook Sweet Potatoes," Pete Seeger
Like Temple, Seeger was another legendary entertainer who recently passed away that your kids need to know about. This sweet, soothing song from his children's album Song and Play Time is a great introduction to his uplifting, banjo-powered brand of American folk music. Thanks to the Smithsonian, you can also listen to the whole album here.
—Lexi Dwyer