Chocolate on Pasta? How To Use Chocolate in Savory Dishes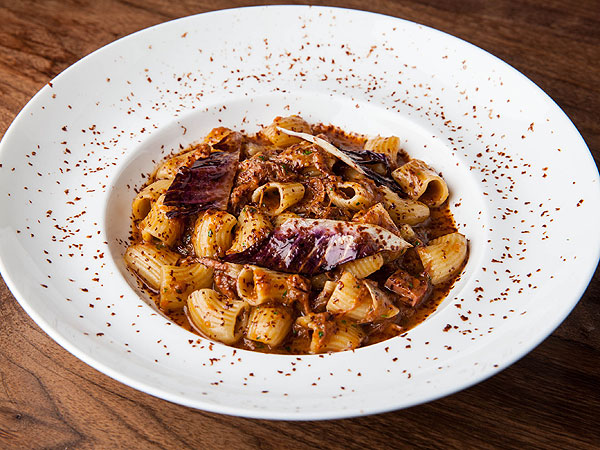 Nathan Rawlinson
When you hear the words "chocolate on pasta," you probably think someone's a little too cuckoo for cocoa.

But hear us out on this one: A hint of dark chocolate can add just the right oomph to everything from pasta to steak, says chef Chris Jaeckle of new New York City restaurant All'onda. (Nobody's suggesting you turn your noodles into a sundae, we promise.)
When making his lumache (a shell-shaped pasta) with duck at the restaurant, Jaeckle finishes the recipe by shaving tiny flakes of 72% Valrhona chocolate over the bowl. The bitter notes of dark chocolate complement the savory flavors of the noodles and meat (whereas using a milk chocolate may make the dish too sweet).
"There is something intriguingly sexy about chocolate being worked into a savory dish," Jaeckle tell PEOPLE. Here, he shares three other ways to incorporate dark chocolate into your cooking:
1. Sometimes bitter greens like radicchio can be too strong in a dish. The surprising fix: Shave dark chocolate over them. Yes, it's bitter as well, but it also has the sweet component that balances the flavor.
2. Stir a square of dark chocolate into a meaty ragu. You won't be able to taste chocolate in the finished sauce, but it deepens the flavor — much like adding a pinch of salt to your chocolate frosting makes it taste chocolatier (not saltier). Think of it as a secret ingredient you can pass down to your grandkids.
3. Making steak with a red wine sauce? Add dark chocolate to the sauce to "round out the acidity from the wine," Jaeckle says. The result: a rich sauce that can stand up to red meat.
Your job: Try these and report back!