Harley Pasternak: 6 Moves for Sexy Upper Arms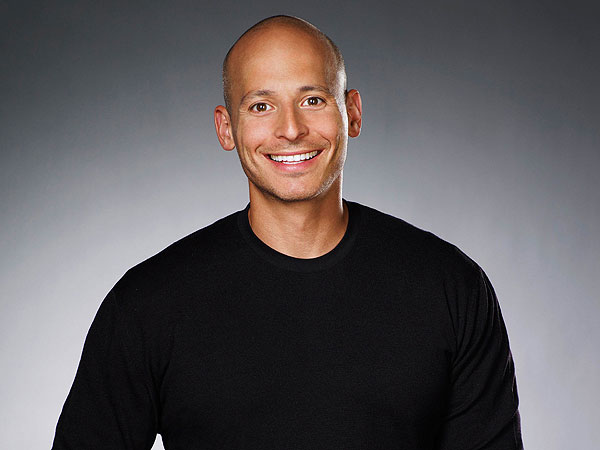 Courtesy Harley Pasternak
Harley Pasternak is a celebrity trainer and nutrition expert who has worked with stars from Halle Berry and Lady Gaga to Robert Pattinson and Robert Downey Jr. He's also a New York Times best-selling author, with titles including The Body Reset Diet and The 5-Factor Diet. Tweet him @harleypasternak.
This week, we continue with our quest for the absolute best sculpting and toning exercises ever.
In case you missed it last week: I'm  turning to you, the PEOPLE.com readers, to help me decide what the most effective, efficient, safe and enjoyable exercises are. Each week, I'll present to you some of my favorite toning and strengthening movements. You try each one, then Tweet me @harleypasternak with what you think is the best exercise for that specific muscle (group).
Today we're focusing on the back of the arm — the triceps muscle. This is often a trouble spot for women, but it's also the key to having great arms. Try at least 2 sets of 20 reps of each before you decide. My top moves in this area are …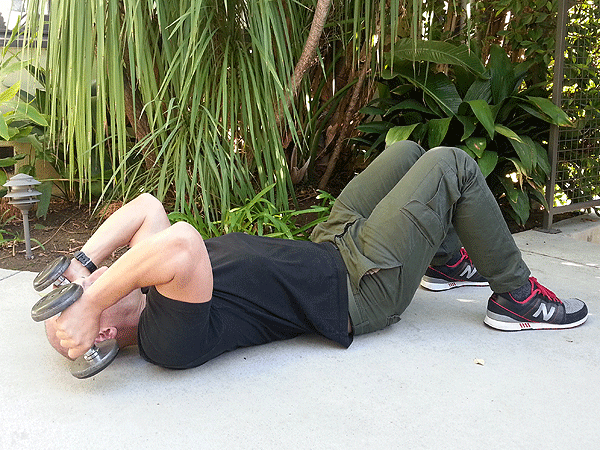 Courtesy Harley Pasternak
1. Lying DB Triceps Extension
Lying flat on your back, hold a dumbbell in each hand with your arms fully extended up to the ceiling. Hinging at your elbows, lower the dumbbells until they are next to your ears, then return them to the top.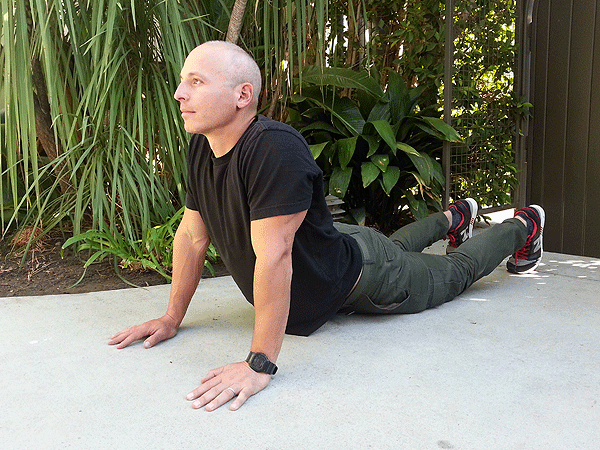 Courtesy Harley Pasternak
2. Triceps Press Up
Lying down on your stomach with your face up and your palms flat on the ground under your shoulders, drive through the heel of your palms as you straighten your elbows, the lower yourself back down halfway and repeat. Make sure you keep your elbows close to your ribs on the way up and the way down.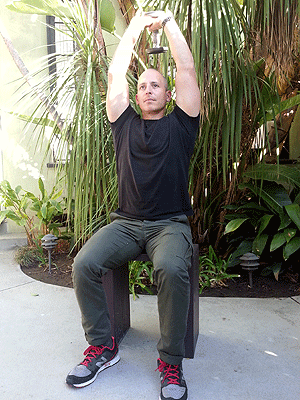 Courtesy Harley Pasternak
3. Seated Overhead Triceps Extension
Sitting on a bench or chair, hold the top of a dumbbell with both palms facing up and your arms extended upwards. Hinging at the elbows, lower the dumbbell behind your head, then press it back up again.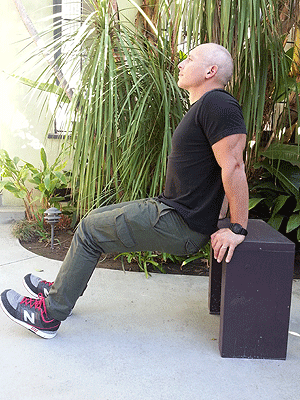 Courtesy Harley Pasternak
4. Triceps Dips
With your butt just hanging off the edge of a chair or bench and your hands on the edge on either side of you, slowly lower your butt, hinging from your heels. As soon as you can no longer keep your torso upright, drive through the heel of your palms, contract your triceps and fully extend your elbows.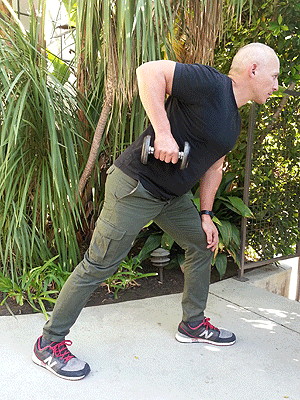 Courtesy Harley Pasternak
5. Single Arm Kickback
Using a staggered stance with your left leg forward, place your left hand on you left thigh for support. With a dumbbell in hand, extend your right arm backwards until it is parallel with the floor. Hinge at the elbow and raise the weight until your elbow is fully locked out, then return.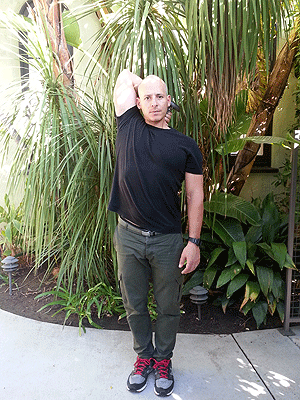 Courtesy Harley Pasternak
6. Single Arm Extension
Sit on a bench with your right arm fully extended to the ceiling and a dumbbell in your hand. Slowly hinge at the elbow and lower the weight down behind your head and toward your shoulder, then extend your elbow and raise the weight back to the start position.
So … what do you think? What's the best triceps exercise ever?