Recipe Redo (Guilt-Free): Bobby Flay's Santa Fe Burger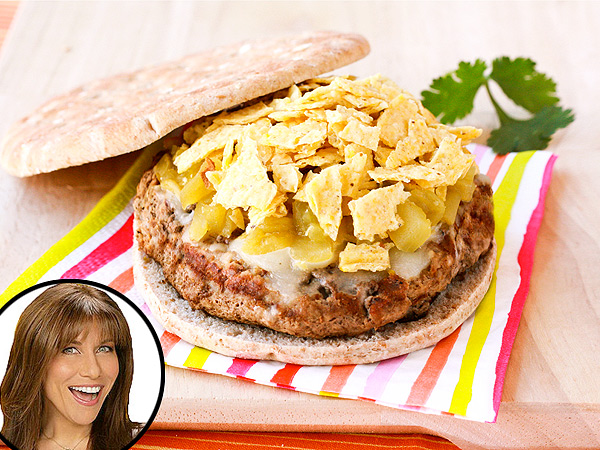 Mark Thomas/Getty
Lisa Lillien is the author of the popular Hungry Girl website and email newsletter, featuring smart, funny advice on guilt-free eating.

She is also the author of eight Hungry Girl cookbooks, five of which debuted at number one on the New York Times Best Sellers list. Read her PEOPLE.com blog every Monday for slimmed-down celebrity recipes and more.
When you hear the name Bobby Flay, what do you think of? Is it a sizzling grill loaded with delicious meats? Well, it's certainly one of the first things that I think of! The chef, restaurateur and TV personality has made a career of turning ordinary foods into works of culinary art on the grill, and this Santa Fe Burger is just one of the many amazing recipes in his repertoire.
It has all the makings of a great burger: soft bun, juicy patty, melty cheese and crunchy tortilla chips. I also love that Bobby uses roasted peppers on the burger — doesn't roasting foods make everything taste better? (I say yes!) But between the bun, beef, cheese and chips, the calorie and fat content can creep up pretty high. But, there are simple swaps to lighten this burger up!
Using a 100-calorie flat bun, extra-lean ground beef, reduced-fat cheese and baked tortilla chips slim it down significantly. And canned diced green chiles are a major time-saver. Don't worry, Bobby — you're still the grill master. We're just the masters at fitting into our skinny jeans.
'Til next time… Chew the right thing!
HG's Chile-Crunch Burger
Makes 1
1 100-calorie flat sandwich bun
4 oz. raw extra-lean ground beef (4% fat or less)
1 tbsp. egg whites or fat-free liquid egg substitute
1/8 tsp. each salt and black pepper
2 tbsp. shredded reduced-fat Monterey Jack cheese
2 tbsp. canned diced green chiles (fire-roasted, if available), drained
3 baked tortilla chips, roughly crushed
1. Split bun into top and bottom halves, and if desired, lightly toast each half.
2. In a medium bowl, mix beef, egg whites, salt and pepper. Form mixture into a 4-inch-wide patty.
3. Bring a grill pan (or skillet) sprayed with nonstick spray to medium-high heat. Cook patty for 3-4 minutes per side, or until cooked to your preference. Top with cheese and cook until melted, about 1 minute.
4. Place patty on the bottom bun half. Top with remaining ingredients, followed by the top bun half. Dig in!
In 1 serving (entire recipe): 325 calories, 9.5g fat, 822mg sodium, 27.5g carbs, 6g fiber, 3g sugars, 34.5g protein