That's a Wrap: Chipotle Launches New Food-Minded Web Series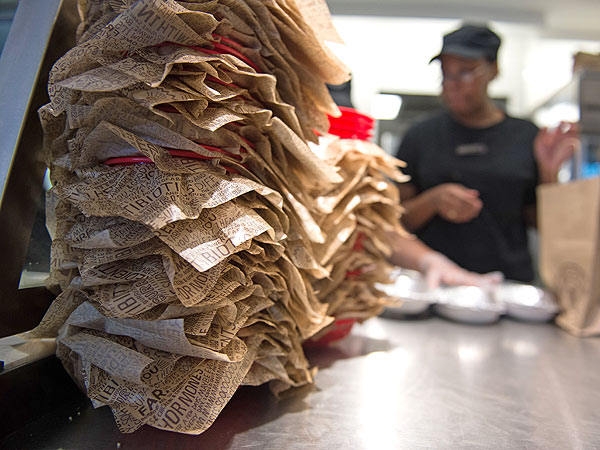 Craig Warga/Bloomberg/Getty
It feels like Chipotle is everywhere — except on mainstream television.

While other fast-food chains might try to entice potential customers with images of satisfied-looking folks chomping on burgers, the Colorado-based chain tends to eschew traditional advertising methods. (Their first television commercial launched after they'd been in business 18 years, which was shown on YouTube and felt more like a Pixar short than an ad.)
Now, in what some consider a risky new venture, Chipotle has spent more than $1 million launching a satirical web series on Hulu called Farmed & Dangerous.
Starring Ray Wise (Twin Peaks fans will remember him as Leland Palmer), the satirical show is set up to poke fun at big agriculture and its unsavory practices. The basic premise: A company decides to feed its cattle petroleum pellets to cut costs, which have a few "minimal" side effects — like the risk of the animal exploding.
Though the first of the four-part series just launched on Monday, food experts are already jumping into the discussion about what it means for the industry. "The series is funny but also dead serious," said Michael Pollan, author of Cooked and The Omnivore's Dilemma, in an exclusive interview with PEOPLE. "It's a stern challenge to the rest of the fast food industry, who would rather not have a public conversation about how the meat they're serving is produced," he said.
Pollan also alluded to the cutthroat side of the billion-dollar U.S. food and agriculture industry, and gave Chipotle some words of warning. "Chipotle is … banking on the fact that American consumers now care about where their food comes from, and will reward corporations who share their values. But agribusiness will have its knives out for Chipotle — let's hope they're ready for it, and can show they're walking the talk."
Chipotle has become famous for promoting antibiotic-free meat and dairy products and working with highly regarded purveyors such as Niman Ranch. They post a list of suppliers on their web site and have also been known to display glossy color posters featuring individual farmers in their restaurants.
Danielle Nierenberg, co-founder and president of The Food Tank, an organization that studies environmental solutions for the food industry, said she hopes this type of marketing will affect people's lives on a practical level. "Chipotle is trying to hit consumers who might not be demanding better practices from their chains, but this is a way to connect people to their food, get them to put a face to it and encourage them to think more about these issues when they're out grocery shopping," she said.
—Lexi Dwyer
WATCH: The 'Farmed & Dangerous' Trailer