Harley Pasternak: The Super Berry You Should Be Eating Now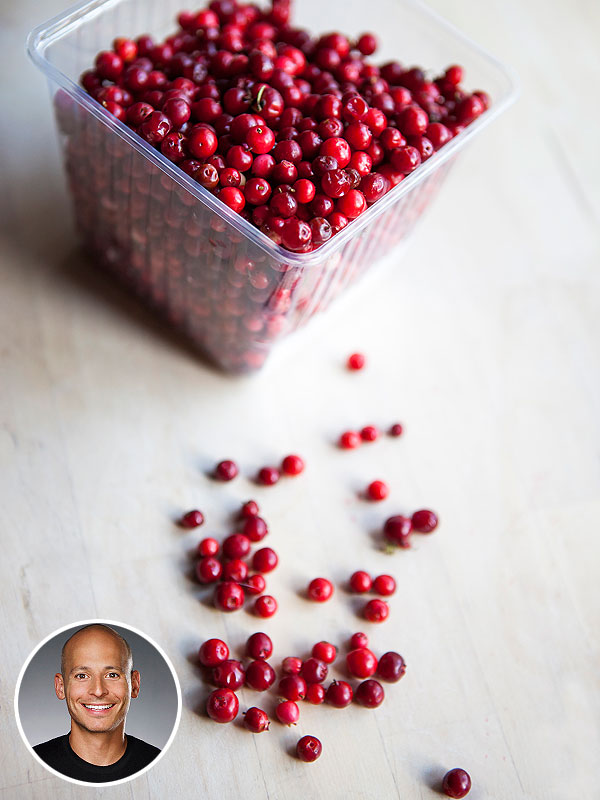 Getty
Harley Pasternak is a celebrity trainer and nutrition expert who has worked with stars from Halle Berry and Lady Gaga to Robert Pattinson and Robert Downey Jr. He's also a New York Times best-selling author, with titles including The Body Reset Diet and The 5-Factor Diet. Tweet him @harleypasternak.
Here's some berry nice news: Researchers at Lund University in Sweden compared the effects of different kinds of purported "super berries" on weight gain in mice. They tested lingonberries, bilberries, raspberries, crowberries, blackberries, blackcurrant and acai berries.
While the blackcurrant and bilberries actually showed good results, it was the lingonberries that almost completely prevented weight gain in mice fed a high-fat diet.
Of note, the scientists were surprised to discover that acai berries actually led to a significant weight gain and higher levels of fat in the liver. (This is not the first time science has blown away acai's marketing hype.)
So, what the heck is a lingonberry?
Well, lingonberries are as common to our Swedish/Finnish/Danish/Norwegian friends as blackberries or strawberries are to Americans and Canadians. Lingonberries are a distant cousin to cranberries, but smaller and juicier. They are also referred to as cowberries, fox berries and mountain cranberries.
While lingonberry jam is far more available in North America than the fresh berries themselves, researchers claim the boiling process used while making the berries into a jam significantly lowers their ability to reduce fat gain. So if you have trouble finding lingonberries, don't worry; they have a very similar nutritional profile to cranberries and blueberries, which are high in fiber, fat-burning polyphenols and antioxidants, and relatively low in sugar. Try them in a smoothie, in yogurt, on cereal or in a salad.
And lingonberries aren't the only unusual food catching my attention this week. I was at my local health food store last week (if you're ever in Los Angeles, you must visit Erewhon) and stumbled upon a bag of what looked like roasted peanuts with a very exotic name — Sacha Inchi seeds.
Curious, I turned the bag around and was immediately impressed by the nutrition profile: Each 1-oz. serving has 190 calories and a whopping 8 grams of protein and 5 grams of fiber. Beyond the fact that there were zero grams of sugar, I was immediately impressed by the fact that the seeds were loaded with Omega-3 fatty acids (the heart-healthy fat that studies show can actually help burn visceral fat).
I've since learned that Sacha Inchi seeds are sometimes referred to as the Inca Peanut, and are mostly found in the Amazon rainforest in Peru. The seeds are a great way to add extra protein, fiber and healthy fats to any smoothie, salad or soup, or just as a snack on their own. If you have trouble finding them, here's another idea: Try roasting some chickpeas and pumpkin seeds and adding some dry berries to make your own "Skinny Snack Mix."
Have any favorite exotic ingredients? Share in the comments below!