Bobby Deen Puts Southern Food on a Diet: Healthy Fried Chicken Po'Boys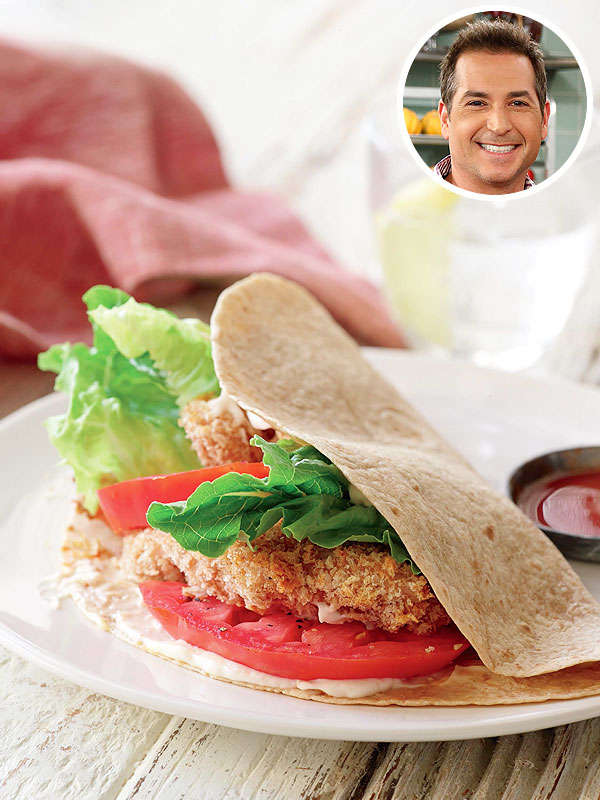 Ben Fink; Peter Kramer/NBC/NBC NewsWire/Getty
Chef and cookbook author Bobby Deen is psyched that it's a new year — and not just because there's even more distance from last June's scandal that plagued his mother Paula and her legendary Southern food empire.

"I'm excited about 2014 because people are trending towards healthier foods, eating closer to the earth, and being a little bit more knowledgeable about what we are putting into our bodies," Deen — who just released healthy cookbook Bobby Deen's Everyday Eats — told PEOPLE in an exclusive interview.
Deen currently hosts the Cooking Channel's Not My Mama's Meals, where he presents lightened-up versions of his mother famous Southern recipes, and his new book is written in this same spirit. Every recipe is under 350 calories and can be made in less than 30 minutes.
Why was 350 his magic number? "It's doable. I don't want people to starve themselves. … At 350 calories you can still make light but hearty meals that are satisfying," he says.
Fried chicken is a perfect example, and Deen considers himself an connoisseur of this Southern staple. After all, along with his brother, Jamie, he co-manages the family's popular Lady & Sons restaurant in Savannah, which specializes in traditional fried chicken. But Deen swears that you can get similar (but less fattening) results by baking at a high temperature.
He uses this technique with his chicken po'boy, one of his favorite dishes from his new book. "These are really, really good, and kind of a hearty guy's meal," he says. One secret: Cooking the chicken on a wire rack helps to keep the fried exterior nice and crisp by ensuring that the bottom of the chicken pieces don't go soggy from sitting on the baking sheet.
The one family recipe he doesn't dare mess with? His mom's goulash, which he calls "his favorite meal ever" and "a glorified beef-a-roni that's not at all Hungarian." Deen said that one time he attempted to make it himself and called his mother for help when he realized it was the wrong consistency. "After I told her I'd drained the fat from the meat she said 'stop right there,' because you need that for the flavor. So now I just let her make it for me on my birthday," he says.
Fair enough: Even healthy cooking experts should be allowed to fall off the wagon at least one day a year.
Oven-Fried Chicken Po'Boys
Serves 4
¼ cup low-fat buttermilk
1 garlic clove, finely chopped
1 tsp. Dijon mustard
1 tsp. hot sauce, divided
Salt and freshly ground black pepper, to taste
¾ pound boneless, skinless chicken thighs, each cut in half crosswise
1 cup whole-wheat panko breadcrumbs
¼ cup light mayonnaise
Juice of ½ lemon
4 multigrain wraps (8-inch diameter)
4 romaine lettuce leaves
1 large tomato, sliced into 8 rounds
1. In a large bowl, whisk together the buttermilk, garlic, mustard, ½ tsp. hot sauce, salt and pepper. Add chicken and toss to coat. Marinate at room temperature for 5 minutes. (If you have the time, marinate longer, even overnight.)
2. Preheat oven to 400 degrees.
3. In a large bowl, combine panko with salt to taste. Line a baking sheet with aluminum foil and set a wire rack on top.
4. Working with one piece at a time, remove chicken from buttermilk mixture (allowing excess to drip off) and dredge completely in the panko. Transfer chicken to wire rack. Grease chicken lightly with cooking spray and bake until it is cooked through, about 20 minutes.
5. Meanwhile, in a small bowl, whisk together mayonnaise, lemon juice and remaining ½ tsp. hot sauce.
6. When chicken is done, spread mayonnaise mixture on one side of each wrap, and top each one with an equal amount of chicken, a lettuce leaf and 2 slices of tomato. Roll up and serve warm or at room temperature.
VIDEO: Bobby Deen Talks Healthy, 30-Minute Meals
—Lexi Dwyer