Oscar Fashions That Make Us Hungry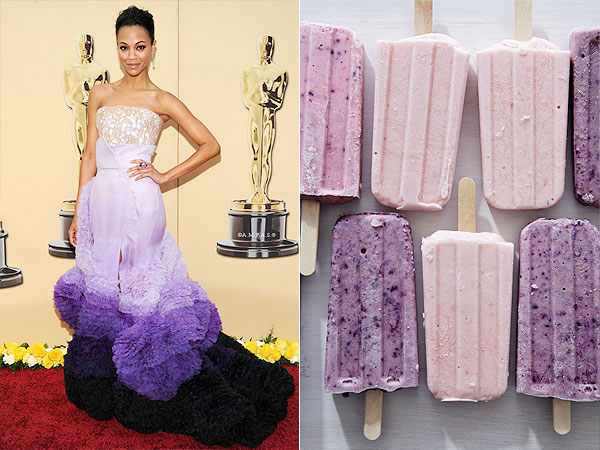 Kevin Mazur/WireImage; Joseph De Leo
SWEET OUTFIT!
We're always thinking about food — even while watching the red carpet at the Academy Awards.

So it's not surprising that iconic looks from past shows remind us of a few of our fave recipes. Click through these throwback dress photos, each paired with a matching food, and let us know if you agree.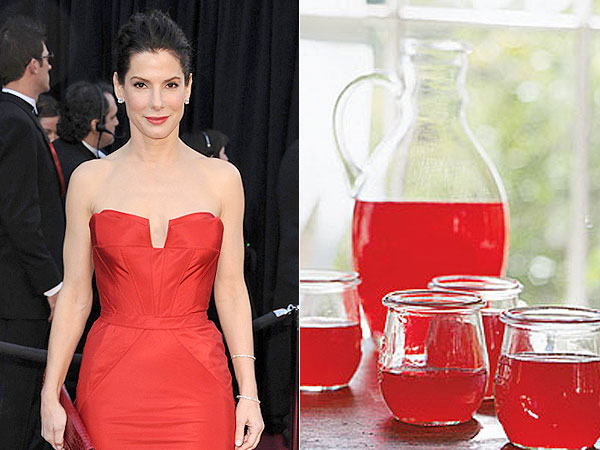 Steve Granitz/WireImage; MyRecipes.com
DRINK IT UP
Let's make a toast to Sandra Bullock for the fierce red Vera Wang gown she wore to the 2011 Oscars. Its bold hue makes us thirsty for another garnet attention-grabber: Red Hots Punch, a combo of cranberry-apple drink, limeade and Red Hots cinnamon candy. If there were a Best Punch category, this spicy sip would be a winner!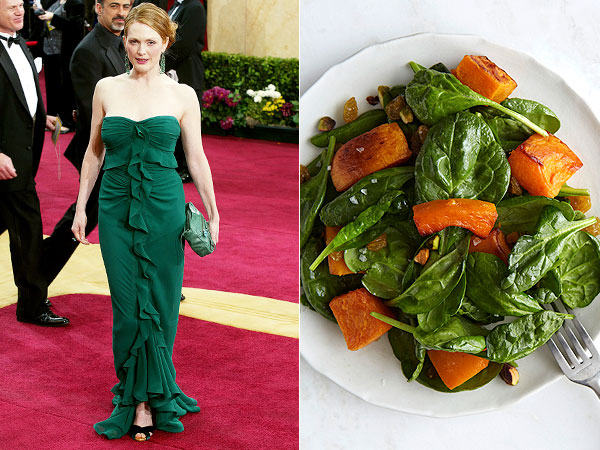 Kevin Winter/Getty; Joseph De Leo
EAT YOUR GREENS
One look at Julianne Moore's 2003 emerald silk gown, by Tom Ford for Yves Saint Laurent Rive Gauche, and we started dreaming about produce — specifically, Giuliana and Bill Rancic's leafy spinach salad topped with butternut squash, pistachios and raisins. Farmer's market, anyone?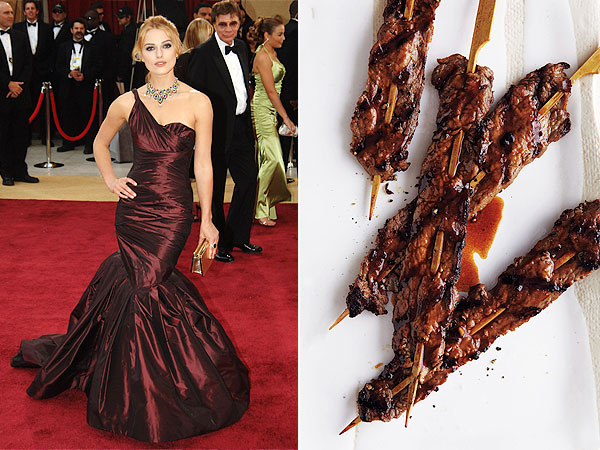 Jeff Kravitz/Filmmagic; Joseph De Leo
SATAY-SFYING
Excuse us if we try to take a bite out of Keira Knightley's burgundy one-shoulder taffeta gown (designed by Vera Wang in 2006), a delicious reminder of Matt Damon's beef satay skewers with red wine-Dijon-soy dipping sauce. "It has lots of flavor with a little kick," says Damon of the sauce. Or wait, is he referring to the dress?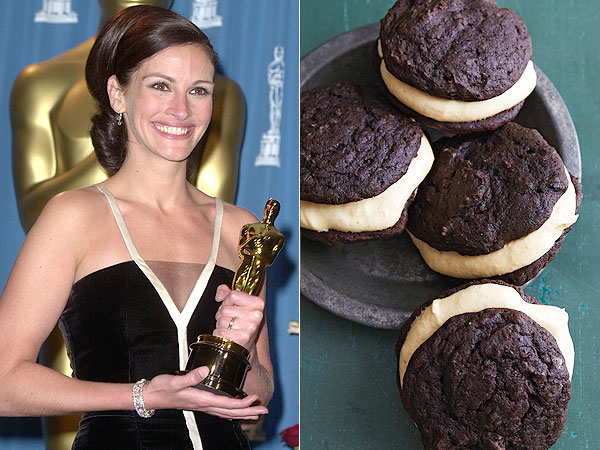 Steve Granitz/WireImage; Joseph De Leo
RETRO TREAT
Julia Roberts' old-school black velvet-and-satin column gown with white piping, from Valentino's 1982 collection, was a yummy reminder that retro can be fabulous — just like these whoopie pies from the Neelys.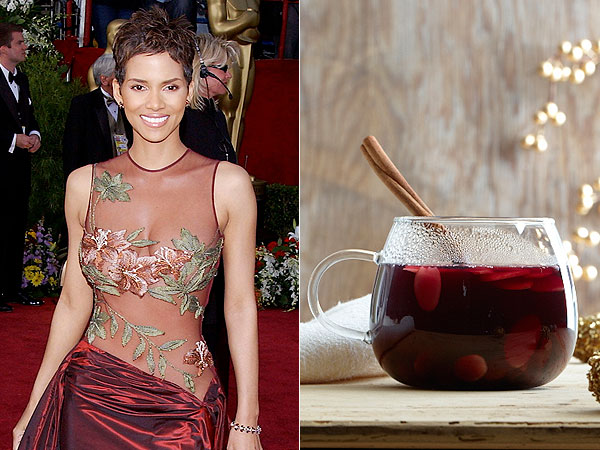 Tsuni/ImageDirect; Raymond Hom
LIKE A FINE WINE
It's not often that we get to compare a celeb with mulled wine. (But if the drink fits… ) Halle Berry's stunning burgundy gown with floral details that Elie Saab created for her appearance at the 2002 Oscars looks like it was inspired by glogg, a traditional Swedish libation Marcus Samuelsson made for us with red wine, port, cloves and cinnamon. Cheers to fashion that's in good taste!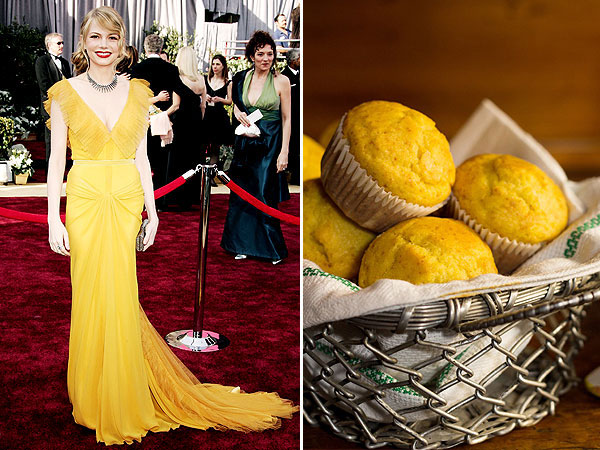 Frazer Harrison/Getty; Courtesy Gabriele Corcos
A LIGHT BITE
There's nothing corny about Michelle Williams' pleated marigold dress designed by Vera Wang for the 2006 awards. But the vivid color, a brave choice to wear on the red carpet at the time, matches Gabriele Corcos's corn muffins perfectly. The chef made an unexpected choice too: He ditched butter for olive oil. And like the actress's gown, the result was deliciously memorable.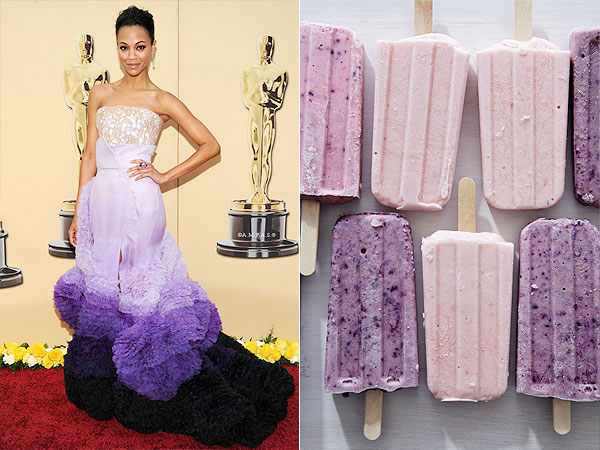 Kevin Mazur/WireImage; Joseph De Leo
GOOD & FRUITY
This dress is ripe for the picking! With its light-to-dark layers of grape hues, Zoë Saldana's voluminous tulle gown from the Givenchy Haute Couture 2010 collection by Riccardo Tisci makes us crave Jamie Oliver's colorful yogurt pops made with bananas, strawberries and blueberries.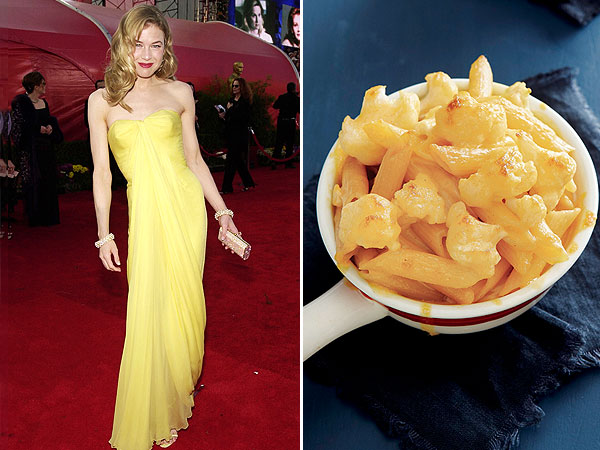 Chris Weeks/Getty; Joseph De Leo
PASTA PERFECT
We love Renée Zellweger's 2001 canary-colored column by Jean Desses for its spectacular shade and exquisite draping; mostly, though, we love it for reminding us that it's been a while since we whipped up Sharon Osbourne's mustard mac 'n' cheese. It's comfort food with loads of cheddar and cauliflower!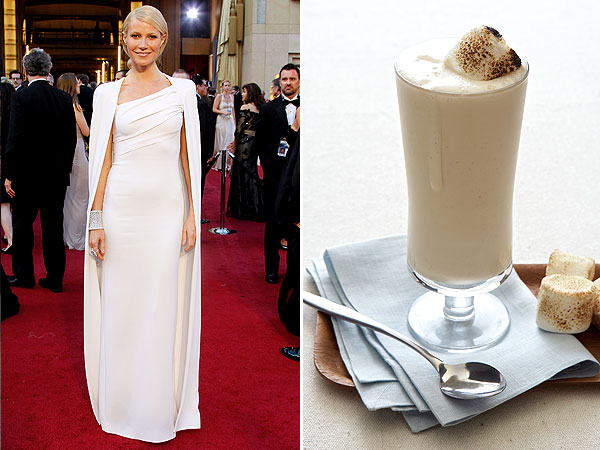 Jeff Vespa/WireImage; Joseph De Leo
SHAKING THINGS UP
Talk about having a presidential pedigree! Gwyneth Paltrow was attracted to this white cape dress by Tom Ford, which she wore to the 2012 Academy Awards, because it reminded her of Jacqueline Kennedy's 1961 inaugural ball gown. This toasted marshmallow shake by Spike Mendelsohn of Good Stuff Eatery in Washington, D.C., was created for President Obama's 2009 inauguration. Both get our vote!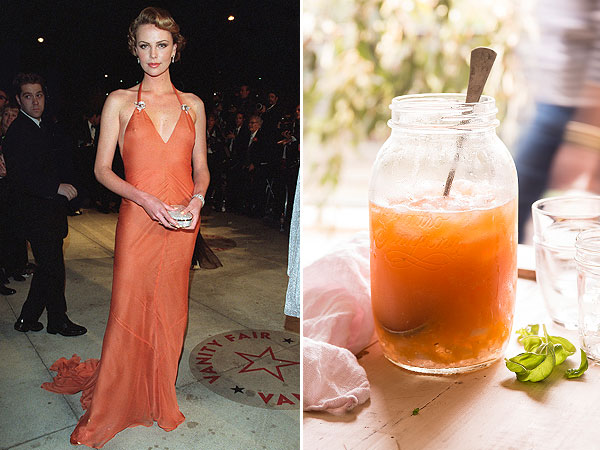 Evan Agostini/Getty; Amy Neunsinger
ORANGE YOU TASTY!
We found Charlize Theron's confidence refreshing, walking the 2000 Oscars red carpet in a plunging chiffon Vera Wang dress in bright tangerine. If the star wants a drink to match that stunning number, she could whip up Ali Larter's agua fresca, a blend of juicy cantaloupe, basil leaves, lime juice, sweet agave syrup and water. Way to make H2O interesting!
—Nancy Mattia