Will Run For Pork: .05K Offers Unlimited Bacon, Bacon-Scented Race Bib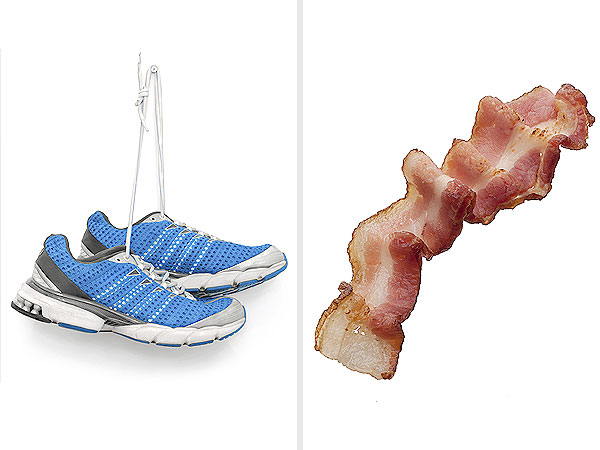 Chictype/Getty; Tina Fields/Getty
Organizers of a new race are banking on the fact people love bacon enough to run for it — or at least power-walk for a few blocks.

The Bacon Chase, coming to Atlanta on March 22 and Chicago on June 7, offers runners the choice between a 5K (the "Piggy Pilgrimage") or a .05K (the "Bacon Blitz"). On the course: unlimited bacon bits. At the finish line: unlimited bacon. On your person: a bacon-scented race bib. The after-party: an entire festival devoted to bacon, plus a free Bloody Mary for every 21-plus participant.
To put this in perspective for all of you who hated running the mile in high school, a .05K (164 feet) is only ⅛ of the way around a standard track. Plus, we bet your gym teacher didn't offer a single bacon incentive, and this race has countless.
Really, though, this is good fun for a good cause: The organizers have a partnership with St. Jude's Children's Research Hospital, and participants are encouraged to raise donations that will go towards a proton therapy center dedicated to children.
If you can't make the race, Bacon Chase organizers first want you to ask yourself: "Will my cousin's wedding really be as satisfying as a warm, crispy piece of meaty majesty?" Then they assure you that more cities and dates will be announced soon.
Your move, vegetarians.