Hungry Girl's Oscars Special: Award-Worthy Party Bites!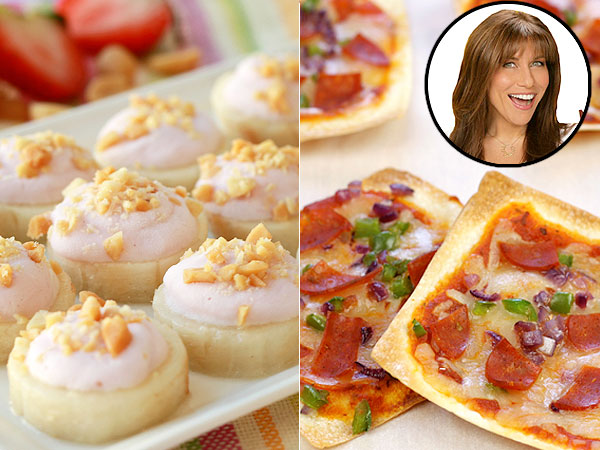 Courtesy Hungry Girl
Lisa Lillien is the author of the popular Hungry Girl website and email newsletter, featuring smart, funny advice on guilt-free eating.

She is also the author of eight Hungry Girl cookbooks, five of which debuted at number one on the New York Times Best Sellers list. Read her PEOPLE.com blog every Monday for slimmed-down celebrity recipes and more.
For the film industry, the Academy Awards is a time to honor those at the top of their field. For the rest of us, it's a chance to gawk at dresses, fill out ballots guessing the winners, and have our own Oscars parties! If you're hosting one or going to one, I've got some super-easy no-guilt finger foods you can throw together—and they're all winners!
Mini Thin-Crust Pizzas
Wonton wrappers are like the Matthew McConaughey of the food world: awesome at transforming into something completely different! To make these tiny pizzas, bake some wonton wrappers on a baking sheet sprayed with nonstick spray at 375 degrees for 4 minutes. Flip and top each with a bit of pizza sauce, part-skim mozzarella cheese, lightly cooked veggies and chopped turkey pepperoni. Bake until edges are brown and cheese has melted, 2-4 more minutes.
Bacon-Bundled BBQ Shrimp
Any "best-dressed" list should include food wrapped in bacon. The key to keeping this recipe healthy is to choose center-cut bacon or turkey bacon. Find a sauce with 45 calories or less per 2-tbsp. serving, dip half a strip of bacon in the sauce, wrap the bacon around a large raw shrimp and lay the whole thing on a baking sheet sprayed with nonstick spray. Repeat to fill a baking sheet, and bake at 425 degrees for 10-15 minutes.
Raspberry Kiss Crunchettes
Don't worry: I'm not skipping the sweets! Mini fillo shells, available in the freezer aisle, are the key find here. Place a chocolate kiss in each shell, flat side down. Bake at 350 degrees for about 3 minutes, until the chocolate gets a bit soft. Immediately press a raspberry into the chocolate. Voilà! Maybe you'll take home the award for Best Sound Mixing for the blend of crunching with a roomful of people saying "Yum!"
Banana Split Bites
For one more sweet treat, try out this too-easy recipe. Slice a medium banana into 16 "coins," and lay them on a large plate. Take 2 oz. (about ¼ cup) fat-free strawberry Greek yogurt and dollop evenly on top of the banana coins. Sprinkle 2 tsp. finely chopped peanuts over the tops, and then freeze them for an hour. Eat them all yourself for under 200 calories, or go ahead and share. You might want to make a few batches.
And the award goes to… YOU, for best party snacks!
'Til next time… Chew the right thing!