The Waffle Taco Is Coming to a Taco Bell Near You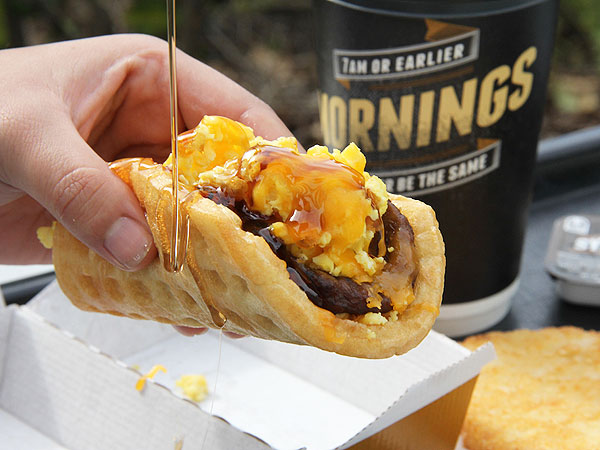 Courtesy Taco Bell
Do you prefer your taco wrapped in a tortilla made of flour, corn or waffle? We ask because, starting next month, that will be a completely reasonable question.

Taco Bell announced Monday that the new Waffle Taco will appear on their breakfast menu beginning March 27. And it's exactly what you think it is: a round, fried waffle wrapped around a sausage patty or bacon, with scrambled eggs, cheese and syrup on the side.
Combining sweet and savory is nothing new in the world of fast food: Dunkin Donuts' Donut Breakfast Sandwich (a fried egg and bacon strips inside a sliced glazed donut), McDonald's McGriddle (sausage, egg and cheese flanked by syrup-flavored pancakes) and Jack in the Box's Waffle Breakfast Sandwich (a fried egg, cheese and sausage piled between maple-flavored waffles) have been fixtures on their morning menus for years.
But the Waffle Taco seems to usher in a new type of grab-and-go category all together: Break-Mex? Taco Bell is also adding a Bacon and Egg Burrito to their menu, but it's only wrapped in a flour tortilla. For now.
The chain says the Waffle Taco will retail for 89 cents each, and will be available until 11 a.m. — a half-hour later than McDonald's offers its Egg McMuffins, reports the Associated Press. Let the breakfast wars begin.
Tell Us: Will you try Taco Bell's new Waffle Taco?