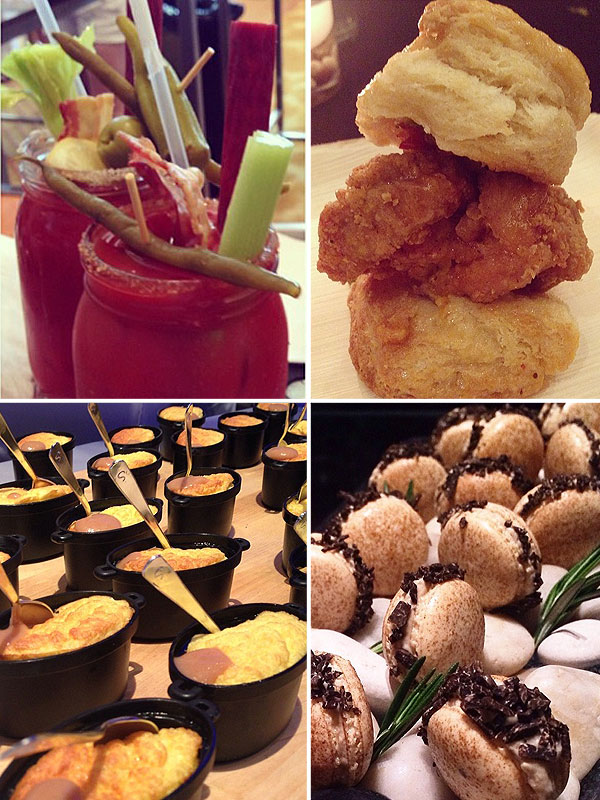 We spent four days eating our faces off — not to mention Tweeting and Instagramming — at the South Beach Wine & Food Festival, an annual blowout that's attended by just about every biggie chef in the country.

Can you say bring on the green juice?
But before we begin our much-needed detox, we wanted to share our top 10 meals. Since we attended more than 30 events total, choosing was a colossal task.
So in no particular order we present our carefully culled list, chosen from the festival's most fabulous eats.
1. We died and went to fried chicken heaven after tasting Miami's Yardbird restaurant's salty-meets-spicy chicken biscuit with pepper jelly at the Chicken Coupe party:

2. The competition at Burger Bash was fierce, but Cleveland chef Michael Symon won the People's Choice award for his Fat Doug burger, a meeting-of-the-meats sandwich made with Havarti, pastrami and coleslaw:

3. As these sublimely tasty hors d'oeuvres (made with fried oysters, remoulade sauce, pickled shallots and lime caviar) from the Ocean Liner Dinner prove, only Daniel Boulud could make test tubes both functional (you used them to apply your own sauce) and glamorous:

4. Another winner from the Ocean Liner Dinner: Andrew Carmellini's mushroom-truffle macaroons. We give serious props to the chef for not skimping on the truffles:

5. These meatballs were well worth Giada De Laurentiis' effort: She's shown here prepping them in the kitchen of Casa Tua Miami:

6. At The Q, the festival's barbecue-themed kickoff party, Bill Konyuk sent guests back to their rooms on a sweetly salty note with his chocolate charcuterie plate:

7. The pig, the whole pig, and nothing but the pig! This one was roasted in 17th Street Barbecue's beachside pit for 26 hours before we got to hoover it up at The Q party:

8. At the Best of the Best party, the additions of lobster and curry made these rich souffles deliciously distinctive. Riffing on a classic never tasted so good:

9. Another highlight at the Best of the Best bash: Top Chef runner-up Nina Compton's decadent mascarpone ravioli:

10. This jalepeño sushi at Lure Fishbar Miami was so fresh and spicy, it didn't require even a smidge of soy sauce or wasabi:

HONORABLE MENTION: It's a drink! It's a food! It's the Bloody Mary that we built at Trisha Yearwood's Southern Brunch: