See What Wolfgang Puck Is Cooking for the Oscars Governors Ball — and Get His Recipe!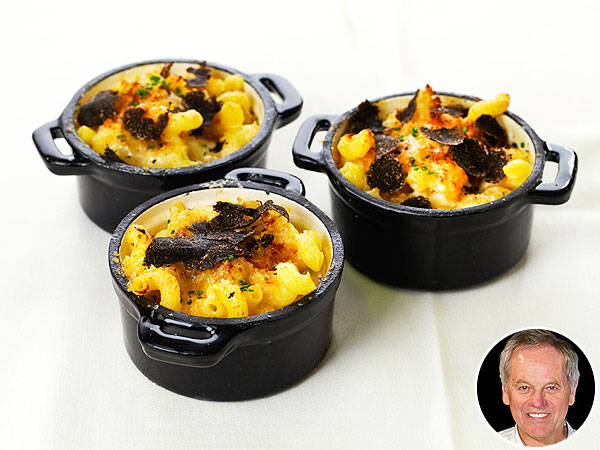 Courtesy Wolfgang Puck; Inset: FilmMagic
Even at star-studded parties, nothing's more loved than a bowl of macaroni and cheese.

Of course, chef Wolfgang Puck's version of the popular comfort food — which will be served at the 2014 Governors Ball — is a little fancier than your regular boxed mac 'n' cheese. He tops the creamy noodles with shaved black truffles, but says when it comes to making the dish at home, anything goes.
"You can add chicken, mushrooms, whatever you like to it and jazz it up," he tells PEOPLE. "If you're going to have macaroni and cheese at the Oscars, make it special and add something."
By the numbers, Puck and his team will use 300 quarts of milk, 10 pounds of edible gold dust, 5,000 cage-free eggs, 250 pounds of organic sugar and 2,400 bottles of Sterling Vineyards wine on Oscar night … and that's just a small percentage of the total grocery haul.
But, by now, Puck is a old pro at this: Along with creating menus some of Hollywood's biggest events, including the SAG Awards and Gala dinner, this will be his 20th year catering the Governors Ball.
Find Puck's mac 'n' cheese recipe at the end of this story — but first, check out the rest of the food he'll be dishing out at the official Oscars after-party.
"It wouldn't be @TheAcademy #GovernorsBall without our smoked salmon #Oscars. #WPCatering," the chef captioned the above shot.
"#Vegan taro root tacos, lobster shrimp dumplings, and vegan white bean quinoa cakes for the #Oscars#GovernorsBall. #WPCatering"
"Sushi! There will be a sushi and shellfish station at@TheAcademy #Oscars #GovernorsBall. #WPCatering"
"Bolognese stuffed arancini and vegetable spring rolls on the #WPCatering #Oscars #GovernorsBall menu, two of the tray passed hors d'oeuvres."
"Three perennial #Oscars favorites! Chicken pot pie, baked macaroni & cheese, and mini burgers with aged cheddar and remoulade. #WPCatering @TheAcademy"
"Wild salmon, ginger and almonds. We use sustainable seafood wherever possible for the #Oscars.#WPCatering"
"A trio of #WPCatering salads for the #OscarsGovernors Ball. Chinois chicken salad; butternut squash, farro, wild rice (#vegan); chopped vegetable."
"The #WPCatering pastry team had fun with these. Chocolate dipped strawberry cheesecake pops.#Oscars @TheAcademy #GovernorsBall"
"#Vegan desserts for the #Oscars! Chocolate Cupcake, Almond Cream (which is gluten-free, too) and Carrot Cake, Raisins, Cinnamon Gel. #WPCatering"
"A dessert from yesterday's @theacademy #Oscars#GovernorsBall preview – and this year's menu! Caramel garden, coffee soil, chocolate malted tree, fleur de sel. #WPCatering"
"Citrus panna cotta, funky chunky chocolate pop corn from @theacademy #Oscars #GovernorsBall menu preview yesterday. #WPCatering"
The showstopper of the night, however, will be this elaborate Marjolaine cake (a pastry popular in France), shown cut in the second photo to reveal layers of hazelnut sponge cake, coffee cream and chocolate ganache.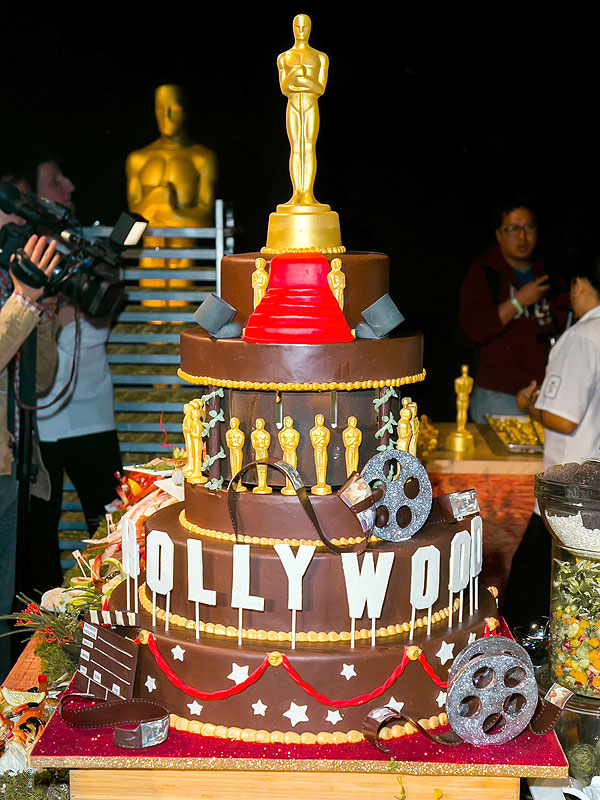 Courtesy Wolfgang Puck; Inset: FilmMagic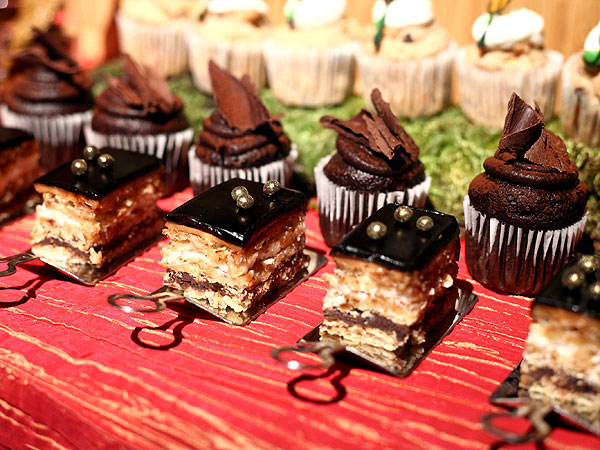 Courtesy Wolfgang Puck; Inset: FilmMagic
Puck and his team pose with the food: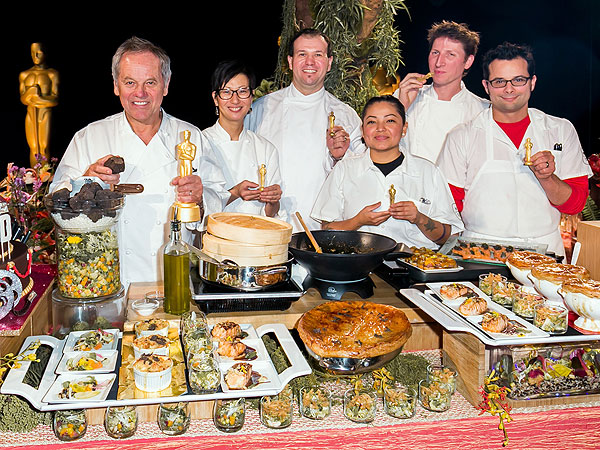 Courtesy Wolfgang Puck; Inset: FilmMagic
Now onto the fun part — make your own mac 'n' cheese!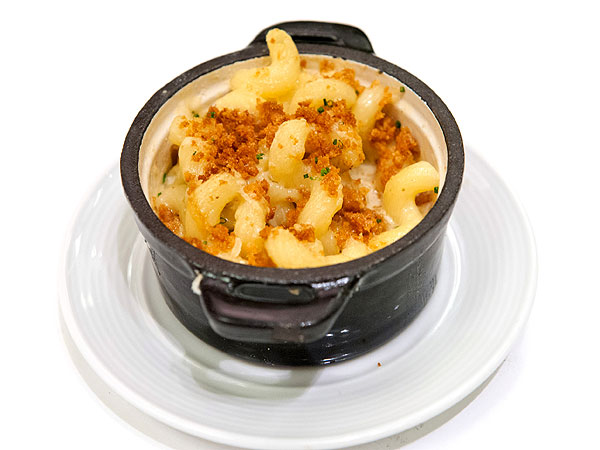 Courtesy Wolfgang Puck; Inset: FilmMagic
Baked Macaroni and Cheese with Black Truffles
Serves 4
8 oz. elbow macaroni
3 tbsp. butter
3 tbsp. flour
3½ cups milk
3 tbsp. finely chopped black truffles
½ medium white onion
1 bay leaf
10 oz. sharp aged white cheddar, grated
3 oz. Gruyere cheese, grated
1 oz. Parmesan cheese, grated
1 tsp. kosher salt
1 tsp. black pepper
Pinch cayenne
3 tbsp. butter
1 cup brioche bread crumbs
2 tbsp. chopped parsley
Sliced fresh black truffles for garnish (optional)
1. Preheat oven to 350 degrees.
2. In large pot of boiling salted water, cook the macaroni to al dente, about 7 minutes. Strain and place on a lightly oiled sheet pan.
3. While the macaroni is cooking, in a separate pot over low heat, melt the butter and whisk in the flour. Continue to cook over low heat for 4 minutes, stirring constantly. Add the milk, chopped truffles, onion and bay leaf. Simmer for 10 minutes. Remove onion and bay leaf.
4. Turn off the heat and add 3/4 of the aged cheddar and all of the other cheeses. Season with salt and black pepper and cayenne and fold in macaroni. Pour into a 2-quart casserole dish. Top with remaining cheddar.
5. Melt the butter in a sauté pan and toss breadcrumbs and parsley to coat. Top the macaroni with breadcrumb mixture. Bake for 30 minutes. Remove from the oven let stand for about 5 minutes. Serve with fresh shaved black truffles.
—Dahvi Shira and Michael Fleeman