Chefs' Surprising Revelations From Geoffrey Zakarian's Food Talk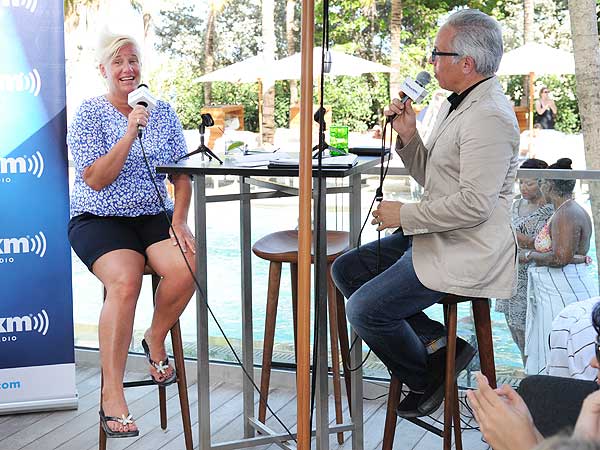 Ilya S. Savenok/Getty
Fact: Martha Stewart loves making cocktails so much, she'd be happy working as a bartender in her next life.

That's just one of the juicy tidbits Iron Chef Geoffrey Zakarian discovered when he interviewed the domestic doyenne and other foodie friends for his SiriusXM Food Talk radio show during the recent South Beach Wine & Food Festival in Miami.
Another delicious morsel: Anne Burrell of Worst Cooks in America admitted that while she and cohost Bobby Flay eat the food presented on the show, they won't touch the grub that contestant wannabes bring to the casting sessions. "I don't blame her!" Zakarian says.
Other chefs who chatted poolside at the James Royal Palm hotel included Sunny Anderson, Bizarre Foods' Andrew Zimmern, Danny Meyer and Marc Summers.
Zakarian found out that flooring inspired the name of Marc Murphy's latest New York City restaurant, Kingside. Turns out the Chopped judge's wife, Pam, hoping to hit on a name for her husband's soon-to-be-opened eatery, noticed the checkered-patterned floor in their home, which prompted her to research chess terms. When she saw the word "kingside" — where the kings stand on the chess board — a restaurant moniker was born.
Zakarian's co-host on The Kitchen Katie Lee — who recently attended an intensive three-day pizza school — gave him two unusual tips on how to make the perfect pie. "She said the sauce has to be applied in a clockwise motion, and when drizzling olive oil, it should be in a backwards 6!"
And then there was this from My Grandmother's Ravioli's Mo Rocca: "Mo told me he did a piece on professional cuddles for CBS Sunday Morning … if that's not interesting, I don't know what is!"
You can hear the show on Sirius XM Stars Channel 106 on February 26 at 8 p.m. ET.
—Nancy Mattia