That's Entertaining! Mario Batali and Mary Giuliani's Elegant Oscar Party Recipes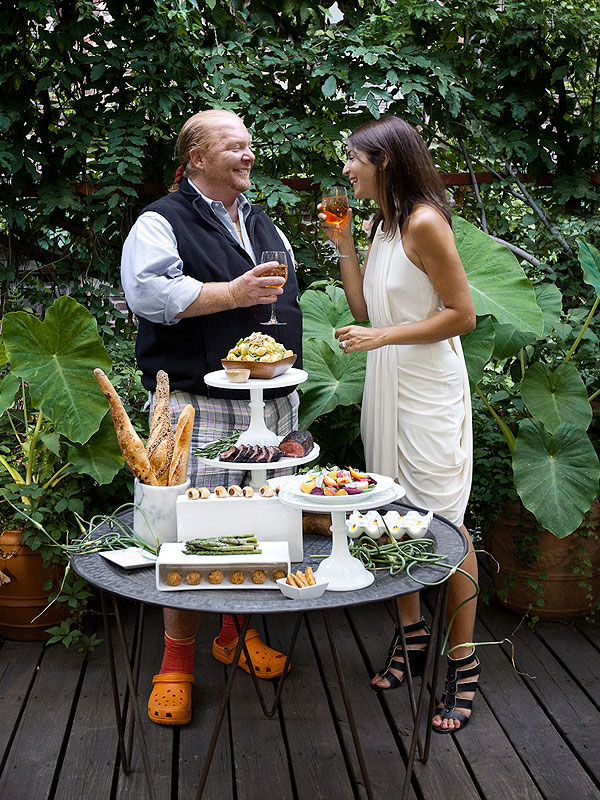 Adrien Broom
When it comes to party menus, we have a mantra: Choose a theme, then run with it.
And on Oscar night, you've got ready-made inspiration — the movies themselves. There's plenty of fodder to work with as you map out your drinks and food. In this spirit, chef Mario Batali and celebrity event planner Mary Giuliani, who collaborate on MARIObyMary at her catering company, developed two incredible Italian recipes: A complex-tasting fondue that's a nod to American Hustle, and sushi-style rolls inspired by The Wolf of Wall Street.
Giuliani, who's planned parties for Bradley Cooper himself as well as stars like Matt Damon and Jerry Seinfeld, tells PEOPLE that they chose fondue not only as a metaphor, but also for practical reasons. "Perms and fondue were all the rage in the seventies, and the era and soundtrack pair perfectly with fondue. Plus, it's easy to serve on a coffee table in front if the TV so your guests will not miss a minute of the show," she says.
Unlike many fondue recipes, this one isn't weighed down by flour. "I prefer to use thicker, more flavorful cheeses that don't require it," she says. Although the technique is fairly foolproof, Giuliani does have two tips for success: "Keep stirring so the bottom does not burn, and remember that you can never have enough bread."
As a complement, the pair developed a sushi recipe with an Italian twist: Prosciutto replaces nori on the outside, and risotto stands in for seafood. How does it link to The Wolf of Wall Street? "Risotto wrapped in prosciutto with sage and reduced balsamic is our Italian nod to the sushi craze — and the delicious excess — of Wall Street during the eighties," Batali says.
Prosciutto is an obvious choice for this recipe because it's flexible and easy to work with, but Batali suggests a few substitutions depending on your preferences and what's available. "Pancetta is great, or even really good American bacon will work. If you're vegetarian, try thinly sliced king oyster mushrooms." And as is true for most party food, it's wise to keep the presentation simple. "Masa Takayama I am not, but it's hard to diminish the natural beauty of risotto and prosciutto. Keep in mind that less is generally more," Batali says.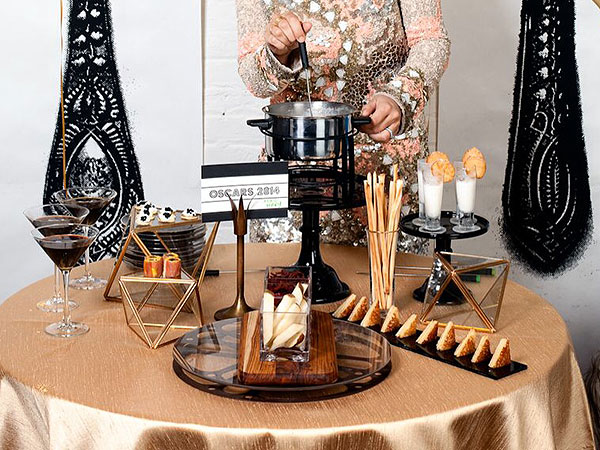 Adrien Broom
Italian Fondue
Serves 8 to 10
1 whole garlic clove
1 cup dry white wine
1 cup half and half
2 tsp. dry mustard powder
½ cups grated gruyère cheese
½ cup grated Fontina cheese
½ cup grated parmigiano-reggiano cheese
¼ cup asiago cheese
¼ cup gorgonzola cheese
freshly ground black pepper (to taste)
pinch of salt
¼ tsp. ground nutmeg
1. Rub a medium saucepan with the clove of garlic.
2. Add the wine, half and half, flour and mustard powder. Warm the liquid and begin adding the cheeses while whisking until it has all melted.
3. Remove from heat and add the black pepper, salt and nutmeg.
4. Place back on stove and cook while stirring to get a smooth consistency. Add more wine if it is too thick or more cheese to make it thicker.
5. Transfer mixture to a fondue pot fitted with either a votive candle or sterno.
6. Serve with grissini or grilled bread, olives, roasted peppers, guanciale (cured Italian pork cheek) and sliced pears. To keep the fondue at its ideal consistency, stir it intermittently throughout the night and encourage guests to do the same.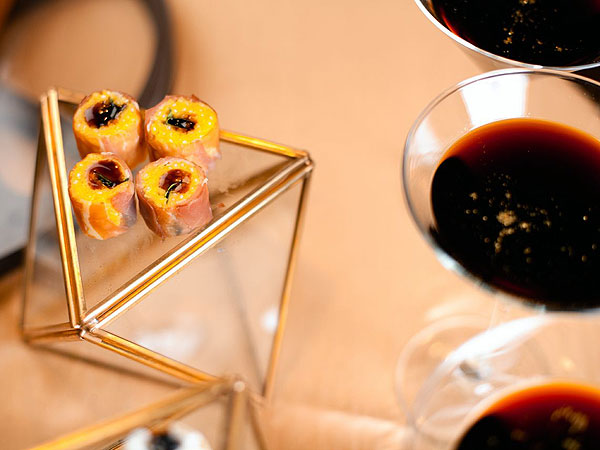 Adrien Broom
Prosciutto-Risotto Sushi
Serves 4 to 6 
¼ cup extra-virgin olive oil
1 medium onion, cut into quarter-inch dice
1 tsp. saffron threads
3 ½ cups chicken stock, hot
2 cups arborio rice
½ cup white wine
4 tbsp. (1/2 stick) unsalted butter
½ cup freshly grated parmigiano-reggiano, plus more for sprinkling
½ lb. of proscuiutto di parma
1 cup of sage leaves
½ cup of balsamic vinegar reduction (reduced from 4 cups)
1. In a 12- or 14-inch skillet, heat the olive oil over medium heat. Add the onion and cook until softened and translucent but not browned, 8 to 10 minutes.
2. Meanwhile add the saffron to the stock, stirring to infuse. Once the onions are translucent add the rice and stir with a wooden spoon until toasted and opaque, 3 to 4 minutes.
3. Add the wine to the toasting rice, and then, using a ladle, add 4 to 6 ounces of saffron-infused stock and cook, stirring, until it is absorbed. Continue adding the stock one ladle at a time, waiting until the liquid is absorbed before adding more.
4. Cook until the rice is tender and creamy and yet still a little al dente, about 15 minutes.
5. Stir in the butter and cheese until well mixed. Remove risotto from heat.
6. Place a bamboo sushi mat on your work surface with slats facing horizontally. Lay a large piece of prosciutto on top. Add a layer of risotto, pressing firmly into the meat, and top with sage leaves.
7. Using the mat as a guide, roll ingredients tightly and firmly into a sushi roll. Slice into equally sized pieces and top with balsamic reduction.
—Lexi Dwyer