Celebrate Oscar Night with a Cocktail From New York City's Daniel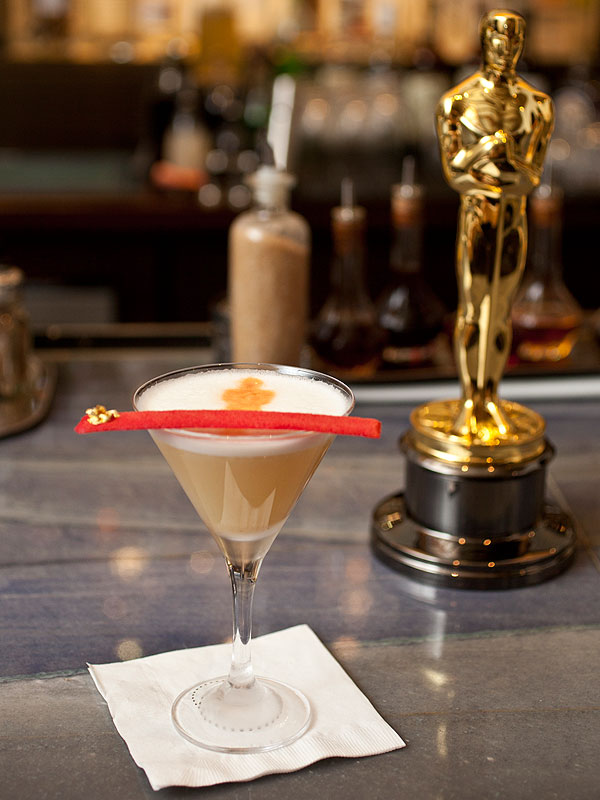 V. Rollison
Although Los Angeles gets most of the star-studded action on Oscars night, the Academy is rolling out the red carpet at one dinner far away from Hollywood.

Daniel, the glamorous N.Y.C. restaurant of chef Daniel Boulud, will once again host the only official Oscars party on the East Coast — and if there were an award for best food and drink, he just might win.
On Sunday night, celebs, local members of the Academy and entertainment industry execs will be greeted by 7.5-foot-high Oscar statues before entering Daniel's dining room, where they'll feast on a multi-course menu while watching the show on large LCD monitors set up around the room.
The night begins with six types of passed hors d'oeuvres (including scallop-blood orange ceviche and Wagyu beef with wasabi hollandaise) before moving into a plated appetizer featuring miniature portions of three beautiful dishes, which Boulud explains to PEOPLE in the video below.
Before you get enveloped in all that glorious food, feast your eyes on The Red Carpet, a sweet vodka cocktail created by head bartender Arnaud Dissaismade. It's made with pear jam and simple syrup, and your viewing party guests will love it with or without the Oscar "drawn" in bitters on top — we promise.
The Red Carpet
Makes 1
1 oz. vodka
1 oz. bergamot juice
2 tsp. pear jam
1 tsp. ground galangal root
½ oz. simple syrup
1 egg white
Bitters, in a spray bottle
In a cocktail shaker without ice, combine first six ingredients and shake until emulsified. Add ice cubes and shake until chilled. Strain into a chilled martini glass and spritz cocktail with bitters.
Below, the lobster beet salad, smoked sturgeon mosaic and veloute with potato, leek and a plump helping of Siberian caviar.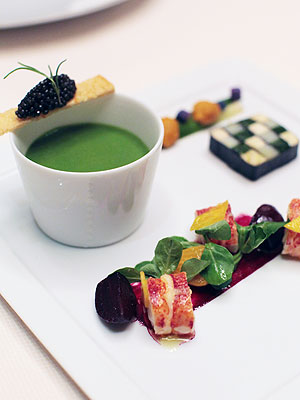 V. Rollison
Check out these photos of the rest of the meal, starting with chicken with black truffle wild rice and sunchoke salsify: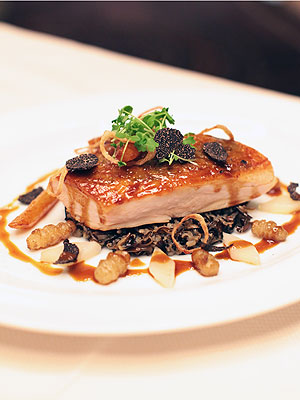 V. Rollison
A tiered dessert tray is packed with bite-size goodies, including a lime tart with pineapple gelée and a raspberry religieuse (a stacked French pastry featuring two balls filled with cream).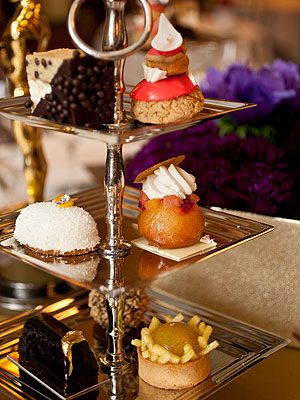 V. Rollison
Chocolate chip biscuit with mascarpone cream? Get in our belly, please.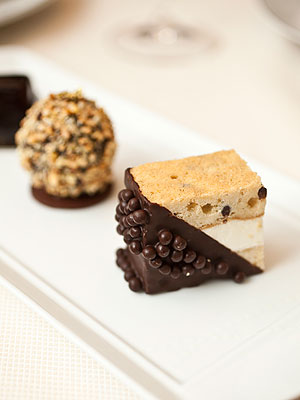 V. Rollison
Saving the best for last: a chocolate-covered financier with edible gold leaf.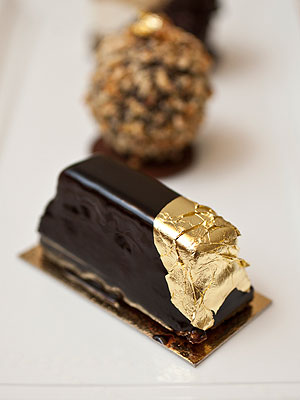 V. Rollison