Thomas Keller's Vanity Fair Oscar Party Menu Sparkled as Bright as the Stars
What pairs well with Dior gowns, glittering jewels and golden statuettes?

It's a new kind of fashion plate: After the Academy Awards wrapped on Sunday night, celebs like Sofia Vergara, Jared Leto, Kerry Washington and Jennifer Lawrence got a taste of Hollywood haute cuisine at Vanity Fair's Oscar Party, which transformed L.A.'s Sunset Plaza into a magnificent glass-tented bash.
Chef Thomas Keller (of The French Laundry, Per Se and Bouchon) oversaw the glam star-studded feast, which featured elegant riffs on comfort food: BLTs (bacon lettuce truffle), savory salmon cornets, black truffle lasagna, macarons filled with crème fraiche and caviar, and chicken pot pie with braised milk-fed poularde (inspired by editor in chief Graydon Carter's favorite childhood dish).
And for dessert, s'mores, cupcakes named after the nominees, and a bittersweet chocolate mousse with salted caramel and topped with delicate chocolate curls titled, "The World According to Vanity Fair." In a word, decadent.
"What we wanted to do is to be a little nostalgic," Keller told Vanity Fair of his creative culinary twists. That includes a gorgeous "Avocado Louie" appetizer — a veggie-friendly, dairy-free spin on Crab Louie, made with a colorful bouquet of spring vegetables that Keller meticulously placed on each plate with long hand-held tweezers.
While what happened on the dance floor will remain under wraps, below Keller shares his recipe for Avocado Louie with PEOPLE. Even if you're not having Jennifer Garner and Ben Affleck for dinner, try it at your next at-home extravaganza — they're sure to award you best supporting chef.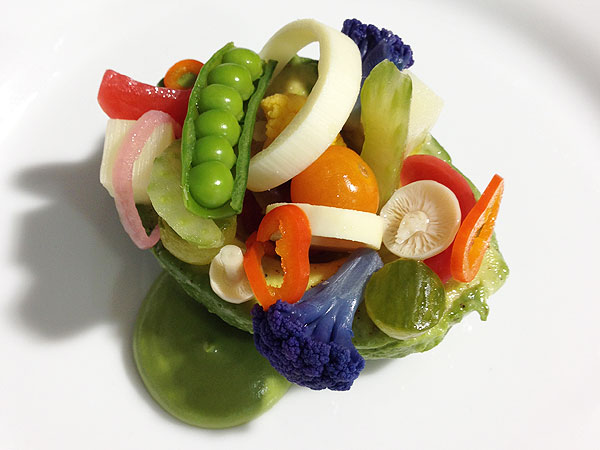 Kate Cunningham
Avocado Louie
½ avocado, pitted
5 hearts of palms, cut into rings
4 petite radishes, chopped
5 celery stalks, shaved
3 cucumber parisiennes (pickled cucumbers)
3 pickled mushrooms (Keller used pickled hon shimeju)
2 asparagus tips
1 sugar snap pea
2 romanesco cauliflower
1 cherry tomato (Keller used Sweet 100)
2 pearl onions, sliced
1 tbsp. lemon vinaigrette
1 tbsp. green goddess puree
Extra virgin olive oil, to taste
Fleur de sel, to taste
1. If you can, do your own pickling. Add cucumber parisiennes, hon shimeji mushrooms in a large bowl or jar with 1 part champagne vinegar, 1 part water, 1 part sugar. Let sit.
2. In a pot of boiling water, blanch hearts of palm, green asparagus, snap pea and romanesco cauliflower until tender.
3. Cut avocado in half. Trim the base so there is a flat surface. Trim the top and cut off any blemishes on the flesh. Brush the outside with lemon vinaigrette.
4. Spoon green goddess puree (recipe below) onto plate and place avocado on top. Add the rest of the ingredients—have fun with it! Drizzle lightly with extra virgin olive oil. Season with fleur de sel.
Green Goddess Puree
1 ¾ cups mayonnaise
¾ cup crème fraiche
⅓ cup roasted garlic, pureed
2 ripe avocados, peeled and pitted
2⅔ cups herb puree (below)
Salt, to taste
Incorporate all ingredients in a food processor or blender, and combine well. Adjust to desired consistency and season to taste.
Herb Puree
3 cups pickled parsley
2 cups baby spinach
1 cups pickled tarragon
1 cups dill
1. In a pot of salted, boiling water, add all ingredients and stir well. Allow the herbs to cook until tender: they should disintegrate when pressed.
2. Remove the cooked herbs with a slotted spoon place in a colander lined with cheese cloth or paper towel. (Ring out excess liquid to avoid the puree becoming too salty.)
Place ingredients in a blender and blend on high (you might need to add a small amount of cold water to help it spin) to a smooth thick puree. Scrape the sides of the blender and pulse again. Let chill.
—Brooke Showell