The Best TV Bars and Restaurants We Want to Hang Out In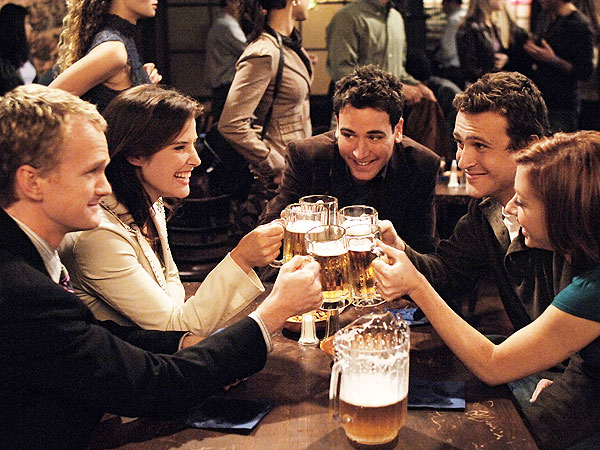 CBS/Landov
WISH YOU WERE HERE
Ever watch a TV show and wish you could be transported into that restaurant booth or into that bar stool to hang out with the characters? Here's your chance! From the supernatural-infested restaurant on True Blood to the high-strung coffeehouse on Frasier, we've cooked up a few good places to grab a bite or a beer and reminisce.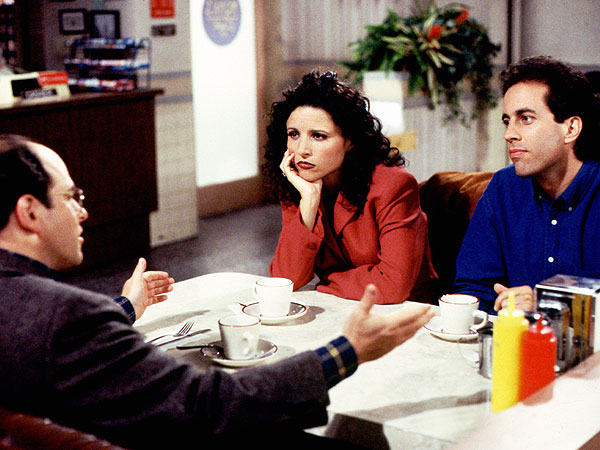 NBC/Kobal
MONK'S CAFÉ
Seinfeld touted itself as "a show about nothing" yet plenty happened in this New York City diner where Jerry, George, Kramer and Elaine regularly met for "big salads" and cereal. Monk's was also where the foursome made the infamous "master of my domain" bet that George ultimately (but unfairly) won.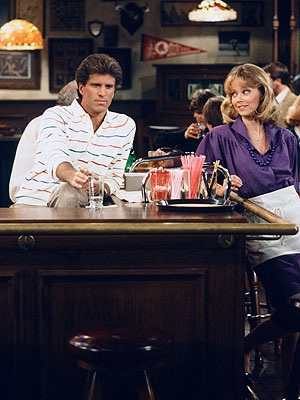 Courtesy Ron Tom/NBC/NBCU Photo Bank via Getty Image
CHEERS BAR
It wasn't just the place to get a beer or a shot but it's (let's sing together) where everybody knows your name! Cheers bartender/owner Sam was chummy with all his customers at his Boston bar but when Norm, Cliff and Frasier were around, along with bar staff Diane, Carla, Woody and Rebecca, the group seemed more like family — a wacky family that supported one another through breakups, bankruptcies and, often, too much booze.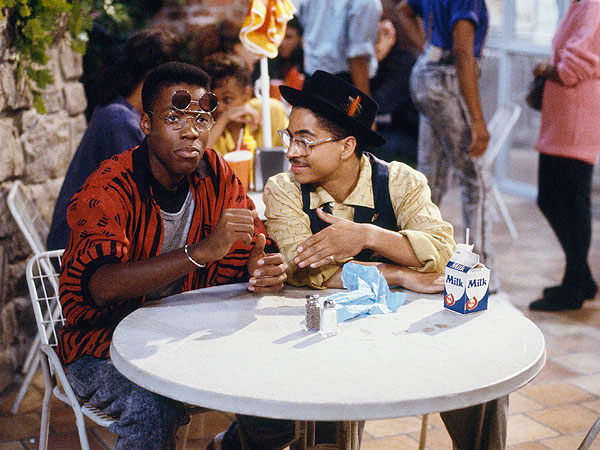 Bob Gersny/NBC/Getty
THE PIT
When they weren't studying English lit or economics on A Different World, the Hillman College student body, including flip-glass-wearing Dwayne Wayne and spoiled rich girl Whitley, would dig into the home-cooked Southern fare (you know, in between Step Shows and impromptu self-help sessions) at this campus restaurant that appeared on The Cosby Show spinoff.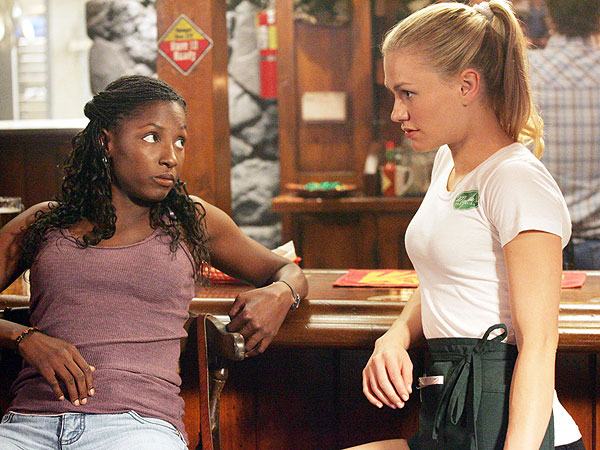 John P. Johnson/HBO/Everett
BELLEFLEUR'S / MERLOTTE'S
Even though the service is bad and the staff doesn't stick around too long (blame it on the high death rate), True Blood's bar and grill is still the go-to hangout for a bloody good time in Bon Temps, Louisiana.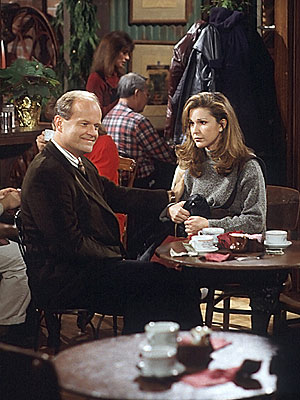 NBCU Photo Bank/Getty
CAFÉ NERVOSA
When coffeehouses became the rage in the '90s, the main characters on Seattle-based Frasier became frequent patrons of this java shop. The staff could do no right with the fussy Frasier and Niles, constantly mangling their drink orders, yet the joint and the high-strung Crane brothers were always jumping. Wonder if they served tossed salads and scrambled eggs?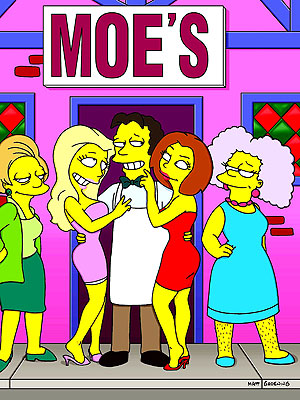 20th Century Fox Film Corp
MOE'S TAVERN
Named after owner Moe Szyslak, The Simpsons' local watering hole is Homer Simpson's favorite (okay, only) place to kick back after a long day at the nuclear power plant. It's got everything he needs: buddies like Barney, Lenny and Carl, a dartboard and plenty of Duff beer. Woo hoo!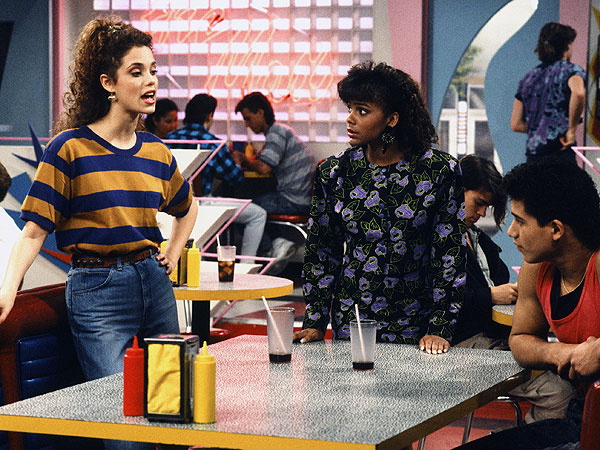 Gary Null/NBC/Getty
THE MAX
Cue the Spandex twins! Saved By The Bell's colorful burger joint is where Bayside High's cool kids — Zack, Slater, Jessie, Lisa, Kelly and, of course Screech — discussed relationships, fell in love, held dance contests, waitressed and never got tired of milkshakes, French fries or each other.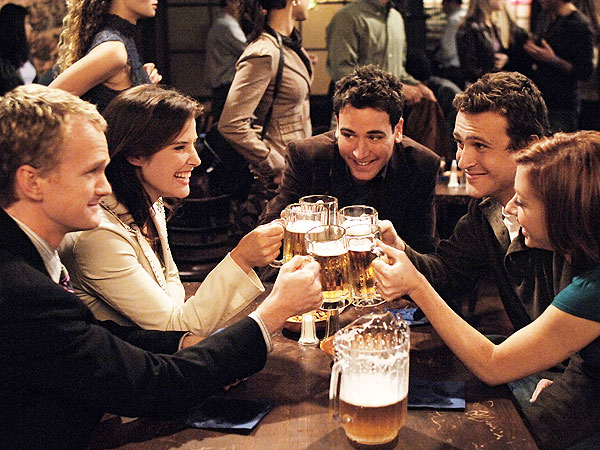 CBS/Landov
MACLAREN'S BAR
This How I Met Your Mother bar is legen — wait for it — dary. The booth where Barney and the crew meet after work for drinks (think shots and beer) is like a second home to them; in fact, Ted's apartment is right upstairs. It's where, over the years, the singles have brought their dates for approval (good luck with that one) and where everyone has their frequent funny flashbacks.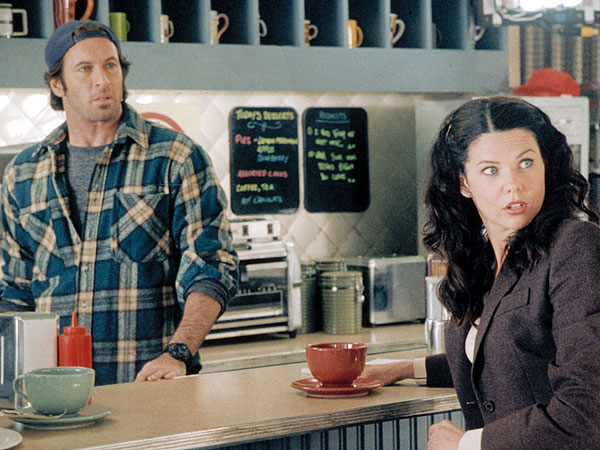 Everett
LUKE'S DINER
Gilmore Girls' Lorelai and daughter Rory were surely this smalltown eatery's best customers who spent many happy hours there (despite the strict "no cellphones" policy) eating burgers and fries and guzzling coffee. After awhile, Lorelai had another reason to frequent the place: She was in love with Luke, the gruff but hunky proprietor, whom she proposed to in the series' finale.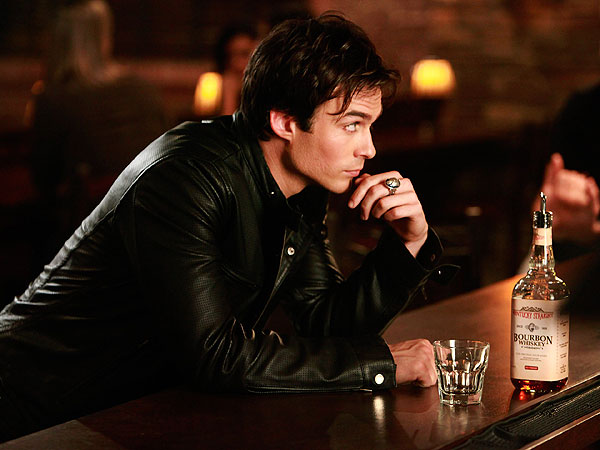 Quantrell Colbert/The CW
MYSTIC GRILL
Even Mystic Falls' supernatural beings like witches, werewolves and vampires have to eat on Vampire Diaries. And when they do, they head to this casual spot, where more than just necks and bodily fluids are on the menu—sometimes murder is the special of the day.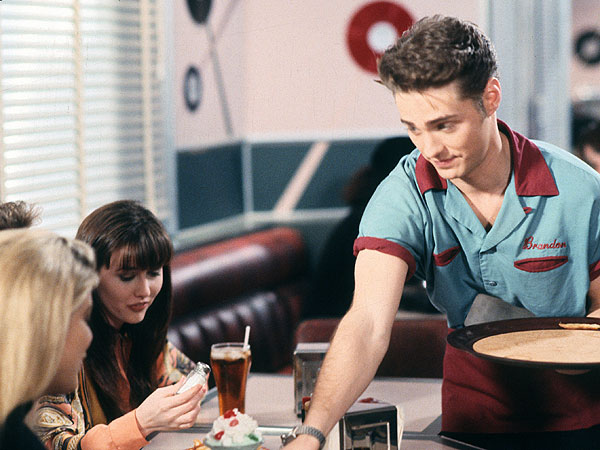 Fox/Everett
THE PEACH PIT
If you lived in a certain fancy zip code and were craving a burger (pre In-N-Out fame), the Beverly Hill 90210 eatery's Mega Burger — two patties topped with Swiss and American — hit the spot. The characters, including Brenda, Brandon, Kelly and Dylan, actually spent less time eating and more time gossiping (usually about one another) and arguing (usually about one another).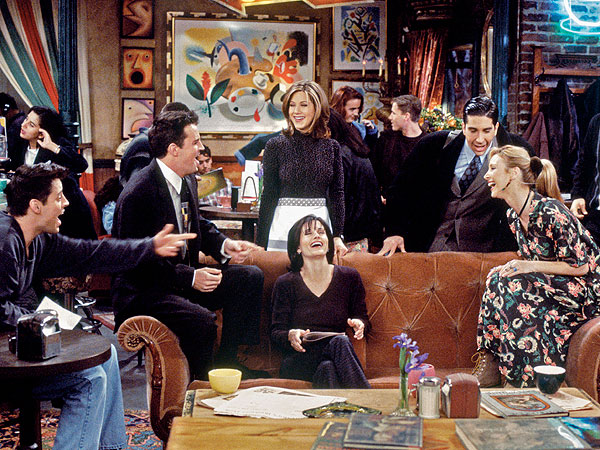 Brian D. McLaughlin/NBC/Getty
CENTRAL PERK
This downtown Manhattan coffeehouse on Friends played a pivotal role in the series from episode one, when Ross announced to Chandler, Monica, Joey and Phoebe that his lesbian wife had moved out and later when Rachel rushed in after leaving her husband-to-be at the altar. For 10 years, the six best buds sat on the famous orange sofa trading barbs and wisdom about their lives and loves and occasionally even springing for a cup of joe.
—Nancy Mattia